Update 8:05am CT, July 25: Gov. Ricardo Rosselló has resigned, according to NBC News.
…
Puerto Rico is on the brink of a political revolution.
The U.S. territory's embattled governor, Ricardo Rosselló, is expected to step down after a wave of protests swept the island for nearly two weeks.
On Tuesday and Wednesday, hundreds of protesters continued to mount pressure on Rosselló to resign. Hundreds of thousands of Puerto Ricans flooded the streets and paralyzed the capital, including shutting down a major highway, on Monday. Monday's demonstration is believed to be the largest one on the island in nearly two decades. 
Puerto Ricans also harnessed the power of social media, sharing videos and live streams of protests online, creating memes, and using hashtags like #RickyRenuncia (which translates to "Ricky resign" in English) to spread the word.
Like millions of Puerto Ricans, I have not slept in over 13 days. It's exhausting, but we are invigorated, resolved and determined. We will not back down. We will continue to fight. And we will not be let others to ignore what this movement is about. #RickyRenuncia pic.twitter.com/LiGQbFi9C1

— Diego Alcala (@DiegoAlcalaPR) July 24, 2019
The political crisis was triggered by leaked chatroom messages between Rosselló and his advisers in which they used offensive sexist, msyogonistic, and homophobic language. In the exchanges, the officials insulted and mocked women, the LGBTQ community, and victims of Hurricane Maria. On July 13, following reports of the messages, protests erupted in San Juan against government corruption and Rossello's response to Hurricane Maria, which devastated Puerto Rico in September 2017.
"Rosselló is an example for the future government to know that we are a force to be reckoned with," said Lawrence Oppenheimer, a 23-year-old medical student who lives in Trujillo Alto and has been protesting for days. "He's not fit to govern, but we know there are a lot more problems, it's not just him."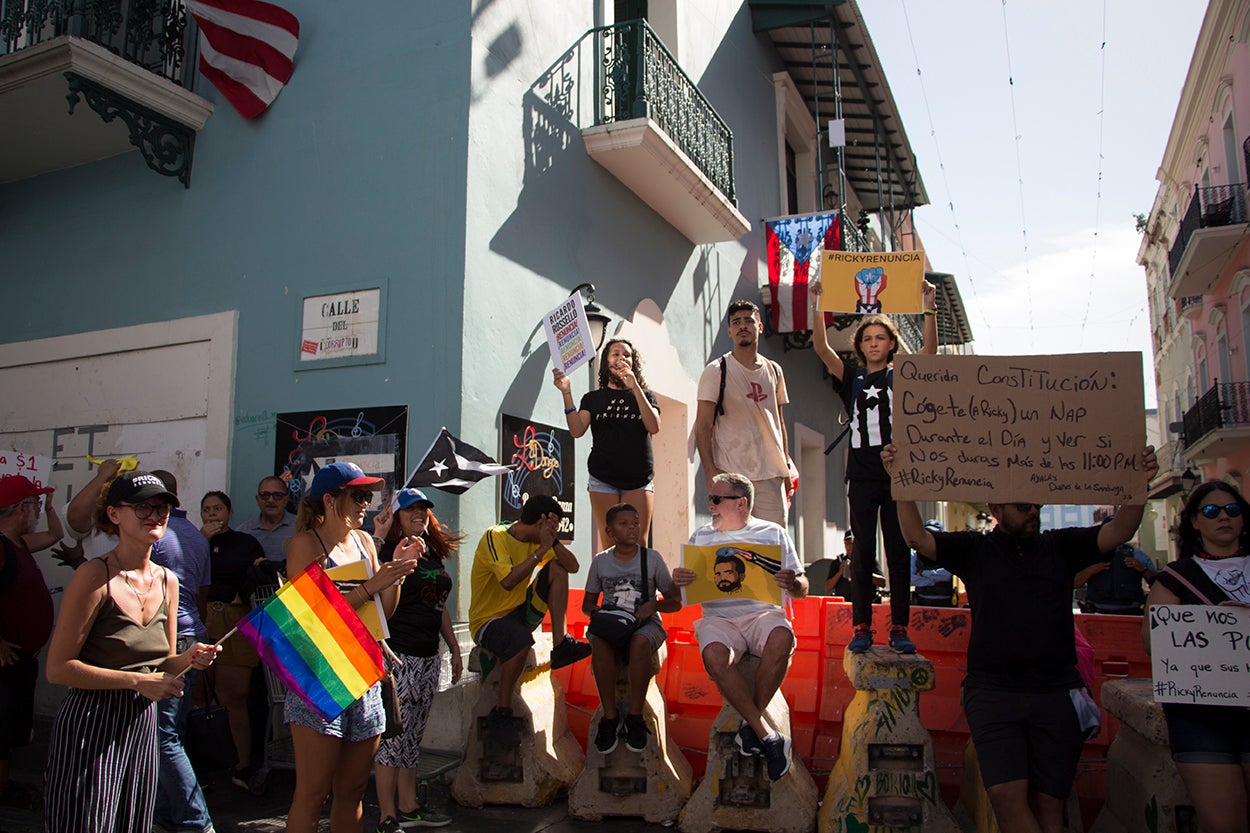 Rosselló, from the ruling New Progressive Party, had said on Sunday that he would not resign. Rosselló's chief of staff resigned on Tuesday amid ongoing tensions between protesters and the government. Ricardo was expected to announce his resignation at a press conference on Wednesday afternoon, but as of press time, no official announcement had been made.
A crowd that included children, professionals, millennials, and elderly folks, started off small in front of the governor's mansion on Tuesday afternoon. Around a dozen police officers, some thought to be supporters of the uprising, stood firmly behind concrete barriers. By sundown, hundreds of frustrated and angry but peaceful demonstrators gathered to chant, bang on pots and pans with spoons, and wave Puerto Rican and resistance flags, which are black and white.
"I sacrificed a lot to come here," 52-year-old Maria Vicenty said with tears streaming down her face. She lives in Carolina, about half an hour from San Juan. Vicenty, who is disabled and uses a walker to get around, said it was the first protest that she's ever taken part in.
She told the Daily Dot she used to work for the government but quit because of her health issues. She said when Hurricane Maria struck, she plummeted into depression because of the things that she saw. "It hurts me to think about the people we lost during Hurricane Maria," Vicenty said. "I'm protesting for the people we lost in Hurricane Maria, for the people who are here now and for future generations."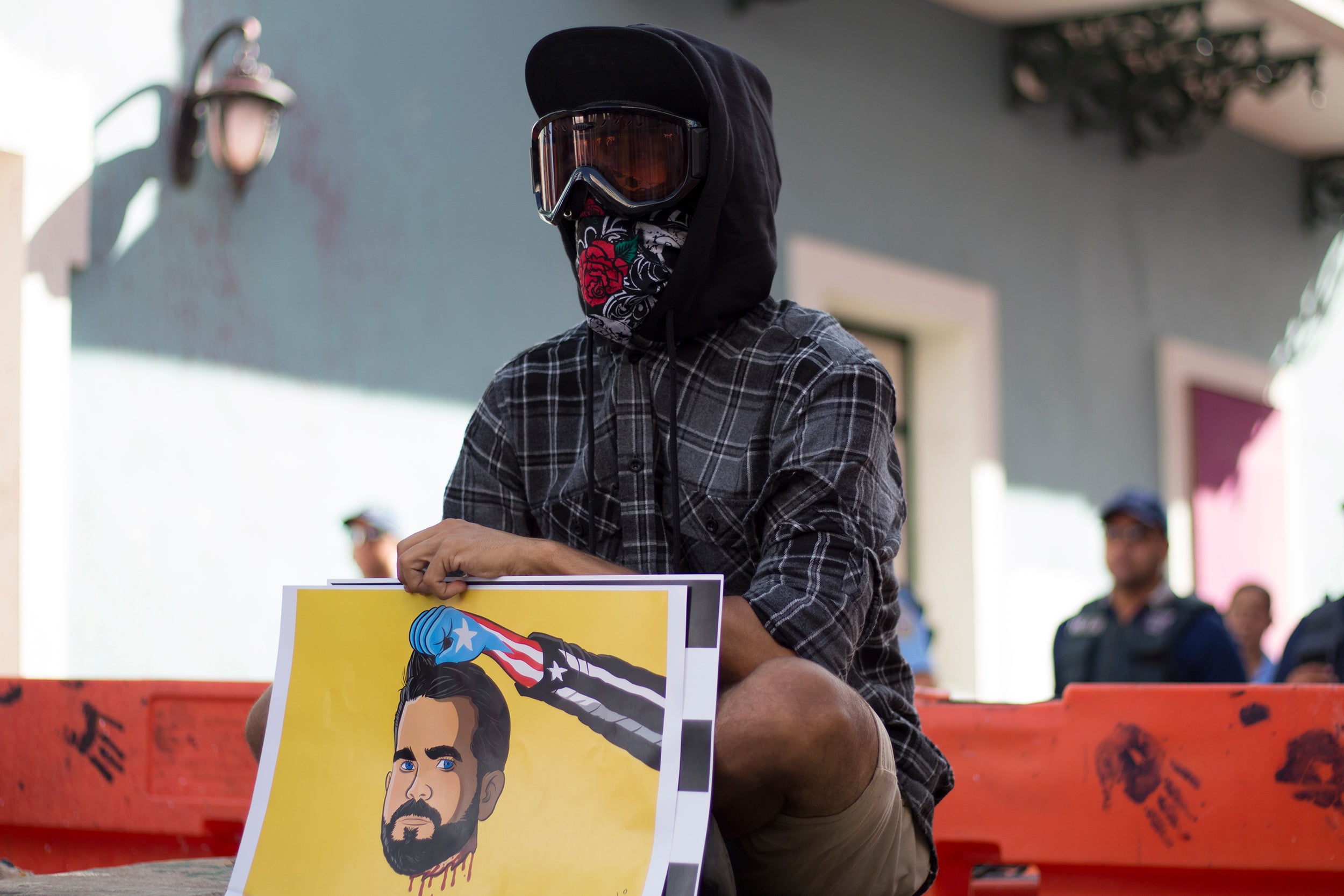 Yashira Torres Abreu, who lives in Bayamon, came to the protests with her husband and 3-year-old son. "There's always been corruption on the island," said Abreu, 33. She said she participated in protests on a much smaller scale when she was a student. "What pisses me off is the mismanagement of the money after Hurricane Maria and how they mock us. They don't take us seriously."
Abreu wants the next leader of Puerto Rico to focus on health, education, and security. "I feel it's my responsibility to leave a better life for my son and for every future generation," she said.
"Rosselló's resignation is not the end, it's the beginning," Manuel Natal Albelo told the Daily Dot. Albelo is part of a new wave of elected officials trying to challenge the power structure, which has long been controlled by two political parties. "We have a political system that has been failing. We are looking for a way to change this. If not, our generation is going to be pushed out of the island and we don't want that."
Albelo, now an independent who left the opposition Popular Democratic Party, is the youngest elected official in Puerto Rico at 33. He thinks that after the last election, when nearly 20% of Puerto Ricans voted outside of the two-party system, the 2020 elections will shift the political landscape. Albelo hopes the protests and downfall of Rosselló, fueled by a generational shift, will push independent candidates to electoral victory.
Puerto Rico has been in an economic depression since 2006 when it descended into a recession and never fully recovered. A federal oversight board, appointed by the U.S. Congress to get Puerto Rico out of debt, implemented measures that slashed public services for Puerto Ricans. Many have been forced to flee to the U.S., even before Maria hit.
Protesters said they're fed up with Rosselló but also with the non-elected officials of the oversight board who have so much control over the island's finances. 
"They're gutting the education system, they're gutting the health system, that's why students are the first ones to take to the streets," said José Pablo Bibiloni, a 23-year-old activist who is getting ready to enter his first year of medical school. "I've gone to a lab in a university and we don't have materials to work with because there's no budget."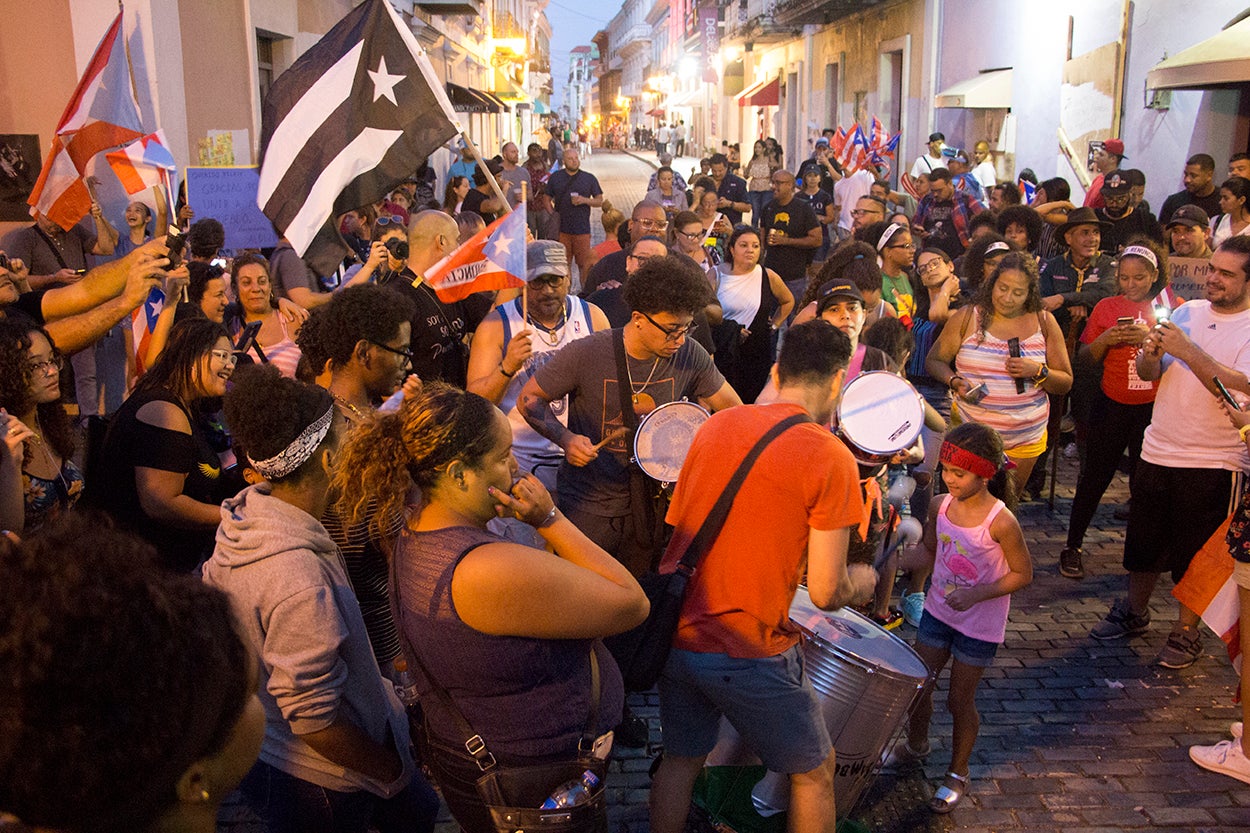 Early Wednesday morning, the crowd erupted into cheers after news of the governor's anticipated resignation broke. But protesters were unhappy, booing loudly, when they learned that Secretary of Justice Wanda Vázquez Garzed was expected to be Rosselló's successor.
Some protesters see Vazquez as part of the corruption in Puerto Rico.
"She is not impartial. She is another one who is working for the benefit of the party, not the people, not the country," said Karla Pesquera, a 30-year-old social justice activist who lives in San Juan and is currently unemployed.
Pesquera, who has been in the grassroots movement since 2010, has a mix of emotions. "All these people came with this will and this power to fight back the government and it's amazing," she said. "I am shocked, I cannot believe it. I am very happy, but at the same time, I don't know what is going to happen."
The potential end of Rosselló's era brings excitement but also uncertainty. Demonstrators already saying they want Vazquez to resign.
"We're going to celebrate a victory that we have never seen in decades and decades," Pesquera said. "This energy is going to prevail for further fights. Puerto Rico is just anxious to change the whole system. We woke up finally."
READ MORE:
Got five minutes? We'd love to hear from you. Help shape our journalism and be entered to win an Amazon gift card by filling out our 2019 reader survey.