Do you consider yourself the quintessential movie guru? Well, this card game is about to put your scary movie trivia knowledge to the test.
Slash Cards takes horror movie trivia to an entirely new level. With over 1,300 questions that cover 400+ movies, this game isn't exactly for the novice. In order to come out on top, you must know your stuff. The trivia questions cover everything from the silent era all the way up to films released just a few years ago – 2015 to be exact. From Jason Voorhees and Jigsaw to Hannibal Lecter and Leatherface, every titular character, minute plot detail, and setting is included.
Slash Cards are broken up into two decks, The Trivia Deck and The Categories Deck, as well as five categories. You and up to five other friends have to name movies from a brief description, characters, give examples of niche horror films, discuss film style, match directors to their work and more.
But Slash Cards aren't your regular ol' movie trivia cards. They can be played in two modes: The Slasher and The Survivor. In The Slasher, players take turns drawing Category Cards and answering the questions. The first player to collect a card from each of the five categories wins. But watch out! If you draw a Slash Card, you're forced to forfeit all your cards and start over. In The Survivor, each player begins with a full suite of Category Cards. Each time a player answers a question incorrectly they lose one of their cards. The last player with a card in their hand wins!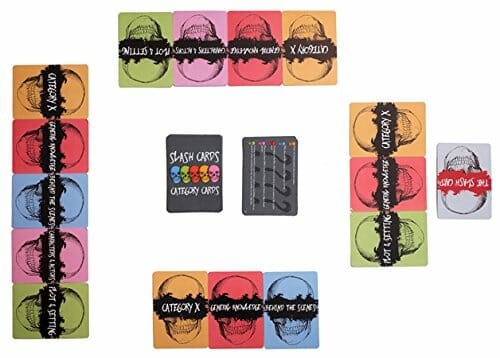 Slash Cards are available through Amazon for $35. So go on and grab 'em today to see how much you really know about all your favorite freaky films.
MORE BAZAAR DEALS:
The Daily Dot may receive a payment in connection with purchases of products or services featured in this article. Click here to learn more.