Disney star Skai Jackson has recently begun using Twitter to expose teenage racists. Now, she's facing heat for sharing details about a 13-year-old boy that fans claimed caused the kid's parents to lose their jobs.
For those unclear, Jackson has become known for posting the identities of racists online—which usually includes posting their full names, social media handles, high schools, colleges, and employers.
However, after a headline surfaced Saturday evening that a 13-year-old was expelled from school "& both of his parents lost their jobs," Jackson called the claim "false!" on Twitter.
Who did Skai Jackson dox?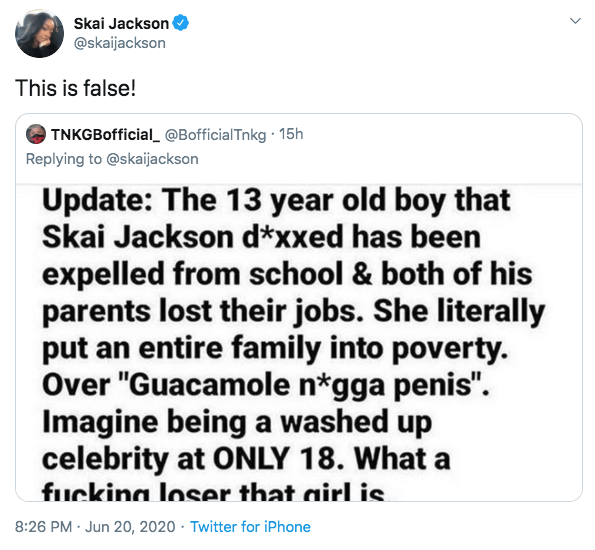 "She literally put an entire family into poverty," the post reads. "Over 'guacamole [N-word] penis.' Imagine being a washed up celebrity at ONLY 18. What a fucking loser that girl is."
"Hi, I just want to address this situation," Jackson wrote in response. "I never knew 'guacamole n**** p****' was something that was said in a meme. Please do not spread false info that his parents lost their job This screenshot is his best friend and someone else. I do apologize and will take responsibility."
Meanwhile, the actress also had to explain that an address posted online—believed to be Jackson's—was not hers.
"I'm getting DM'd from the people who live at those addresses that you guys think are mine," she wrote. "Stop harassing innocent people. It's not fair to them. My address isn't listed and will never be listed."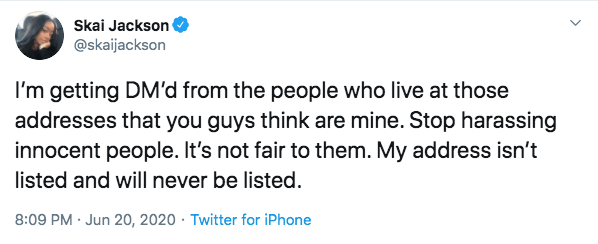 Jackson has been exposing racists and holding people accountable for their behavior for some time now. And she's been open about not feeling bad about taking people down in such a public way.
But she says she'll never post people's addresses online, even though Twitter users have sometimes given her that ammunition. Posting addresses, she said in a previous tweet, "is going a little too far."
Still, her behavior has put her in hot water with Twitter—she was once banned from the platform for 12 hours—and with fans. Multiple Twitter users say they want to cancel Jackson.
---
Today's top stories