Warning: This story contains sexually explicit material that may be NSFW.
Women on Facebook: The next time you post a photo showing the slightest amount of skin, it could end up on Reddit, where nearly 17,000 faceless strangers will gawk at you.
From there, they're just a few clicks away from figuring out your name, your age, your school, your location. 
R/FacebookCleavage, the hub for "sexy pictures of your hot Facebook friends," displays a stream of young women in bikinis, underwear, and low-cut tops. All the photos are ripped from the subjects' Facebook pages.
"My friend is hot and has an unreal ass," one user writes. Another offers "more if you guys enjoy her."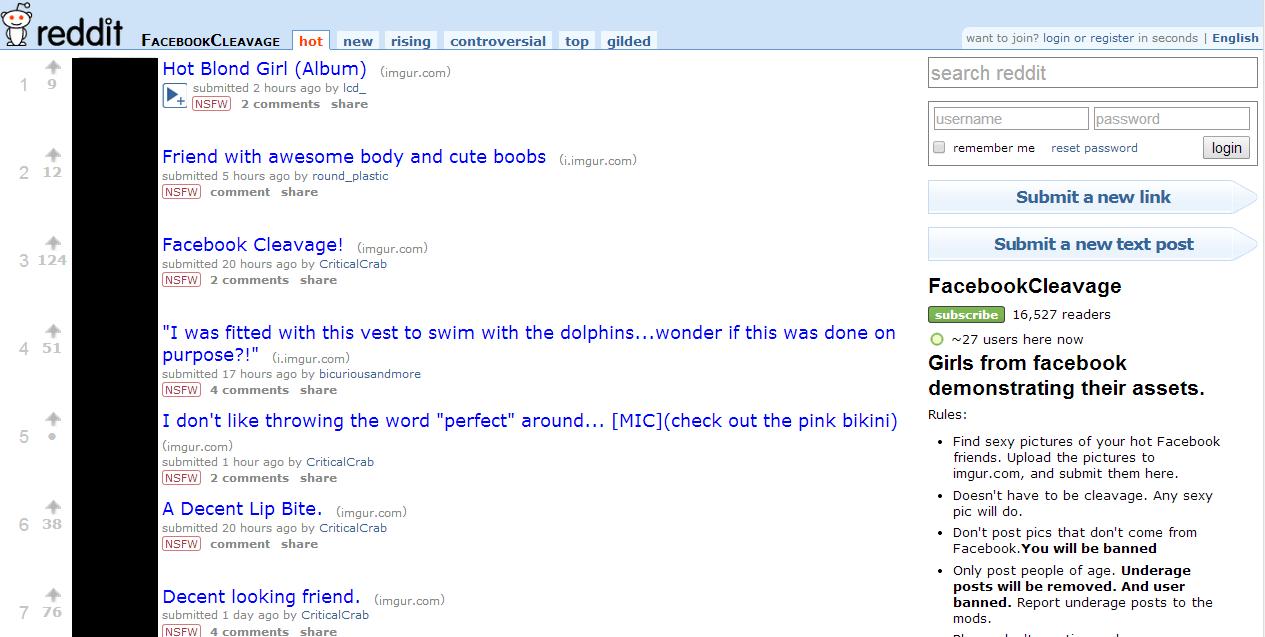 The subreddit might be breaking a number of Reddit rules regarding underage content. Many of the girls here look like minors—some even wear braces—but there's no way to tell, and it's near impossible to prove.
Most of the posts feature just one photo. Other times, you can find an Imgur album with 92 photos, or worse:

The subreddit has a loose set of rules banning real names and girls under 18. But this doesn't do enough to protect the women from having their identities discovered: A quick reverse-image search along with the name of a college on a hoodie, for instance, can lead to the social media profiles of women on the subreddit.
Of course, FacebookCleavage is far from the only subreddit like it.
…
After a substitute teacher was fired for taking upskirt photos of his underage students and posting them on Reddit in 2012, a community called Creepshots welcomed hundreds of uninvited guests. Reporters had the same question: How is a forum dedicated to sexualized photos of nonconsenting girls and women able to exist, not to mention thrive? 
After a slew of bad press, Creepshots shut down. Two days later, on Oct. 12, 2012, Gawker's Adrian Chen outed the identity of r/creepshots moderator Violentacrez, real name Michael Brutsch. While Brutsch was busy trying to piece together his life, Reddit administrators were quietly banning any subreddits with the words "creep" or "shot" in it. The list included r/cshots, r/creepsquad, r/creepshots2, r/creepshots3, and r/CreepyShots. 
The effect was like throwing a fresh coat of paint on a water-damaged ceiling. For a year and a half after the great creepshot purge, Reddit admins ignored the issue. Copycat creepshot forums sprang up left and right, unhindered. Redditors continued to snap photos of women in public—usually zooming in on their breasts or their asses—and share them with the group.
Reddit has never had a good track record with nonconsensual sexual photography, the exploitation of minors, and sexual harassment. Before Creepshots, the most controversial subreddit (also moderated by Violentacrez) was r/jailbait, whose members combed through teenage girls' social media looking for cleavage and bikinis. (One rule: "Generally, girls have to be of the age of consent to get a tattoo, so if she has a tattoo, she's probably also of legal age, and therefore not jailbait.") Jailbait was shut down due to internal conflicts.
A few months later, r/FacebookCleavage was founded. The group took its cues from both r/jailbait and r/creepshots. And it's still around—it's been going strong for a year, as of March 23.
On another forum, r/candidfashionpolice, users post suggestive photos of woman taken in public. They comment on them as if they were hosts on TLC's What Not to Wear.
Since I reported on Candid Fashion Police on Feb. 7, this subreddit has grown by 2,000 subscribers, nearing 20,000 total. While both subreddits continue to follow Reddit's official rules, this number will surely grow.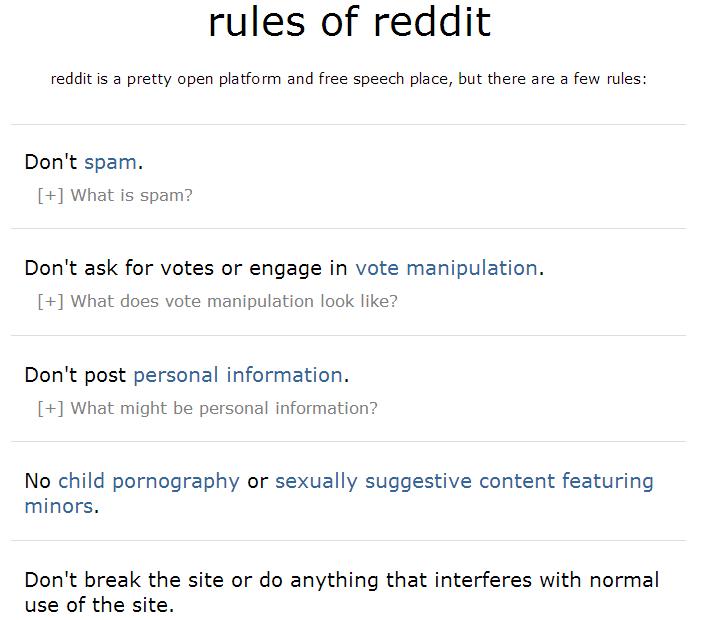 These rules have insulated Reddit administrators, allowing them to dodge complicated questions about such subreddits while keeping these forums open for submissions. The last time administrators bypassed their own rules and took a stand against such content was in the fall of 2012, when r/creepshots was banned. Imgur also banned all photos uploaded to the subreddit.
R/candidfashionpolice is exactly the same as r/creepshots—it just added a gimmick.
It should come as no surprise that these subreddits are successful. Creepshots sure was.
"Just last week we were averaging somewhere around 40,000 pageviews each day," former r/creepshots moderator POTATO_IN_MY_ANUS wrote in September 2012. "Yesterday we hit a total of 1,580,692 pageviews. … Considering we aren't a default subreddit, and are still relatively new and small (but very rapidly growing) this is quite impressive."
Since banning Creepshots, Reddit administrators have cracked down on more groups, but they've continued to show an unwillingness to remove content and ban communities.
In 2013, administrators banned all links to meme generator Quickmeme for spam and vote manipulation. They shut down the subreddit r/n****rs, not because of its racist content, but because subscribers acted as a "downvote brigade," launching full-scale downvote attacks on rival subreddits. The subreddit Find Boston Bombers was closed for disseminating false and personal information regarding the Boston Marathon bombings. 
I reached out to Reddit administrators regarding r/FacebookCleavage. So far, I haven't heard anything back, and I don't expect to; they were equally quiet about r/candidfashionpolice.
I also got no response from a spokesperson from Imgur, the host of all r/FacebookCleavage content.
With Imgur unwilling to take down these images, is there anything a woman can do to protect herself from showing up on either forum? Short of making all her personal Facebook photos completely private, there's not much she can do to hide them from redditor friends. 
"No one cares," writes Erin Gloria Ryan at Jezebel, "because dudes want to make jerking off a social activity, and women aren't people." 
Reddit has consistently prized free speech over all else. In the words of general manager Erik Martin, "Morally questionable reddits like jailbait are part of the price of free speech on a site like this."
Yet doxing and harassment have always tested the limits of free speech. Using the social news site to spread personal information about its subjects is among the site's biggest no-nos.
Reddit just can't figure out whether those rules apply to ripped-off photos of young women in swimsuits.
Update 3/18/14: FacebookCleavage was updated with some new rules:
1) people must provide proof that the people consented to having their pics posted

2) Please provide proof that They're 18+
"So basically this subreddit is dead," one user wrote. "And nothing of value was lost," responded another.
But don't cry victory just yet. As we've learned, it's only a matter of time before r/FacebookCleavage clones start to appear.
Photo by Dan Taylor/Flickr | Remix by Jason Reed (CC BY 2.0)