Only a day after hundreds of thousands in Britain marched in protest of President Donald Trump, his London fanbase threw their own demonstration.
A "Welcome Trump" march merged with a protest in support of freeing jailed far-right leader Tommy Robinson in central London on Saturday afternoon.
Hundreds of protesters gathered in White Hall, the section of London that includes Parliament and most of the British federal government. Hundreds of signs that read "Britain Loves Trump" and "Free Tommy Robinson" could be seen among flags that double as nativist symbols—Union Jacks, the red and white English flag, and American flags.
https://twitter.com/askhalid/status/1018133113556348929
Posing with Trump at the #FreeTommyRobinson rally. pic.twitter.com/JN6AiUf9Xg

— Amrita Khalid (@askhalid) July 14, 2018
Never seen so many British folks in MAGA hats. #FreeTommyRobinson

— Amrita Khalid (@askhalid) July 14, 2018
The crowd of almost entirely British demonstrators chanted their love of the American president, saying "We love Trump! We love Trump!" while in the backyard of the British government.
https://twitter.com/askhalid/status/1018143934973956096
Robinson—the founder of the far-right group known as the English Defence League, or EDL—is currently serving a 13-month prison sentence for breaking contempt of court laws. The 35-year old political activist is known for inciting violence against Muslims and holding rallies that often end in violence.
"I just feel that he wants people to know the truth," said Melissa, a young woman from London who held a sign with the famous quote from George Orwell that read, "During times of universal deceit, telling the truth becomes a revolutionary act."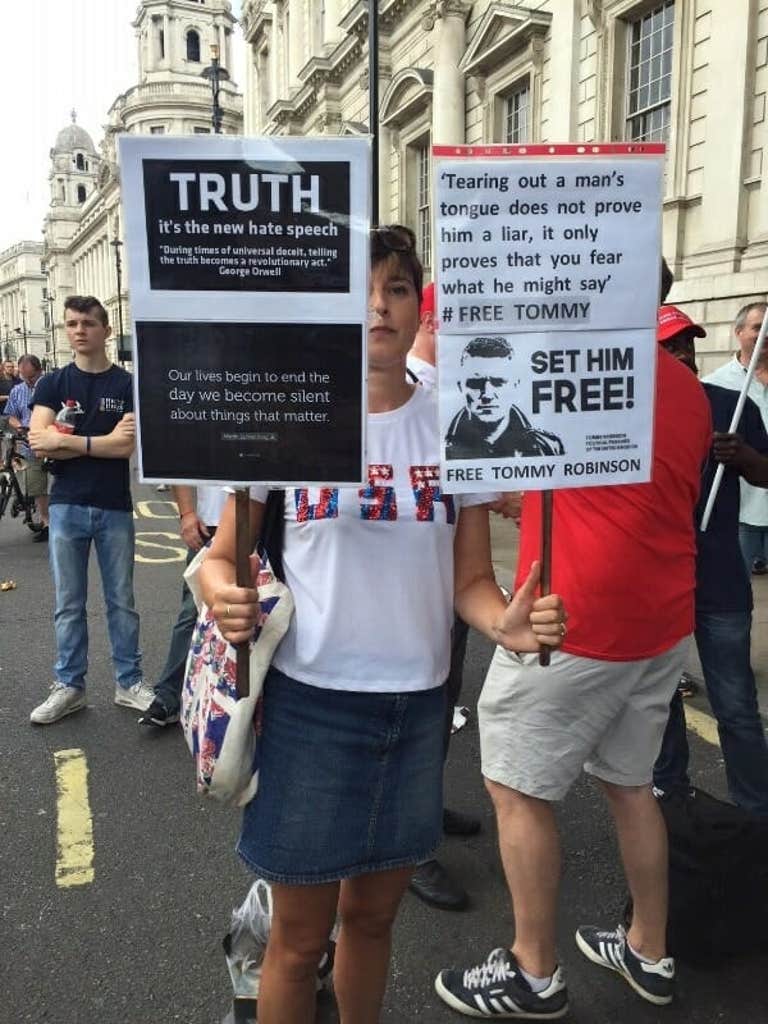 Freeing Robinson from prison, freeing Great Britain from Europe, and freeing Europe from Muslims seemed to be a running theme at the rally. Chants of "We want Tommy out" and "Stop grooming gangs," in reference to incidents of British Muslim men raping underage white females, rang out. Many credit Robinson for bringing attention to the "threat" of Muslim grooming gangs, though there is no evidence to suggest that British Muslim men are disproportionately involved in such rapes.
Despite the claims being dubious, grooming gangs have become a favorite talking point of Robinson and other right-wing, anti-immigrant figures throughout Europe and the U.S.
According to Sky, about 250,000 people attended the anti-Trump rally on Friday. Not nearly that many were on hand on Saturday.
Just for the record: I went to two rallies in London this weekend; the anti-Trump march/rally in Trafalgar Square on Friday and the pro-Trump/Tommy Robinson protest in Whitehall on Saturday. FAR bigger crowds at the former. No contest.

— Amrita Khalid (@askhalid) July 14, 2018
Scotland Yard placed restrictions on both protests on Saturday "due to concerns of serious public disorder and disruption to the community." Robinson protesters attacked police officers with signs and crowd barriers at a protest in London last month, resulting in the arrest of nine protesters and the injury of five officers.
Only two people, a man and a woman, were arrested at the Saturday protest, according to the Guardian. While hundreds defended the American president's leadership on British soil, Trump himself was playing golf at his resort in Scotland.
Editors' note: A previous version of this story misidentified the Union Jack flag.