According to a lawsuit filed Monday, a federal prison official in Indiana has reassigned after allegedly sharing tweets from a burner account mocking the execution of a death row inmate, as well as the deceased inmate's lawyer.
According to Vice News, attorney Ashley Kincaid Eve has sued Andrew Sutton, a former counselor in the Special Confinement Unit of the United States Penitentiary, Terre Haute. She claims the posts targeted her and former prisoner Christopher Vialva, who was executed in September. Moreover, the suit alleges Sutton was reassigned because of the social media posts.
Fox 59 reports that the Terre Haute prison's website no longer lists Sutton as the Special Confinement Unit counselor; however, his employment status at the prison is unknown. Fox 59 reached Sutton by phone Monday but claimed he didn't know anything about the accusations.
"I have no idea what you're talking about," Sutton told Fox 59.
Fox 59 reports that Sutton "controlled all communications between condemned inmates and the outside world. The counselor's duties include setting up phone calls and visits between inmates and their attorneys, family, and clergy."
According to Eve's suit, Sutton posted a string of messages, under the moniker "fozzythebear," on Twitter. In the now-deleted tweets, he allegedly applauded the execution of Vialva, who was convicted of murder, while insulting Eve, who assisted him before his death.
Vialva was executed by lethal injection on Sept. 24 for the 1999 high-profile murders of Todd and Stacie Bagley in Killeen, Texas.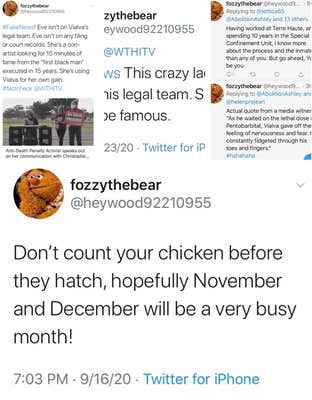 "Eve isn't on Vialva's legal team," one tweet said. "She's a con artist looking for 15 minutes of fame from the 'first black man' executed in 15 years."
"This crazy lady is not a part of his legal team," read another from the burner account. "She is just trying to be famous."
WTIU highlighted Vialva's case in a report regarding the racial disparity in how the death penalty applied.
Per the lawsuit, Eve was helping Vialva's lawyers handle media requests and interviews. She was not directly assisting with his appeal. Even worse, the account quoted a news story detailing Vialva's final moments of life, using the hashtag: "#hahahaha."
"Roane, Tipton, and Johnson better be ready," read yet another tweet from August, referencing James Roane, Richard Tipton, and Cory Johnson, three more men were sentenced to death. Johnson is scheduled for execution on Jan. 14. 
"Lining them up as they should have been years ago," @fozzythebear wrote.
A particular tweet included in the suit alleged the account belonged to an employee within the prison, virtually outing himself.
"Having worked at Terre Haute, and spending 10 years in the Special Confinement Unit, I know more about the process and the inmates than any of you," @fozzythebear burner account tweeted, per the lawsuit.
"It was indeed in responses to Rob that it became clear my sadistic Twitter troll was a high ranking official in that prison," tweeted Eve, citing the report. "And not long after, I was able to deduce exactly who he was. Step into the light and make yourself right. If you're going to kill-at least do it 'ethically.'"
---
Today's top stories