A charm from Prada's "Pradamalia" collection has been removed from stores after a woman called out the trinket for its racist imagery.
Chinyere Ezie, an attorney at the Center for Constitutional Rights, spotted the racist trinkets in SoHo, New York City, on Dec. 13. Photos on her Facebook page show figures resembling monkeys, with dark skin and massive red lips.
"Today after returning to NYC after a very emotional visit to the Smithsonian National Museum of African American History and Culture including an exhibit on blackface, I walked past Prada's Soho storefront only to be confronted with the very same racist and denigrating #blackface imagery," the caption reads in part.
Ezie said that, upon entering the store and asking employees about the imagery, she was told that a Black employee who had also complained about blackface at Prada no longer worked there.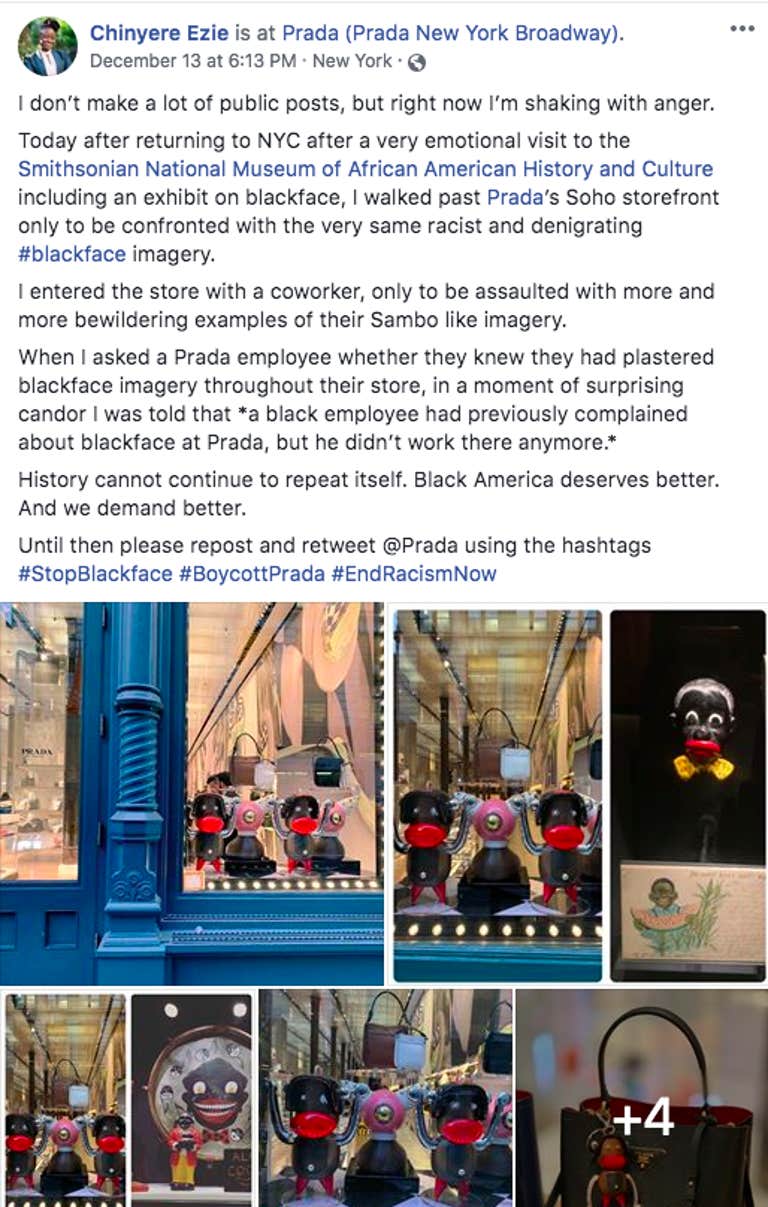 Ezie's post points out the resemblance between Prada's "toys" and depictions of blackface in American history, in particular, the character of Little Black Sambo.
Sambo, depicted with very dark brown or black skin and a massive red mouth, fueled the image of Black people as subservient, stupid, and subhuman. This image was prevalent in the U.S. throughout the first part of the 20th century.
The comparison of Black people to monkeys or apes is a longstanding racist trope, too; as authors Charles W. Mills and Wulf D. Hund point out in Simianization. Apes, Gender, Class, and Race, Black people have been associated with apes and monkeys for centuries in order to dehumanize, demonize, and enslave them.
Prada released a statement on Friday, saying,
Prada Group abhors racist imagery. The Pradamalia are fantasy charms composed of elements of the Prada oeuvre. They are imaginary creatures not intended to have any reference to the real world and certainly not blackface. Prada Group never had the intention of offending anyone and we abhor all forms of racism and racist imagery. In this interest we will withdraw the characters in question from display and circulation.
As of Friday morning, according to Quartzy reporter Marc Bain, the windows of the Prada store in SoHo were covered as employees removed the racist imagery.
Prada is just the latest fashion brand to get called out for racism. Both Dolce & Gabbana and H&M faced significant backlash this year, Dolce & Gabbana for a racist ad campaign in China, and H&M for putting a Black child in a sweatshirt declaring him "The coolest monkey in the jungle."
Prada is based in Italy, a country where racism is alive and well. Roma children have been murdered or left to die, and the country experienced a spate of attacks against African immigrants this summer. Constituents threw bananas at a Black lawmaker in 2013.
The Daily Dot has reached out to both Prada and to Chinyere Ezie for comment.
H/T Quartzy
Update Dec. 15, 12:30pm CT: Ezie responded to the Daily Dot's request for comment, saying the following via email:
I was shocked to see Blackface and Sambo images in a Prada Soho window display in 2018. This iconography has been used throughout history to mock and demean Black people and strip us of our humanity–oftentimes in response to our efforts to assert our rights. Ironically, I passed the Prada storefront on my way back from a civil rights conference in DC where I visited the National Museum of African American History and Culture, which is dedicated to exposing these racist histories. It was a cruel reminder of how history continues to repeat itself. Everyday racism is just a bitter pill that Black people have to swallow, but we can fight back.
Jen Nessel, the communications coordinator at the Center for Constitutional Rights, added that Ezie had requested all sales from Prada's racist products go to "organizations that work to combat racism."