One of my favorite adult games as a teen was a little-known visual novel called X-Change. Originally released in Japan, the game focuses on a high school student named Takuya Aihara who transforms into a woman after being exposed to strange chemicals. As it turns out, this makes her incredibly attractive to her classmates, letting her have plenty of fun in her new body along the way.
Warning: This article features explicit sexual content.
X-Change appealed to me for the same reason so much "gender transformation" porn did: It gave me a safe sexual outlet to explore my gender identity. Here was a game that let me play as a high school boy-turned-woman, engaging with other students as an active participant, not just a passive viewer. It taught me that porn can help people understand their needs and desires, especially people who may not be able to find their stories in mainstream media. If I couldn't live as a girl, at least I could pleasure myself as one. 
Many trans women have similar experiences with kink, particularly gender transformation and forced feminization fetishes. And there's no shortage of adult games out there in 2019. But I feel like an outlier all over again—not because I'm trans, but because I'm one of the few games journalists taking the adult games industry seriously. Way too many writers and editors stay away from the games world's not-safe-for-work side, and they're leaving 18+ creators in the lurch.
…
Don't ask Sony or Nintendo because adult games are few and far between on their digital storefronts. But some of the most important moments in gaming history can be traced back to porn.
Before there were PlayStation and Xbox, iconic Japanese games companies Enix, Square (later merged into Square Enix), Nihon Falcom, and Koei all got their start during the 1980s as porn game developers working with the PC-8801, a 1979 8-bit PC from Japanese computer company NEC. These games became so popular that the PC-8801 developed a reputation as "a haven for eroge," or erotic Japanese visual novels. More than three decades later, eroge is as popular as ever in Japan, with adult visual novels increasingly appearing in the English-speaking world too. According to the Visual Novel Database, only 59 visual novels with adult content featured English during the 1990s. That number ballooned to 240 across 2018 and 2019.
Then there's the DIY game development scene. In the early 2010s, the browser-based interactive fiction game development engine Twine became a popular tool kit for creating games about gender, queerness, and sex that challenged what storytelling can accomplish in games. Anna Anthropy's Queers in Love at the End of the World explores lust and sapphic desire seconds before a nuclear apocalypse. Cara Ellison's Sacrilege uses a dance party backdrop to convey the messy communication (or lack thereof) that happens between straight people looking to have sex. And Consensual Torture Simulator by merritt k introduced a choose-your-own-adventure bondage, dominance, sadism, and masochism (BDSM) game where players realistically manage their submissive's pain tolerance and boundaries. (Disclosure: Ana Valens formerly freelanced for Fanbyte, where merritt k serves as managing editor.)
In 2013, when each of these games came out, titles like Grand Theft Auto V and BioShock Infinite dominated the mainstream gaming market. These gaming franchises have very little to say about real-world BDSM, sexual consent, women's relationships with their bodies, or queer love. Twine developers challenged that norm. 
"There is an actual humanity to [Consensual Torture Simulator] that is missing from mainstream porn (and dare I say it, many of those AAA games that feature torture)," Patricia Hernandez wrote for Kotaku in 2013, favorably comparing the game to blockbuster hits from major publishers. "As far as the game is concerned, you care about this person. They're not just someone you're screwing/hurting. … Heck, it's not even all about testing the limits of the other person—the game asks you to consider what you yourself are comfortable with."
Six years later, many of these developers went their separate ways for various reasons. Ellison now serves as senior narrative designer for the highly anticipated upcoming RPG Vampire: The Masquerade Bloodlines 2, and merritt k removed her Twine games from the internet, calling her past work "personal in a way that I was uncomfortable with" and fearing online harassment. But their influence can be felt in today's indie, niche, and progressive adult games.
Game designer Bobbi A Sand, who uses she/her and they/them pronouns, first started working in games in 2006. Two years ago, she decided to combine her work as a young adult erotica fiction writer and a game developer to create a narrative-driven, young adult visual novel. She centered the game in a "queer environment" that she herself was part of, and Knife Sisters was the result.
"It's been very well received by people who wish for a more open and progressive society, and who see themselves and their friends in the game," Sand told me. "It's a common comment, and I'm happy that there are people who feel represented by it. People within both the queer and kink community are not spoiled with representation, to say the least."
Online games journalism outlets encourage writers to focus on AAA titles because these releases are guaranteed to generate views (and thus ad revenue). While Knife Sisters doesn't fit that mold as an indie title by a queer developer, games writers still tackle other visual novels that push the genre's boundaries. Brianna Lei's queer visual novel Butterfly Soup received coverage across Paste magazine, Eurogamer, PC Gamer, and the Verge. Team Salvato's Doki Doki Literature Club merged anime romance with horror through meta-commentary that still fascinates games writers to this day. These games stood out, and they seemingly earned their spot in games writing.
In comparison, games media outlets have largely ignored Knife Sisters, seemingly for its adult content and its niche genre. Aside from articles by queer outlets and a feature story on Kotaku by noted adult games writer Kate Gray, press "was very quiet" overall, Sand told me. Instead, Knife Sisters reached its target demographic thanks to social media, word of mouth, and the Steam Curator system, as well as some exposure through E3 2019's IndieCade Showcase.
"It has been harder than I expected to get coverage," Sand explained. "On the other hand, that seems to be the case for many indie developers these days. But there was this big contrast between the number of Steam Curators who featured the game and recommended it, and the more traditional games media, who were largely quiet."
Another developer, Ruffleneck (who uses they/them pronouns), works on the adult furry action role-playing game Hunt and Snare. The game is impressive as far as 18+ titles go, thanks to its sprawling open-world game design. Players explore a fantasy world with a ship crew and hunt other anthropomorphic creatures for sex or profit. As far as sex goes, Hunt and Snare presents a wide range of encounters, from heterosexual hookups to lovemaking between two women with penises (which the game also refers to as "futanari," or a fetishistic depiction of a woman with a penis). It's like Assassin's Creed meets furry porn.
But despite contacting around 30 games journalism sites, Ruffleneck says the media landscape "has been literally useless," forcing them to instead rely on "various NSFW forums and communities" to promote the game, they told me. The Hunt and Snare team ended up purchasing advertising on FurAffinity and E621, two furry-themed art sites with adult content, in order to grow their audience.
"If games media did cover NSFW games more, it would definitely give me more time to worry about making the game and less about me worrying if next month is the last," Ruffleneck said. "But that's the same in the [safe for work] side too, in my opinion. Big games get the biggest coverage, smaller games get one article tops."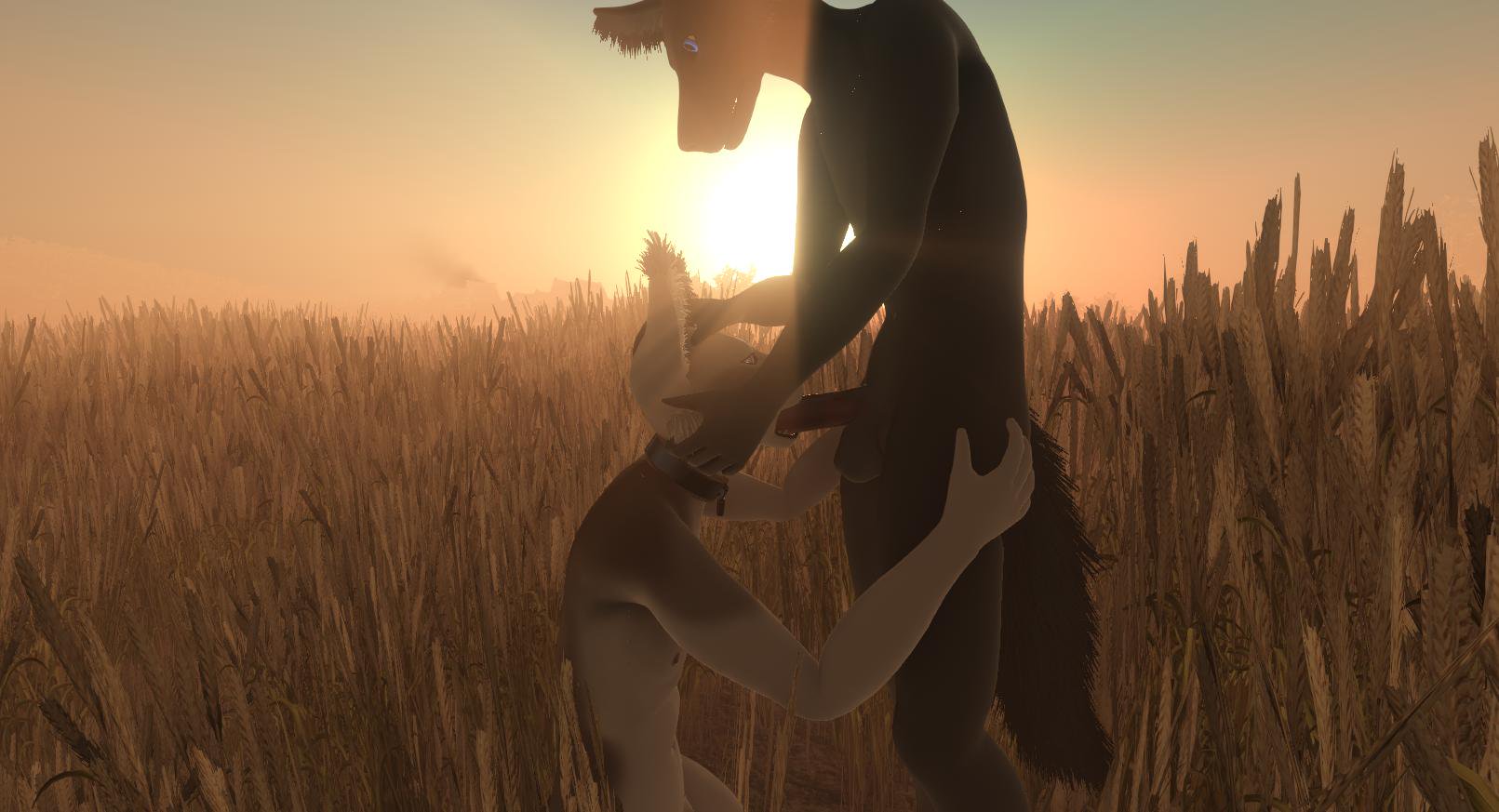 Ellison, Anthropy, merritt k, and their contemporaries paved the way for more mature, adult content in games. They sparked games criticism that took sex seriously and celebrated erotica, particularly queer smut. But the biggest games media websites haven't followed their path.
A quick search for the word "adult content" on Polygon provides links to coverage on the Tumblr NSFW ban, Valve's content moderation policies on Steam, and whether VR porn will be allowed on the Oculus Rift. But this writing is focused on the theoretical moderation issues behind adult games, not the adult games industry itself. Rock Paper Shotgun hosts a fair amount of feature stories discussing sex in games, but when it comes to news, 18+ releases rarely make the cut. Instead, its "sexy sex" tag largely discusses Steam and Valve's relationship with 18+ titles. Gamasutra has plenty to say about the narrative design behind sex, how games with sexual themes relate to players, and conventions about sex and games, but news coverage on adult releases is minimal at best in 2019.
The exception to the rule is Kotaku, which covers independent and queer adult games for the site, or reporters like Cecilia D'Anastasio, who recently covered the American hentai industry's business dilemmas. Otherwise, games outlets seem more concerned with adult content in terms of censorship, not 18+ games for their own sake. The Daily Dot reached out to all four publications for comment.
Adult visual novel developer Lupiesoft received an enormous wave of press coverage last year after Valve nearly removed the studio's adult visual novel Mutiny!! from the Steam Store for featuring "pornographic content," even though the game's 18+ material did not violate Steam's guidelines and were agreed upon by Steam ahead of release, according to Lupiesoft. Conservative anti-porn organization the National Center on Sexual Exploitation took credit for the game's removal thanks to its "aggressive" two-year campaign targeting Steam, although Valve later decided not to remove the game. (Steam has since opened up its store to sexually explicit games). Otherwise, games journalists rarely cover Lupiesoft's work.
Peter "Taosym" Rasmussen, Lupiesoft's founder, says the studio deals with hesitation from the games media due to the "erotic and fetishy nature" of their visual novels. This is particularly troublesome for Lupiesoft, which is a queer development team that regularly collaborates with other queer creators, cutting the team's audience "in half, or more," Rasmussen said.
"I do think people are very squeamish about sex in general, there is so much residual, built-up shame it's hard to even talk about it," he told me. "I think if we all understood that sex, kinks, and fetishes are something that's completely normal, it will become less stigmatized."
Games journalists seem to agree. One writer I spoke to, "Eve," is a bi cis woman who requested anonymity to protect her career. She argued many games outlets try to stay "relatively kid-friendly" and believe in a "negative stigma of who actually consumes NSFW work," leading them to avoid writing about the 18+ side of their own industry. Because mainstream game development revolves so much around American mass media, Eve says, the U.S.'s puritanical attitudes on sexuality and nudity are exported onto the games industry as a whole.
"In reality, so much of independent NSFW media is by women and non-binary creators, for each other," Eve told me. "The big example to me is fandom spheres including NSFW fanart and fanfiction, which is overwhelmingly non-man. And that sensuality leaks into mainstream fandom plenty often, especially in queer spaces. But when you look at who these mainstream NSFW games appear to be targeting by their presentation, you're pretty traditionally going to find a tired, repetitive male gaze sort of take, because that's the main group believed to be spending money on NSFW games."
All these problems come from a much larger conversation: whether video games are "art." It's obvious that games are art; they're a form of cultural expression that elicit emotion and response, just like any other artistic medium. But because many people outside of the gaming world look at video games as children's toys, games journalists struggle to have their work taken seriously by their family, friends, and peers. So to establish legitimacy, these writers and editors try to prove their field is a serious art form by shutting out the riff-raff within the industry: smut creators.
"I don't think adult games wouldn't do clicks—if anything, I think it'd bring in a mix of fascinated clicks and angry clicks," Eve said. "The reasons [coverage is missing] are honestly probably a lot more boring: advertiser dollars, company policy, having to write around the NSFW aspects to remain 'kid-friendly' or 'rated PG-13.'"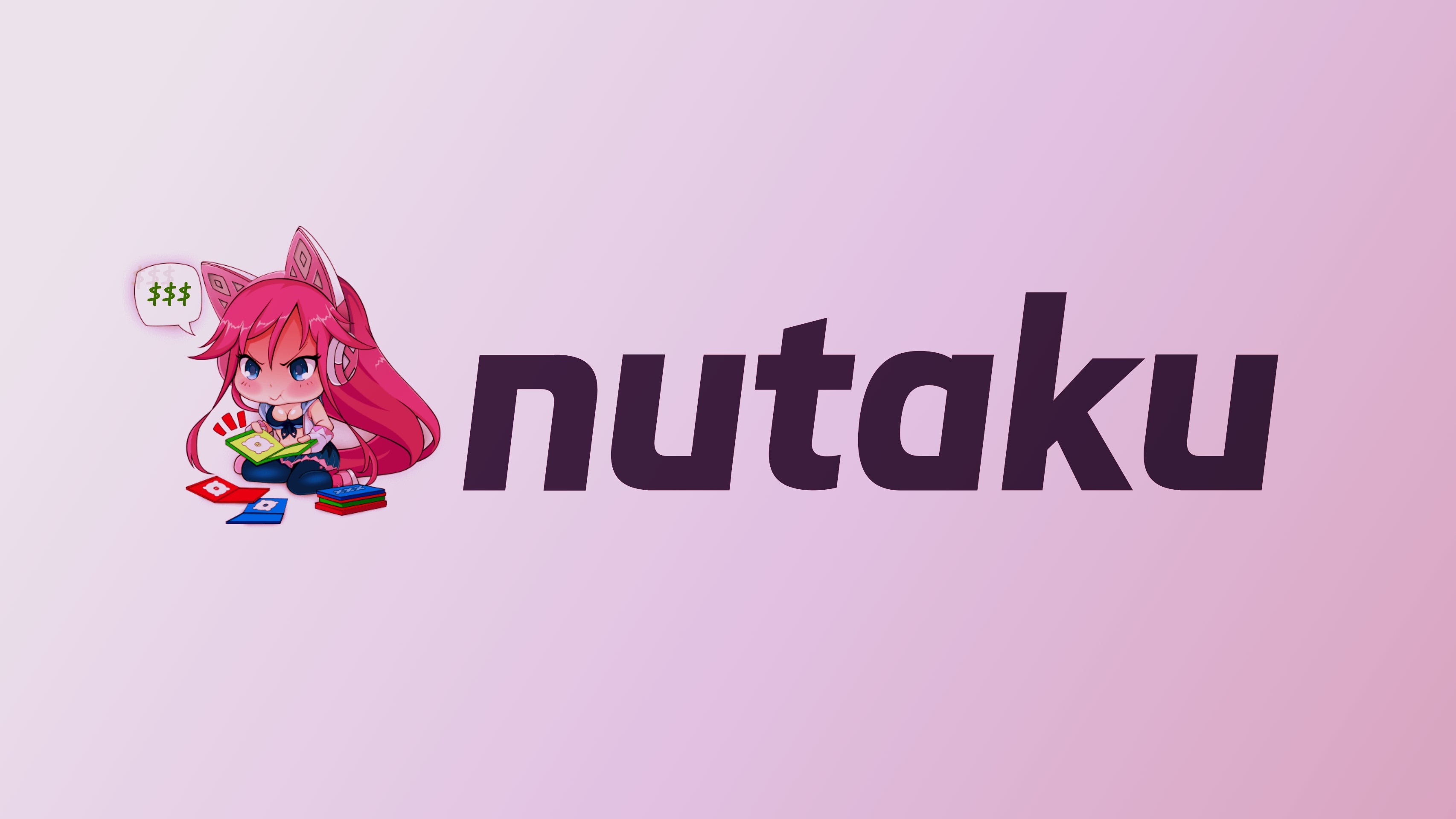 Whether games journalists like it or not, the adult games industry is an enormous field that's only growing in size, and it isn't going away. In fall 2018, GamesIndustry.biz reported on adult games distribution website Nutaku's presentation at Europe's Devcom convention. By that fall, the site had reached "five times the traffic" of popular mainstream games distributor Kongregate, the site's Business Development Manager Jeff Tremblay said during the presentation. That's unsurprising. Nutaku is owned by MindGeek, the parent company behind Pornhub.
"It's difficult to compare Pornhub to Nutaku, just based on the demographics and content being vastly different," Nutaku's public relations and marketing lead Erica Z told me. "That being said, Nutaku is a major presence in the adult gaming sphere. At 120 million monthly visits, Nutaku is the largest 18+ gaming platform in the world."
MindGeek's reputation precedes itself in the adult content industry. Slate's David Auerbach describes MindGeek as owning "a large number of porn aggregator 'tube sites' […] which serve up huge amounts of free porn funded by ads," with pirated content notoriously appearing in droves on the site. Because MindGeek "effectively came to control a huge amount of the mainstream 'traditional' porn industry" after the porn industry experienced a major economic crash in 2008, Auerbach writes, the company's brands have become so powerful that performers and independent studios inevitably do business with MindGeek one way or another. Adult Empire's Colin Allerton echoed that same point to the Daily Dot five years ago, warning that "just about every major studio and star is now partnered with MindGeek or has worked for a studio that MindGeek purchased."
When reached for comment, MindGeek Communications Manager Michael Willis denied that MindGeek is a monopoly, called the claim "grossly exaggerated," and argued Slate and the Daily Dot's articles are "outdated" and "riddled with inaccuracies." Instead, he argued the company's websites "account for just 9% of all adult website traffic."
"There exists no monopoly in the adult entertainment world. A look at publicly available data shows an industry that is diverse, healthy, and competitive," Willis told me. "Within the top 10 most visited adult websites, there are six companies represented, which collectively account for just 26.6% of all adult website traffic. In fact, the top 100 adult websites account for only 40% of all adult content consumed on the internet. These figures speak to the competitiveness of the industry and do not substantiate monopoly claims."
But with MindGeek's financial backing, it's easy to imagine Nutaku growing until it becomes the most stable, reliable, and powerful adult storefront in the 18+ games world, just as Pornhub grew to prominence in the 18+ streaming world. And that would let Nutaku dictate the adult games industry's practices on its own terms. But games journalists never discuss Nutaku's parent company and the damage it could do to small adult games studios and indie 18+ storefronts. Porn coverage is stigmatized, so by extension, adult business coverage isn't considered serious enough to write about.
…
One of the few sites to push back against Nutaku is a small outlet called LewdGamer. Despite having an advertising deal with Nutaku, the site published a story in 2016 criticizing over 20 cases of "copied and modified," or traced, artwork found on one of the storefront's games, calling the practice "illegal and highly unethical." Erica Z said Nutaku reached out to the game's developers "as soon as we found out about the traced artwork" but refused to comment any further on the incident.
"In terms of LewdGamer, we've done some advertising with them in the past," she told me. "That being said, any thoughts or opinions of LewdGamer are their own, and are not shared or endorsed by Nutaku."
LewdGamer was founded in January 2015 by a writer named Ryan Caldwell, better known as LewdLogic. Caldwell hated that there wasn't room for dedicated porn game coverage in the industry's editorial world, so he created a website for NSFW news, features, reviews, and more.
Caldwell and I have a lot in common. We both believe in protecting the 18+ games industry from predatory payment processors, we're both concerned with Patreon's apparent NSFW content purge, and we both believe fictional adult content doesn't necessarily have to reflect real-world values around sex. However, LewdGamer has a libertarian stance on radical free speech, which comes at a cost for marginalized adult consumers like trans women or feminists.
One October 2015 article calls rape culture "quite false," claiming "radical feminism has long been at odds with liberal views on sex and pornography." This is a historical anachronism as radical feminists have traditionally fought over adult media's role in society. Another piece from 2017 slams Christine Love's queer BDSM visual novel Ladykiller in a Bind for its "PC culture," arguing it does not "mix with the pornography industry." Other complaints include "the story is too preachy for it's [sic] own good," and the game's women "look too manly."
"If you're not a fan of things that a feminist or self-proclaimed social justice warrior would preach, then you'll probably want to steer clear of Ladykiller in a Bind for that alone," that review says. "[J]ust when you start to enjoy a conversation, something gets said to remind you of the developer's political leanings."
LewdGamer also takes a laissez-faire approach to more controversial problems with adult content, such as lolicon and shotacon, or illustrated pornography depicting young girls and boys. After the United Nations' Committee on the Rights of the Child (CRC) proposed banning "any representation of a child engaged in real or simulated explicit sexual activities," including "drawings and cartoons," LewdGamer published an article in February calling the move "questionable" and inviting readers to reach out to the CRC. The year before, a news story criticized Reddit for banning content that "sexualizes minors," including "depictions of minors that are fully clothed and not engaged in overtly sexual acts." The piece warned the new policy may be "an attempt to clamp down on anime further."
These articles pale in comparison to LewdGamer's official Discord server. After I joined the public community, I came across users making anti-Semitic jokes, writing transphobic slurs, and complaining about social justice warriors. One LewdGamer fan argues "gender reassignment [surgery] is a scam" and that many trans women are "on a crusade to erase [cis] women's bodies from media." Another user with a Pepe the Frog avatar says he wants to "have kids" that "grow up without multiculti" and laments that Swedish women "are ruined with feminism." In the Discord's rules channel, Caldwell warns there are only two guidelines: "Just don't be a raging fucking faggot" and "no moral fagging" in the server.
"I know this falls under 'being a ragging [sic] faggot' but as a reminder, if you got a PERSONAL problem with shit people like. You can go make a thread about it on 4chan or Reddit or some shit," Caldwell notes. "If it's seen it's [an] on-the-spot ban."
While admittedly not a fan of labels, Caldwell is bisexual, and his rhetoric is supposed to be shocking. It's based on imageboard speak—4chan users traditionally use the term "faggot" loosely as an all-purpose insult or as a suffix, such as a "namefag" for someone who posts with a username on the site. But using "faggot" in a demeaning way perpetuates homophobia. It equates being gay with being something bad, like moralizing over kink. And I'm saying that as a long-time imageboard user who came of age in communities like 4chan's video game board, /v/, and its fetish porn section, /d/. For a random adult content fan who doesn't know Caldwell and has no prior experience on 4chan, throwing around the slur might come off as ridiculously homophobic.
According to LewdGamer's head content editor ZenithTheOne, the site's staff is "made of a diverse set of people with different beliefs and opinions," and, in Ladykiller's case, the site supports "the right of our writers to express their opinions within the confines of our reviews." 
"[I]n general, when it comes to 'politics,' we—as a company—do not hold or promote specific political viewpoints as 'pros' or 'cons' of a game; we simply judge the 'place' of politics within the writing itself, just as you would a film or book," Zenith told me. "If the politics feel loose, poorly written, or shoehorned into otherwise awkward or obtuse places, we criticize the writing as it stands on its own merits, or lack thereof."
The Discord is only moderated "on the basis of legality and Discord's rules," rarely intervening unless conversations "infringe directly on our understanding of rules, or cross the line into targeted harassment." Regarding gender reassignment surgery, feminism, and multiculturalism, ZenithTheOne claims LewdGamer "does not have any official stances," nor did he clarify the site's policy on lolicon and shotacon. "As long as it remains fictional, we believe in freedom of expression for artistic mediums as they pertain to the industry, including in the Japanese 'hentai industry,' and as such have and will continue to cover these topics as deemed relevant or adjacent to industry concerns or happenings," ZenithTheOne said.
When I reached out to Caldwell, he defended his use of the term "faggot" in the Discord with a similarly worded comment. This time, he used "faggot" to refer to a "futanari."
"I'm a half Black, half Hispanic that likes dick and pussy and I like calling my 2D futanari lover a faggot while I'm railing her from behind," he wrote to me as a tongue-in-cheek response. "Real [N-word] don't use faggot as a slur they use it as a catch all for assholes. OMG is that a black card? No. Personally I prefer the term African-American Express!"
Suffice to say, referring to a trans-coded woman as a "faggot" is just as transphobic as complaining about "moral fagging" is homophobic. It's arguably worse, given that while Caldwell is bi, he isn't a trans woman. But it's not surprising. That's just how LewdGamer's community talks.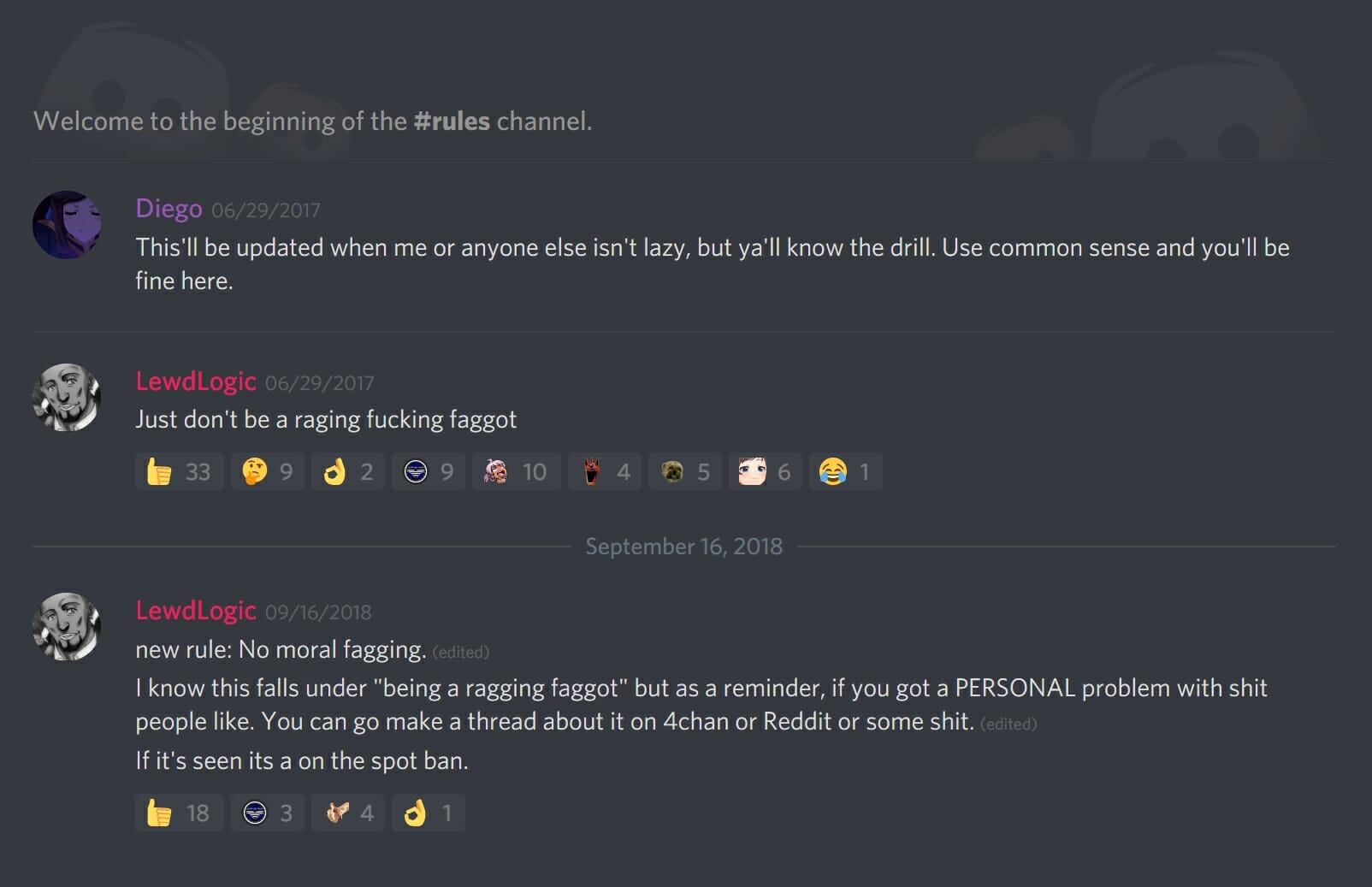 It's hard to write about LewdGamer without mentioning Gamergate, which is approaching its five-year anniversary this fall. In 2014, the Daily Dot called Gamergate "a cultural war" by gamers "against perceived threats, especially in reference to video game journalism." Last summer, Daily Dot contributor Joseph Knoop declared Gamergate "a series of harassment campaigns against women that hides behind its 'ethics in journalism' rallying cry." The community's right-wing political leanings have grown over time, and in 2019, their politics are the unifying force holding Gamergate's remaining members together.
LewdGamer came about during Gamergate's first few months, and Caldwell himself was an initial proponent of the hashtag. His site never explicitly condoned Gamergate, but its Twitter wrote in 2015 that it "sympathizes with #gamergate's concerns" for creating an ethics policy. Gamergate supporters quickly flocked to LewdGamer for its seemingly apolitical stance, and it became well-regarded in Gamergate communities like the subreddit r/KotakuInAction.
Caldwell says he no longer associates with Gamergate. From the start, he was primarily concerned with ethical journalistic practices in the games editorial world, he told me, not political correctness, which is why he drifted away.
"LewdGamer's stance on Gamergate has and always will be a neutral stance. LewdGamer covers hentai and hentai games; not Gamergate," Caldwell told me. "The only interaction LewdGamer as a company has had with Gamergate is the movement asking for our ethics policy. At the time other mainstream gaming sites such as Kotaku, IGN, and more had similar reactions and updated their ethics policy in reaction to the movement."
https://twitter.com/LewdGamer/status/1148505667856195586
After an extensive phone interview with Caldwell, an email exchange in response to additional questions for this story, and IMs between the two of us on Discord, I believe Caldwell when he says he no longer supports Gamergate. I also found him empathetic, open to disagreement, and respectful about my gender and sexuality. But the language he uses in the Discord and the way his staff manages LewdGamer is endemic of a larger problem in the porn games world. Way too many influential figures are indifferent to what a gay trans woman like myself thinks, so their communities end up turning marginalized porn fans away.
If the games journalism industry actually covered adult content with the dedication it deserves, there would be more 18+ outlets that center queer folks, women, people of color, and other marginalized groups. There would be higher expectations for an adult news site's community standards. And yes, perhaps the added competition would put some pressure on a site like LewdGamer to stop catering to a readership that acts like Gamergaters. But when LewdGamer is the adult games journalism website, we're stuck with what we've got: a squeamish editorial world sending smut peddlers to a site filled with readers complaining about multiculturalism.
"Platform holders need to think more about how their rules affect creative and individual freedom in the long run," Sand told me. "The discussion about including topics such as romance, love, and sex in games needs to move from being just a discussion to [an] acknowledgment that those games are already there. I think platform holders are in the greatest power, but journalists can help push the discussion further."
READ MORE:
Got five minutes? We'd love to hear from you. Help shape our journalism and be entered to win an Amazon gift card by filling out our 2019 reader survey.