After a Palestinian man with autism was shot dead by Israeli police, Palestinians are drawing attention to similarities in their treatment by Israeli police and the treatment of Black Americans by police forces in the United States. 
In an effort to raise awareness about instances of alleged abuse by Israel's police and military, Palestinian activists are starting to incorporate the phrase "Palestinian Lives Matter" in their protest tactics and online messaging.
According to the man's caretaker, Israeli forces were warned repeatedly about the man's condition before firing at him.
A Twitter user whose profile identifies himself as a Palestinian journalist living in the Gaza Strip posted a political cartoon depicting an American police officer arm-in-arm with an Israeli officer, with the American kneeling on the neck of a Black man and the Israeli kneeling on the neck of a Palestinian.
The cartoon, which recalls the death of George Floyd, was posted alongside the caption "terrorism is one against humanity #PalestinianLivesMatter #BlackLivesMatter."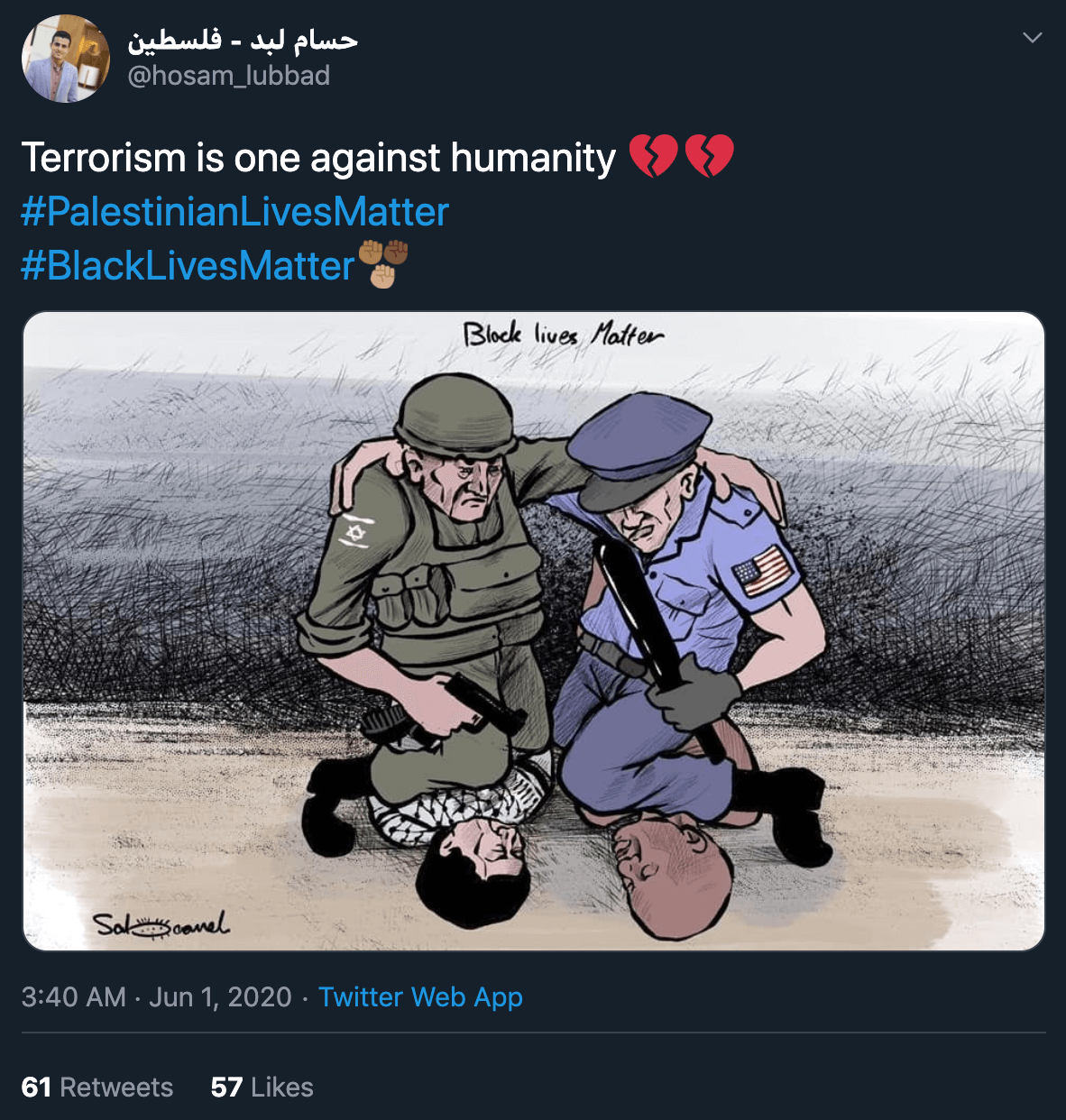 Another account posted several photos appearing to show members of the Israeli Defence Forces kneeling on the necks of Palestinians and wrote "this is what israel has been doing to palestinians for years too. poc should all stand with black people and palestinians, both are being brutally MURDERED by terrorist, racist authorities!!"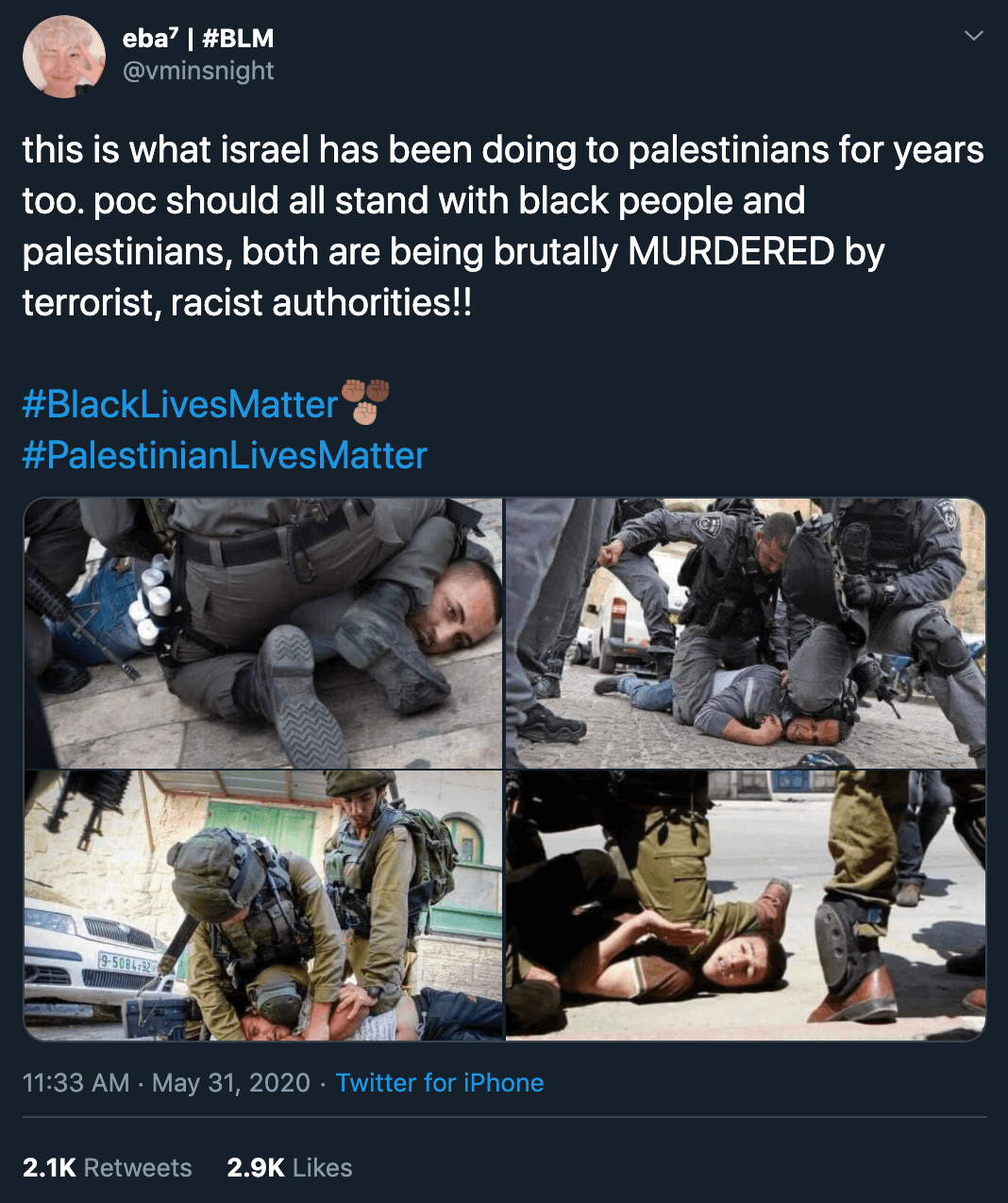 Iyad Halak was killed by Israeli police in Jerusalem on Saturday night after being spotted with what the police said in a statement was "a suspicious object that looked like a pistol."
According to the Guardian, Halak's caretaker, Warda Abu Hadid, said he began to run away from authorities when they asked him to stop because he didn't understand what was going on. Hadid said she shouted to the officers several times that he suffered a disablity and asked them to check his ID for confirmation, which they ignored.
Israel's defense minister, Benny Gantz, apologized for the killing at a cabinet meeting. Prime Minister Benjamin Netanyahu, who was also at the meeting, did not discuss Halak's death at the gathering.
The Palestine Institute for Public Democracy, an organization dedicated to sharing the story of Palestinians with the world, tweeted an illustration of George Floyd and Iyad Halak side-by-side and described each of their deaths as stemming from similar cultural factors.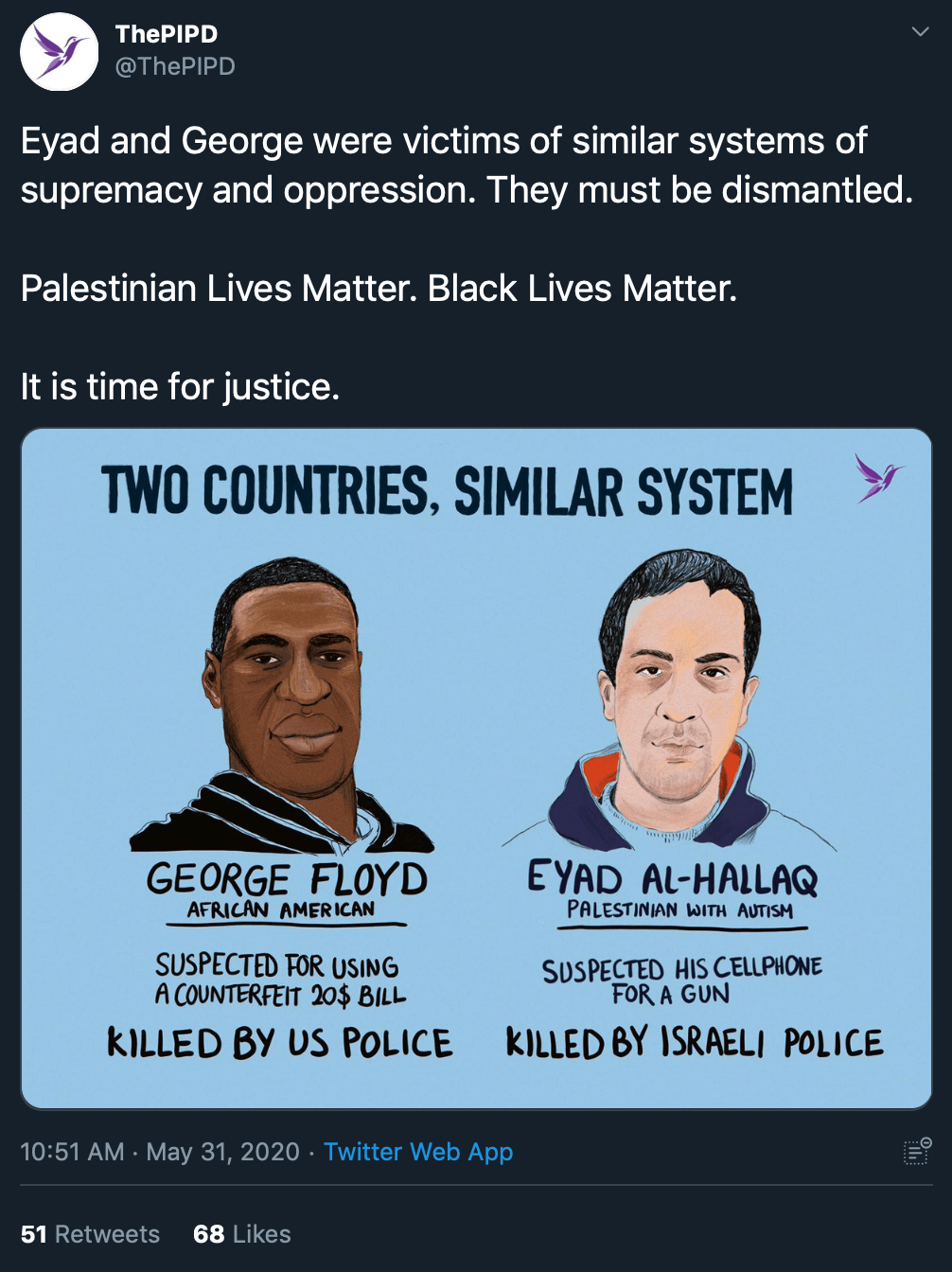 "Eyad and George were victims of similar systems of supremacy and oppression," the tweet said. "They must be dismantled. Palestinian Lives Matter. Black Lives Matter. It is time for justice."
Under Floyd's picture, the graphic says "suspected for using a counterfeit $20 bill, killed by U.S. police."
Under Halak's, it reads "suspected his cellphone for a gun, killed by Israeli police."
READ MORE: