This article contains details about sexual assault.
Oluwatoyin Salau, a 19-year-old Black activist who went missing over a week ago in Tallahassee, Florida, has been confirmed dead.
A harrowing hashtag dominated Twitter on the morning of June 15: #JusticeForToyin, created in honor of the teen after her family confirmed her death on Monday morning.
Prior to her disappearance, Salau spoke at a Black Lives Matter protest organized in response to the death of George Floyd. She was last seen on June 6, the same day she wrote a detailed Twitter thread alleging that a man had sexually assaulted her that morning.
"Anyways I was molested in Tallahassee, Florida by a Black man this morning at 5:30 on Richview and Park Ave," she wrote. "The man offered to give me a ride to find someplace to sleep and recollect my belongings from a church I refuged to a couple days back to escape unjust living conditions."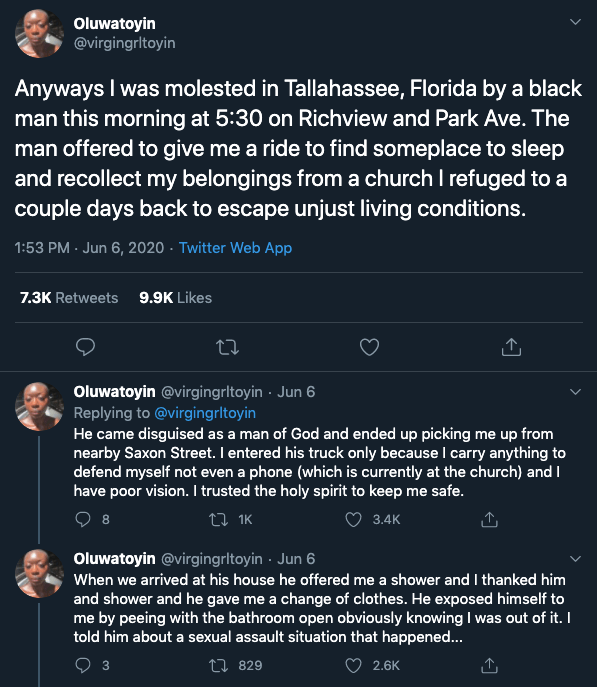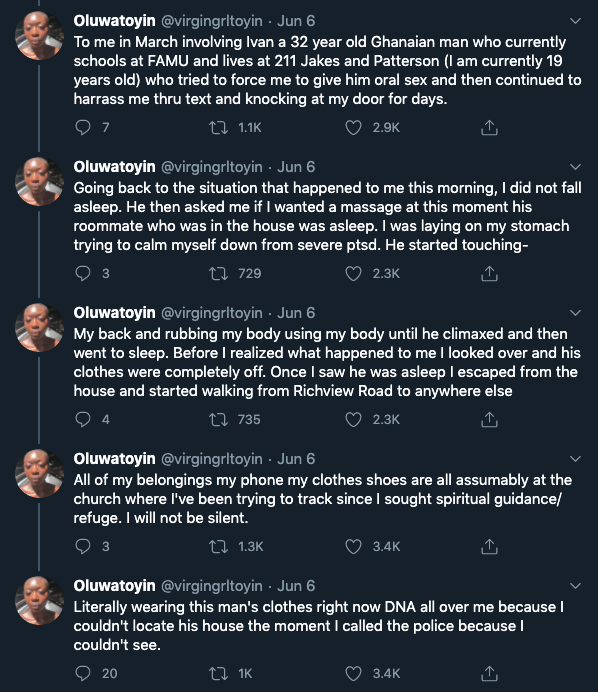 Salau's disappearance has sparked a deluge of both sympathy and outrage on social media. Many people have criticized the police for not investigating aggressively enough, especially considering the graphic sexual assault details Salau shared on Twitter.
On June 9, the Tallahassee Police Department posted a flyer classifying Salau as a "missing adult."
"The Tallahassee Police Department's Special Victims Unit is seeking information on the location of Oluwatoyin 'Toyin' Salau. Salau was last seen on 6/06/2020 in the area of Orange Avenue and Wahnish Way in Tallahassee," the flyer reads. "She may be in the area of Jakes and Patterson Street. There is no known clothing description for Salau at this time."
On June 11, Twitter user @laurecapri retweeted photos of Salau and claimed she was helping her mom look for her. She urged anybody with information to contact her.
On Sunday night, @laurecapri quoted her original tweet with an update: "I'm sorry to inform everyone about this but Toyin is no longer with us."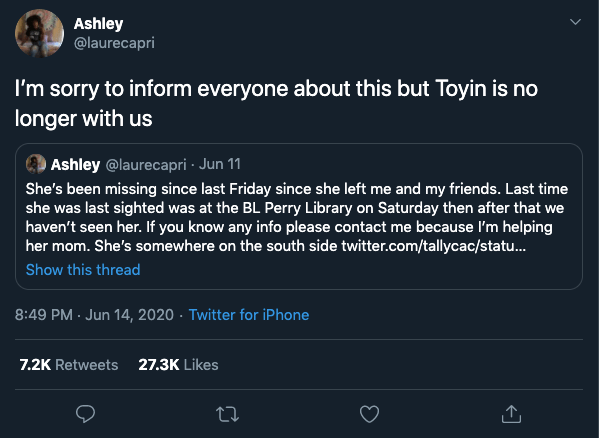 Salau's family told the Tallahassee Democrat that police found her body on Saturday.
The Tallahassee Police Department said in a statement on June 17 that Salau's body was found with another dead woman, Victoria Sims, who was also reported missing.
The police have arrested a man named Aaron Glee Jr. and charged him with murder and kidnapping. Both women were found in his residence. The police said that at this time, they have found no connection between Salau's death and her report of sexual assault.
"The information and description Salau provided to police and posted on social media prior to her disappearance does not match the person ultimately found to be responsible for her murder," the police said in a statement.
#JusticeForToyin and "RIP Queen" went viral on Twitter, with hundreds of thousands of people memorializing the young activist and demanding the world pay the same attention to the death of Black women as they do Black men.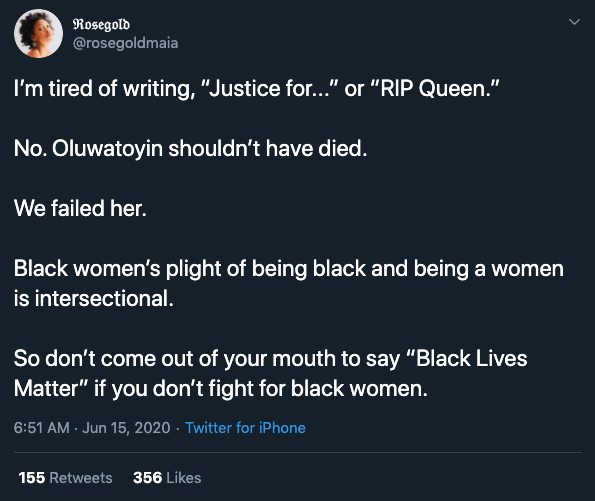 The Tallahassee Community Action Committee organized search parties last week to look for Salau.
Update 9:55 a.m. CT, June 15: The story was updated to confirm Salau's death.
Update 10:57 a.m. CT, June 17: The story was updated to include information about the person charged with Salau's death.
READ MORE: