People are really logging on to make memes of the killing of Breonna Taylor, a 26-year-old emergency medical technician, who was shot at least eight times by police.
Taylor's name has become a rallying cry as nationwide protests against police brutality and racial inequity head into their third week.
It was George Floyd's death at the hands of Minneapolis police, who knelt on his neck for almost nine minutes past the point when he lost consciousness, that sparked this wave of protests.
People are also elevating the names and deaths of the Black women and Black trans women who are also disproportionately brutalized by police but rarely get the same level of public outrage.
But in an attempt to raise awareness about Taylor's case—in which no officers have been arrested or charged—people are making memes. The memes may be well-meaning, but the road to hell was paved with good intentions.

The memes mix outrage with a jokey tone, watering down the need to get justice for Taylor, Twitter users are saying. The memes sneak into tweets the statement, "Arrest the cops who killed Breonna Taylor"—or some variation of that.
"Tired of y'all making her death into memes and quirky tweets," @oatmilk40 wrote in response to a tweet that read: "My Name Is Junie B Jones And The B Stands For Breonna Taylor Killers Need To Be Locked The Fuck Up."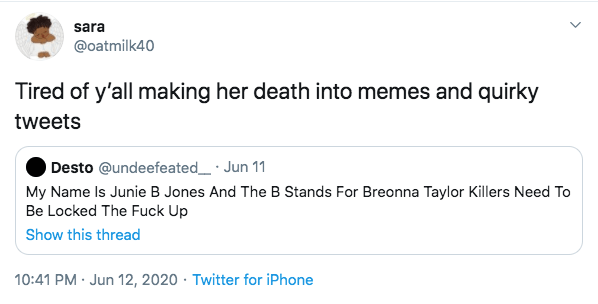 Here's another example of the types of memes that have been making their way onto people's timelines and Instagram Stories:
"I'm extremely worried that 'Arrest Breonna Taylor's killers' is becoming an 'Epstein didn't kill himself' level meme and that's honestly appalling," one user wrote.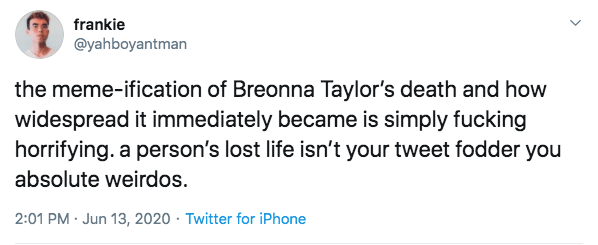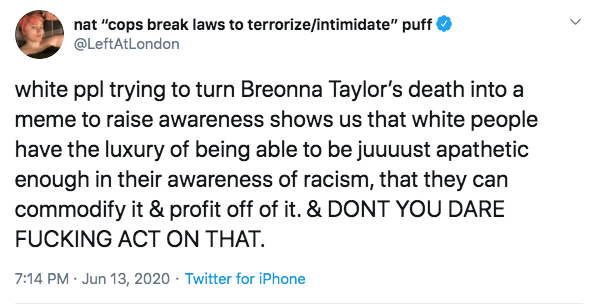 Others came out in defense of the memes, saying the point is to trick people into reading about Taylor who would normally scroll past her name or other protest-related content.
"It's just an attention grabber and honestly I rather someone do this than do nothing," @SanaaAdrienne wrote.
"I think it tricks people into reading it. Repetition is important," @BigBrainesHoe wrote.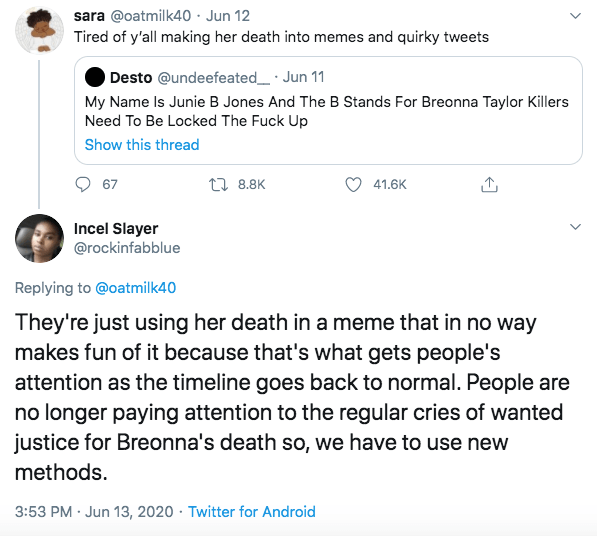 READ MORE: