Residents of a Lake Oswego, Oregon, neighborhood allegedly told a woman that her sign supporting the Black Lives Matter movement was "driving down" property value and urged her to remove it. 
The woman's sister, Twitter user @pivyak, shared a photo of the letter on Sunday.
"My younger sister painted a sign on the front window of our house to show our support of the #BLM movement, and was sent this in the mail from one of our neighbors," @pivyak wrote. "100% on brand for lake oswego."
In her tweet, she posted a photo of a window with a sign reading, "Silence supports police violence." She also shared photos of a letter allegedly sent by the neighbors.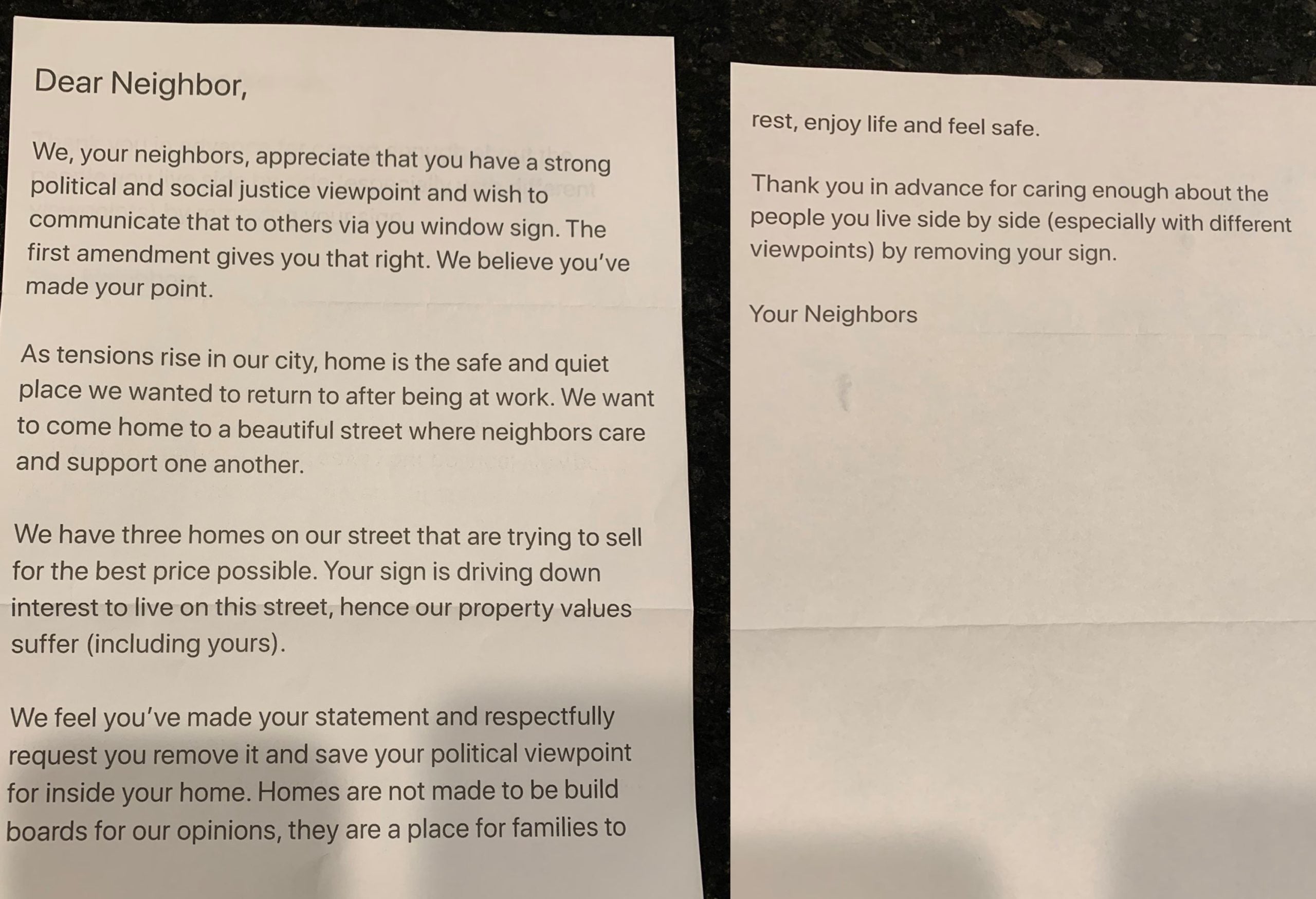 "We, your neighbors, appreciate that you have a strong political and social justice viewpoint and wish to communicate that to others via you (sic) window sign," reads the first part of the letter. "We believe you've made your point."
The note says that the street has three houses that are on the market. "Your sign is driving down interest to live on this street, hence our property values are suffering (including yours)."
"We feel you've made your stated and respectfully request you remove it and save your political viewpoint for inside your home," the note continues. "Homes are not made to be build boards (sic) for our opinions, they are a place for families to rest, enjoy and feel safe." 
In a follow-up tweet, @pivyak wrote that the neighbors' note indicates "they place property value over black lives." She also said her sister as one of only a few people of color in the neighborhood.
Her tweet has been viewed and shared thousands of times, with many commenting on the aggressive and ironic nature of the letter. 
"We understand that you believe that silence supports police violence, but would you please be silent for a moment?" one user commented.
"'Homes are a place for families to rest, enjoy life and feel safe' true but POC don't have that privilege. Breonna Taylor didn't have that privilege," wrote another user, referring to the Kentucky woman killed by police in March.
Another person shared that as a person of color, the only thing that would make them feel "safe" is signs of this nature.
"I'm currently trying to buy a house and tbh I specifically look for stuff like this in a neighborhood because I know it's where I'll feel safe and welcome," they wrote.
"Honestly, good. You don't want the types of people to buy on your street who'd be deterred by this message!!" wrote another user. "I would look FOR signs like this if I were buying. When my husband and I bought, we looked up voting history to be sure we were looking in blue areas!"
Twitter user @pivyak did not respond to the Daily Dot's request for comments.
---
Today's top stories
H/T Raw Story