A McDonald's employee, who documents their work shenanigans on TikTok, is under fire after claiming they served a half-eaten patty to a customer.
"We got a little hungry," says the caption in the video, insinuating that the TikToker ate part of the patty.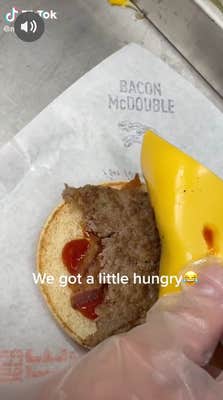 The video doesn't show anyone taking a bite out of the patty, just the employee putting the half-eaten patty on the bun. They then cover it with cheese, put another patty on top, and top the whole thing with a bun before wrapping it up and sliding it across the counter to the drive-thru window area.
The video has garnered 1.8 million views since being posted in March.
"You need to be jailed if that's real," wrote one user.
"Been reported to customer service," wrote another.
The user implied the video was a joke in the comments section.
"Do y'all understand he not gonna actually give it to somebody (sic)" wrote one user, to which the TikTok user responded: "Thank you man."
Some others also commented that it's "obviously a joke," to which the user thanked them.
The account has similar—though not as controversial—content on it, in which the workers are seen making fun of customized orders, such as customers requesting extra cheese or extra pickles.
In another video, they zoom in on the order screen, which shows that the customer requested an "extra pickle." The person behind the camera, alongside another employee, prepares the burger with a heap of pickles.
In this video, there is a very brief glimpse of another employee, though it's not clear if he's involved in any of the other videos.
In another video showing a customer's request for extra tartar sauce, one employee pours copious amounts of tartar sauce on four buns.
In a statement to the Daily Dot on Thursday, McDonald's said it is looking into the matter.
"The food preparation shown in these videos does not meet the robust food quality and safety standards we have in place, and we are actively investigating the incident," the company said. "Providing our customers with quality food, service and a clean and safe environment is our top priority, and we always want to ensure the best possible experience for them when they visit our restaurants."
The Daily Dot reached out to the user and will update the report if they respond.
---
Today's top stories