A Twitch streamer was reportedly banned after another streamer exposed him for seemingly verbally abusing his 3-year-old daughter. 
YouTuber Frizzable, who has more than 540,000 followers, posted a video on Wednesday exposing Twitch streamer KillaMfCam's outburst after Frizzable beat him in a game.
In a YouTube video, Frizzable summarized the whole ordeal, linking to another 42-minute-long video featuring the incident. 
Frizzable says that after KillaMfCam lost to him, he "witnessed him begin to rage at his 3-year-old daughter."
When KillaMfCam realized Frizzable was following his stream, he said, "Get this dude the fuck out of my stream."
Frizzable was then blocked by him. When Frizzable reviewed KillaMfCam's stream to see his reaction to losing to him, Frizzable saw KillaMfCam's violent outburst. 
"Agh what the fuck man!" KillaMfCam screams after losing.
"OK!" he screams out loud.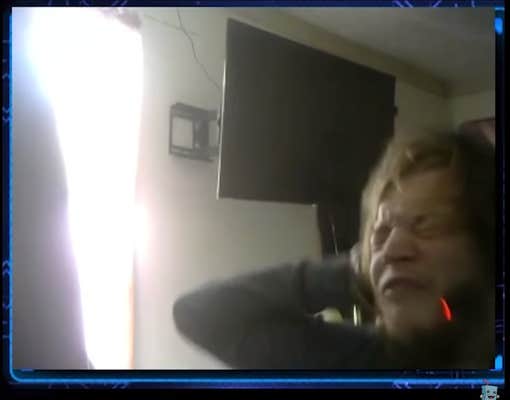 KillaMfCam continues to cry and brood over the game. Frizzable says KillaMfCam eventually accused and reported him for cheating. 
KillaMfCam then gets up, exiting the frame of the video. He can be heard, however, yelling at a child in the background. 
The child is crying, and KillaMfCam screams, "Oh my god, stop fucking shitting in it!" 
"Stop shitting!" he continues screaming. "I don't care Riley, shush!"
The kid starts crying loder when KillaMfCam screams, "Damn!"
"Stop fucking shitting yourself, dude! How hard is that? God I fucking hate you, dude. Get out of my room, bro." he yells. "I'm going to break your fucking neck, dude."
On Wednesday, Frizzable posted the video on Twitter, where it was viewed more than 300,000 times.
According to a screenshot posted by Frizzable, KillaMfCam alleged on Twitter that he was yelling at his dog, not his child. "Anyone who believes that edited ass clip is severely misinformed while I don't dismiss that I got overly upset I was definitely 100% talking about my dog," he wrote, accusing Frizzable of editing the video. 
In response, Frizzable posted a longer video that shows the 42-minute stream of KillaMfCam's reactions. 
In the video, KillaMfCam is heard calling someone "f*ggot" at one point. "One instant fucking shot to some fucking f*ggot laying on some f*cking p*ssy dude," he says.
"Laying on his f*cking gay-ass p*ssy," he later says.
KillaMfCam's accounts on Twitter and Twitch were unavailable on Thursday evening when the Daily Dot ran a search for them.
---
Today's top stories
H/T Insider