A viral video shows a white woman brandishing a pair of scissors and telling a San Francisco park employee to "go back wherever the hell you came from."
Andres Patino, a Colombian-American identified by local news as an employee of the San Francisco Recreation and Parks department, posted about the incident that took place in Dolores Park on Facebook on Monday.
"Upset about COVID regulations, she took it upon herself to cut & remove the blockade closing the Children's Playground (mandated by City's health orders) and verbally harass me," Patino wrote in the caption of the video.
Patino referred to the woman as a "Karen," a term used to describe the stereotype of an entitled white woman against wearing a mask or following other safety precautions to prevent the spread of coronavirus.
In the video, which is a little over a minute long, the camera closes in toward a woman dumping a sign by an entrance to a playground in the park.
"This is a non-constitutional unlawful taking of public property," the woman says.
According to Joe Vazquez of KPIX-TV, the woman was "angry about pandemic signs."
She then walks toward Patino, holding out scissors. She is not wearing a mask.
"Please do not approach me with the scissors," Patino says multiple times.  
"I'm not chasing you, you dumb sheep," she says, then turns around to walk toward where the sign was. "Go to the hospital, tell 'em to put you on a ventilator. They'll kill you with a ventilator like they're doing thousands of others."
"Don't you dare shut this park," she continues, pointing toward the entrance of the playground.
"We paid for this," she says. "You don't get to take our property. We paid for it." She then calls Patino either a "little migres" or "little nigress." Patino told Mission Local it was unclear which word the woman used but that it was clearly intended as a "racist" and "hurtful" slur.
The woman starts picking up what appears to be cord used for the sign she'd earlier dumped. "Go back to wherever the hell you came from, stop trying to steal what we paid for," she says.
After saying that a few more times, she suddenly stops at the sight of something not within the view of the camera.
"Ma'am, you need to stop taking these signs down," a cop says to her. 
"You want this?" she asks him, holding out a cord and the scissors.
"Please remove your scissors and yourself from the park," the cop says.
"OK," the woman says before the video ends.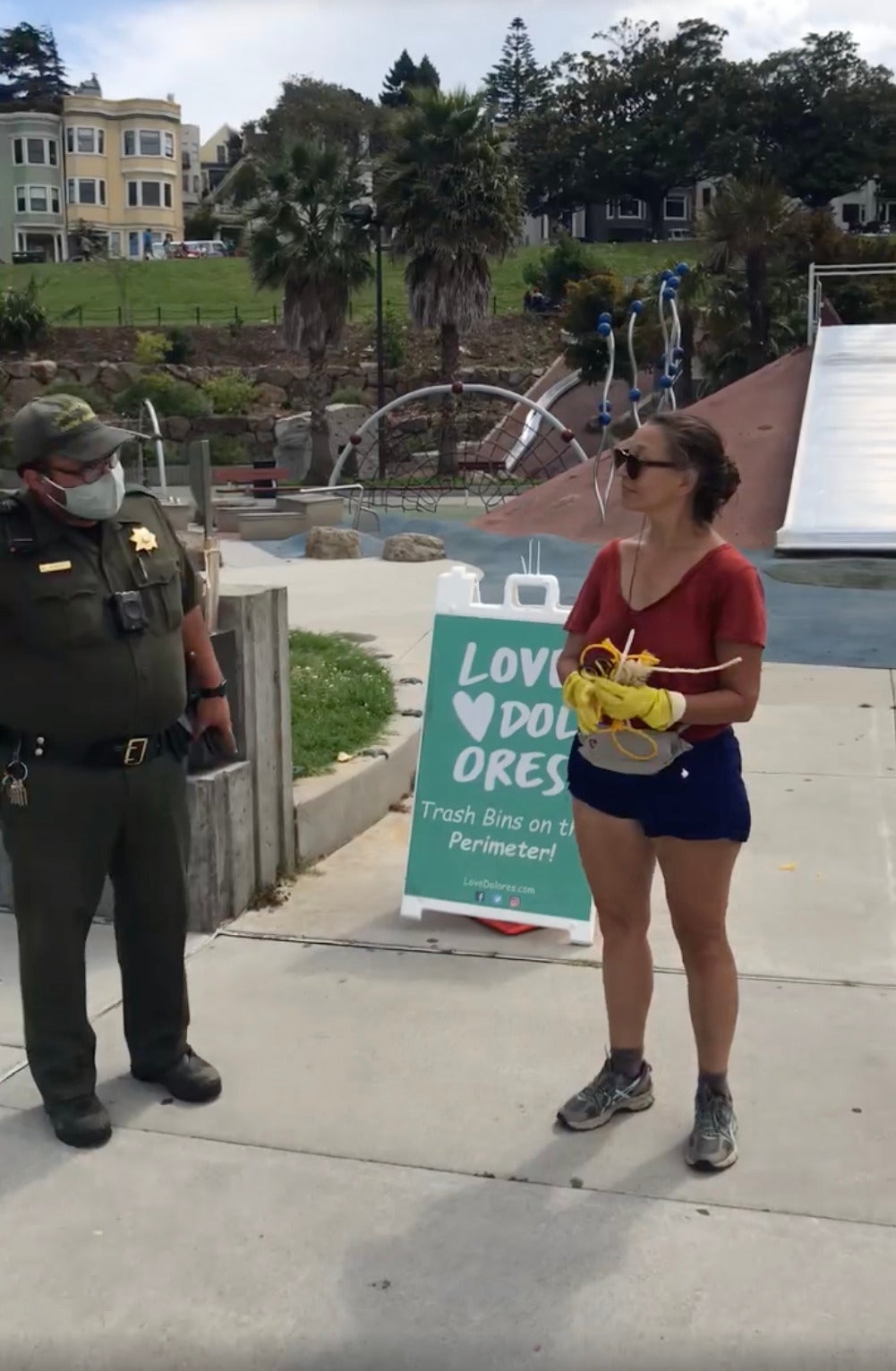 The video has been viewed more than 100,000 times since Monday.
In a statement, San Francisco Recreation and Parks condemned the "racist, xenophobic abuse" on the employee, CBS San Francisco reported.  
"The video is especially painful to watch because Andrés works to ensure everyone feels safe and welcome in Dolores Park," the department's statement said. "Our parks must be spaces where we are all equal and equally welcome; places where we can invest in mental and physical health and respect our neighbor's fundamental instinct to do the same."
Patino, who uses they/them pronouns, said in the post they moved from Colombia at the age of 9 and have lived in San Francisco for five years. Because they were on duty at the park, they felt the need to hold back.
"However, for my own sake (even if this never reaches her), I want to let her and the other racist Karen's in SF know that regardless of what they say, this is my home," Patino wrote.
"Your bigotry is neither needed, wanted, or accepted here," they added. "If you can't accept the beauty that comes from the great diversity that makes up SF culture, you might as well pack up your bags, hop back on the MayFlower, go back from wherever your racist ideologies come from, and return your land back to the indigenous people from whom it was stolen from."
Patino did not immediately respond to the Daily Dot's request for comment. The parks department said an investigation is underway.  
---
More Karen News