A bereaved mother's TikTok campaign calling for justice after her son was killed has gone viral, garnering support from people across the country on social medial.
In October, law enforcement officials in Newport, Washington, found remains of 19-year-old Jason Fox, who went missing a few weeks prior, in September, according to KREM2.
Five people—Kevin Belding, Matthew Raddatz-Freeman, Claude Merritt, Riley Hillestad, and Sean Bellah—were arrested and charged with his murder. At least one was charged with first-degree murder.
Fox was reportedly buried in a shallow grave with his hands behind his back, according to KREM2.
On Sept. 15, a day before Fox was reported missing, he reportedly texted a family friend the address of where to look for him "in case something happens to him." His remains were found on the south side of that property, KREM2 reported.
After he went missing, his mother, Pepper Fox, began campaigning for him through videos on TikTok, where she now has 76,000 followers.
"I will not stop looking for you," she says in a post on Sept. 29.
A video from February went particularly viral, garnering attention from activists such as Josh Helfgott, who has 3.2 million followers on TikTok.
"Hi, this is my attempt to get hold of Ellen Degeneres and Lady Gaga," she says in the video, which has been viewed 547,000 times.
"My 19-year-old son was brutally murdered in Newport, Washington, which is not a gay friendly area," she says, "And I've been getting a lot of hate from the families of the murderers."
She goes into details about the trial, which is scheduled to start on April 5, two days after what would have been Fox's 20th birthday.
"I decided to throw the first annual gay pride parade in honor of my son, and I'm in over my head," she says. "And I need your help."
Earlier in March, Helfgott shared a video detailing the alleged crime.
According to Helfgott, Fox questioned whether Hillestad was going to be at the meetup.
"Is it fr [for real] real not Riley [Hillestad]?" Fox texted Merritt, according to Helfgott's TikTok video. "I wanna kick it, I just ain't down for drama."
Merritt allegedly assured Fox that Hillestad wasn't going to be there. Once Fox arrived at what was later discovered was an "empty wedding venue," Hillestad allegedly brutally kicked him to death, according to Helfgott's video, which has been viewed 3 million times.
According to police, Hillestad was the "ringleader" of those who have been accused in Fox's killing. He even allegedly threatened others when they tried to stop him from kicking Fox.
While parts of statements by Merritt and Raddatz-Freeman contradicted one another's, they both reportedly accused Hillestad of being the main perpetrator.
Pepper Fox is also using TikTok to document her journey of grief: She shared the moment she buried her son's ashes with viewers, breaking down on camera.
"Nineteen years, five months, and 11 days. … All I have to show for it now is this little [inaudible]," she says, holding up what appears to be a vial of her son's ashes.
In another video, she reiterates why his killing should be treated as a hate crime.
"People ask, how do you know it was a hate crime? Just because he was gay doesn't mean it was hate," she says in the video. "Well, trigger warning: Here's the proof."
She shared numerous screenshots of private messages in which Fox was referred to as "fag" and threatened with violence.
"Just fuck off and die," wrote one person in a text message. The Daily Dot has contacted the phone number listed in the text exchange and will update this report if they respond.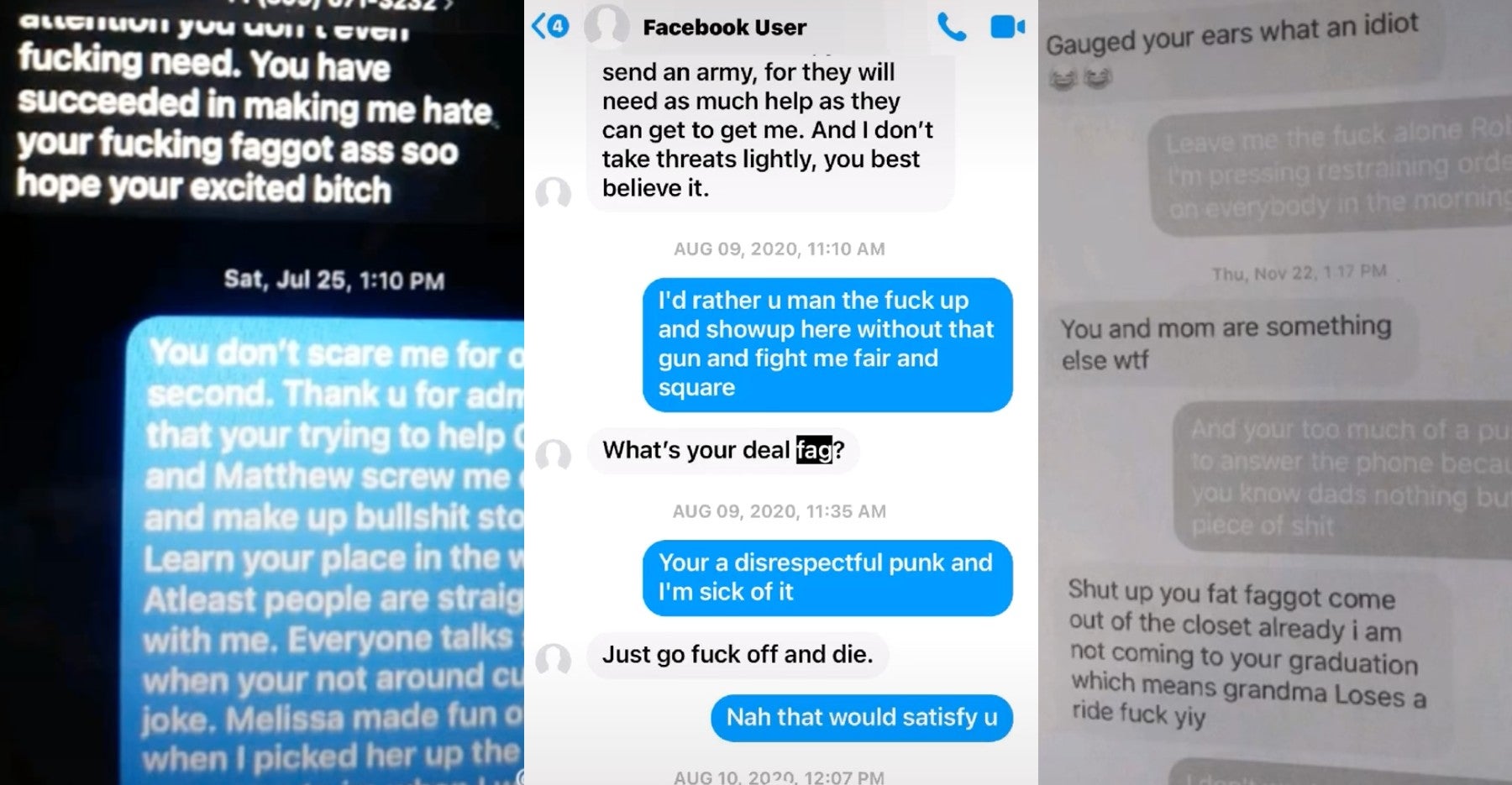 She also shared news about how a memorial for Fox was vandalized with homophobic messages.
In another screenshot, the Pend Oreille County Sheriff, which falls under Newport's jurisdiction, allegedly said in a Facebook message exchange that Fox's father was "promoting fear" and "instigating a dangerous confrontation."
"You should take a few minutes and think about what you are doing," read part of the message, going on to say it "consulted" the FBI.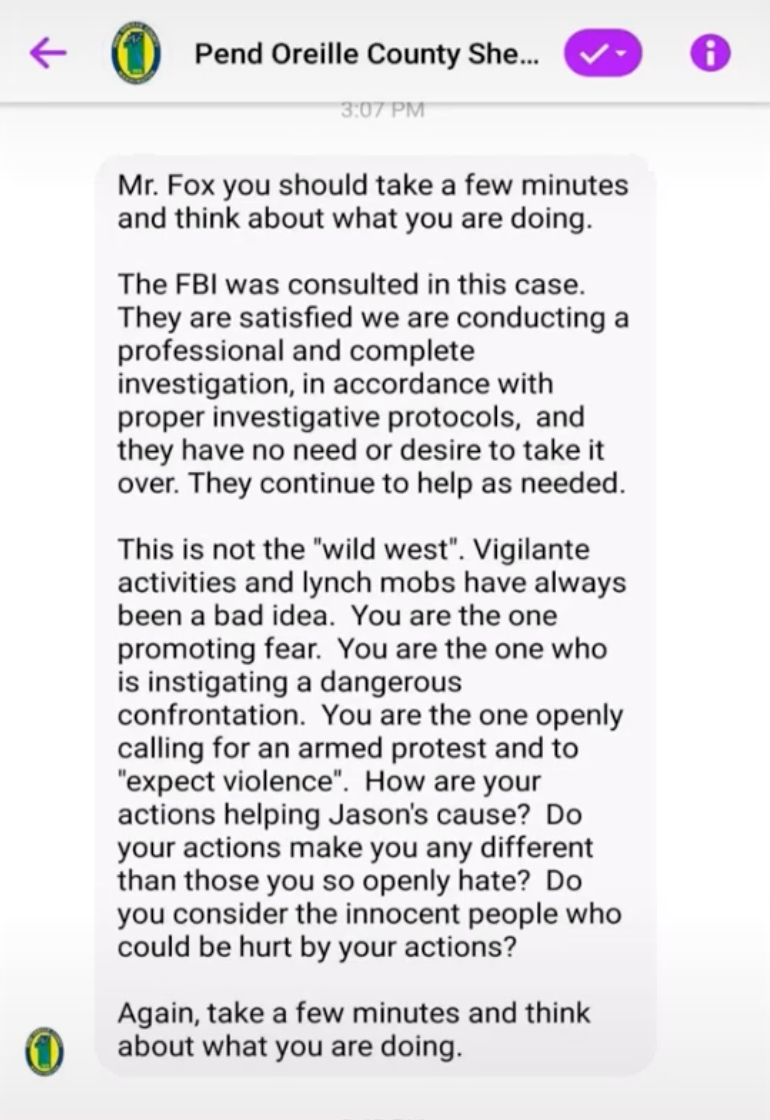 The details surrounding the message remain unclear, and the Daily Dot has reached out to the sheriff's office for clarification.
In another video, Pepper Fox reads out messages allegedly sent to her by the family members of those charged in the murder.
"You don't understand what your bullshit is doing to our families," she reads out one message.
She claims she tried to reach out to the families.
"You think I give a fuck? Your fucking family fucked my family," she says in response to the message, screaming into the camera.
A GoFundMe set up for Fox has so far received a little over $15,000. She is also active on a Facebook page, Justice for Jason Fox, which has 12,000 followers.
Fox did not immediately respond to the Daily Dot's request for comments when contacted on Facebook.
---
Today's top stories