An explicit content creator has shared that one of her old teachers subscribed to her OnlyFans— and it's "uncomfortable."
OnlyFans creator Richelle "Rara" Knupps (@hailrara) shared a TikTok in which she is lip-syncing to a sound that features a woman saying, "I think I'm uncomfortable. I think I might like try to unalive myself if we do this."
The video has a caption that reads, "Me after one of my high school teachers subscribed to my On!yF@nz and told me they always knew I was something special."
Over 40,000 people have liked the video, and the 21-year-old influencer has 53,900 followers on TikTok. The video is a week old.
OnlyFans is a subscription-based platform like Patreon where subscribers pay for exclusive content from creators. It is frequently associated with adult content.
Some commenters were supportive of Knupps, saying that they would also be uncomfortable if their teachers or other adults that knew them as children said something similar.
"I don't have OF for this reason and family and imagine your dads mates subscribing… but people don't care," TikTok user @Emmaarrgghhhh wrote.

While it may not be technically illegal, other commenters were just as uncomfortable, and suggested Knupps say something to the school.
"I know he hasn't broken any laws (that you know of) but srsly tell the school," @FirstLast wrote. "They should be made aware that he could potentially be looking at high school girls like this. They should at least keep and eye on this guy. He could hurt someone."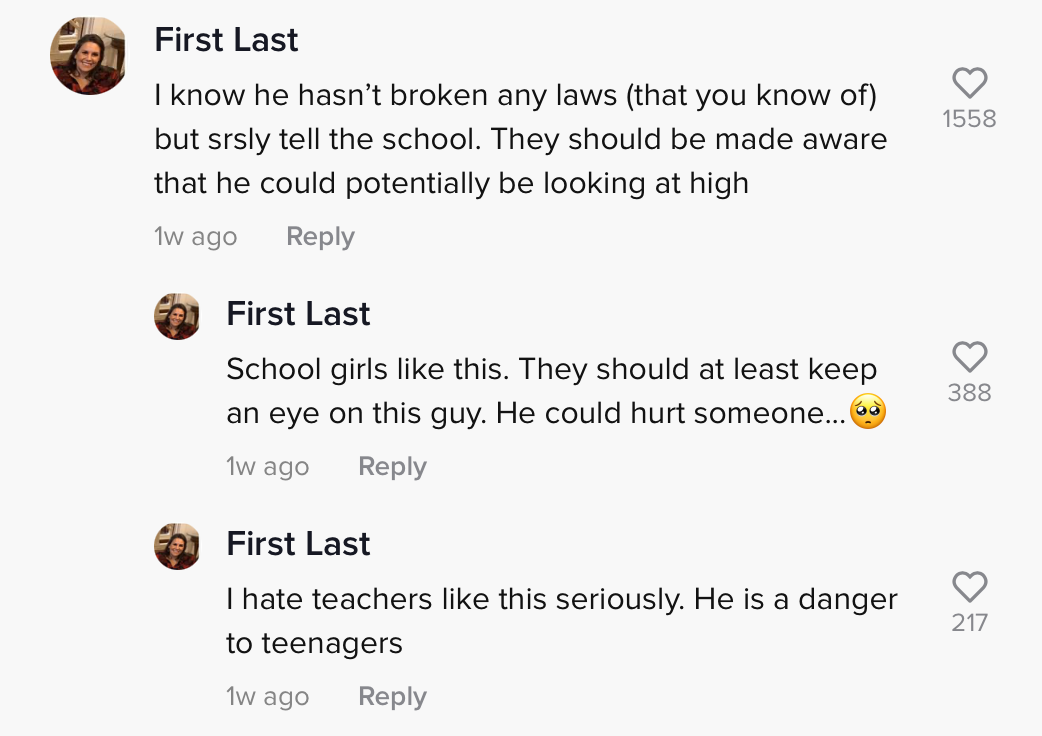 Another user mentioned that a teacher they'd had in middle school is now married to a former student.
"My 8th grade teacher is now married to a girl he met while teaching my class.. 8th grade," TikTok user @Erin Hernandez-Andrz wrote.

Some aren't convinced it isn't a publicity stunt— or that if it did happen, she "signed up for it."
"Kinda what you signed up for?" @Virgil wrote.

This user thought it was fake, citing a friend's behavior.
"This is a publicity stunt," @noodleneck68 wrote. "My friend do the same thing but go off queen."

The Daily Dot has reached out to Knupps about the video.
---
Today's top stories