A San Francisco farmers market vendor was admonished by the market director for handing out Pride flags.
For the past four years, Dan Floyd, owner of Dan Good Cookies, has been a vendor at the Livermore Farmers Market, according to Eater San Francisco. In a viral video, Floyd is "scolded" for handing out Pride flags.
Gail Hayden, head of the California Farmer's Market Association (CFMA), can be heard telling Floyd that he can't pass out Pride flags to "satisfy his political agenda."
"Nobody else has flags—that should have been a clue," Hayden tells Floyd in the video before saying that she "doesn't even care what the flags are for."
The argument took a turn when Hayden went further along the route of politics with a head-scratching statement.
"I've been in places for 40 years where they bring out fetuses and put them on ironing boards. My job is to run the market, not to satisfy your political point of view," Hayden said.
Floyd told ABC7 News that this was his first year passing out flags at the farmers market, which prohibits the distribution of petitions and flyers outside of the designated "free speech space." In its condemnation of the incident, Livermore Pride noted that the flags were "neither a petition nor a flyer" and that Floyd had not been given the farmers market's 30-page regulation outline.
Hayden told NBC Bay Area that CFMA apologizes if "he feels singled out." She said her goal was to maintain the political neutrality of the market. However, CFMA resigned as the manager of the farmers market, the city announced in a Facebook post.
"The occurrence at the market that led to CFMA's resignation is not reflective of Livermore's values of inclusion and respect," it wrote in the post.
Online, the video has drawn attention, with Hayden being labeled yet another "Karen."
"Idk if any of you have seen this but this karen ass bitch went off on the owner of Dan Good Cookies at the Livermore Farmers Market for handing out gay Pride flags at his stand and it REALLY pissed off my mom and I," Twitter user @karli_harward wrote. "He's the sweetest guy and everyone should go support him rn."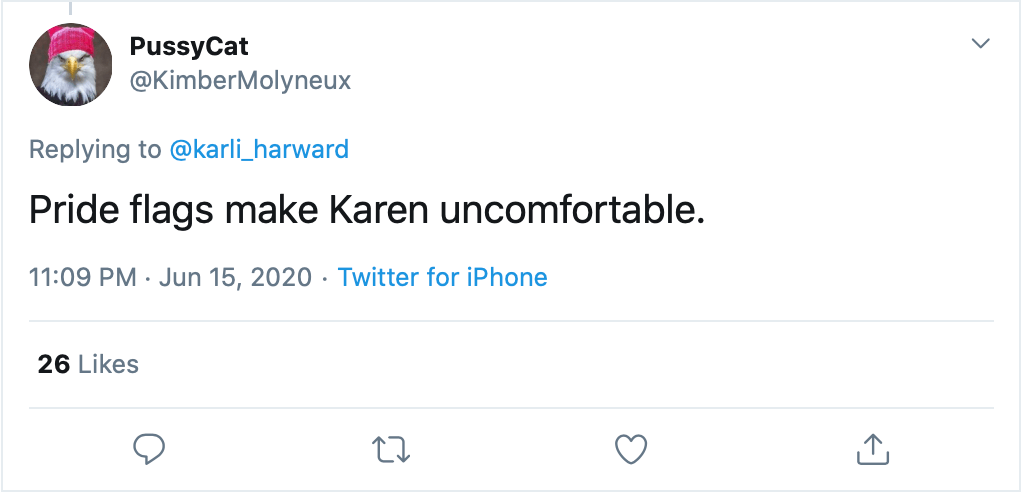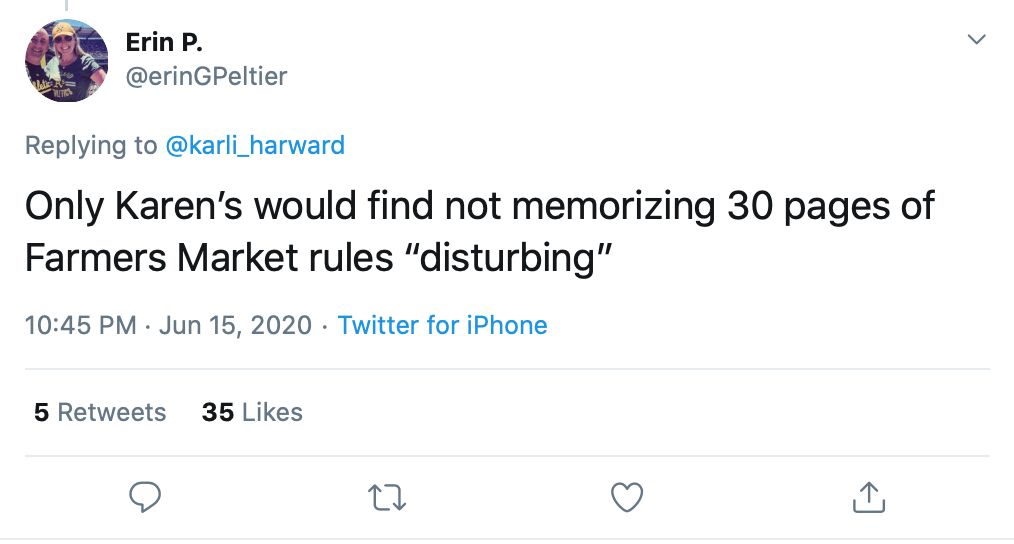 Meanwhile, it would appear Dan Good Cookies is receiving an influx of orders as a result of the incident. The site for the bakery stated that while it is thankful, it is "a very small business" and "cannot possibly fill any more at this time."
READ MORE:
H/T ABC 7 News