A private Facebook group for women is being accused of letting men in for money, seemingly without notifying the members, according to screenshots shared by a member of the group. 
The group, named "Breast feeding and Exclusively pumping support" had 22,000 members on Facebook. 
According to numerous screenshots being passed around, one member was in a conversation with "Melanie," who has been identified as one of the admins in the group. 
"I just wanted to reach out and let you know there are some men and fake accounts in here," wrote the member in a message to Melanie. "I got some disturbing messages from one and wanted to let you know."
To this, Melanie responds that the member shouldn't have to worry about them.
When the member pushes the subject, saying this is creepy, Melanie dismisses her again.
"Listen, those profiles pay good money to be in the group," Melanie says. "I would appreciate if you stepped back."
She then said she would take the member off as a moderator and blocked them from messaging further.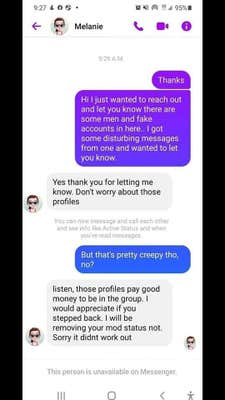 Facebook user Cassie Newcomb shared the screenshot of the conversation on Wednesday, along with her own message.
"One of the group rules was 'No Men Allowed,' now that rule has been completely removed," she wrote in a part of her post. "These men/perverts were taking the pictures that women posted of themselves or their kids and selling them to other perverts or porn sites."
One user, Kar-Lee Patterson, shared screenshots of the message exchange, also posted the name of a woman who runs the group: Heather Hyde Wargo. 
On Wednesday, Wargo said in a status update that the moderator, Melanie, was taken off the group, and other measures were being taken. 
"A team of moderators are even now combing through every single member to make sure that the people in the group are who they claim to be, moms in need of breastfeeding or pumping support," Wargo wrote in a part of the status.
She said even though she had done "everything in [her] power" to protect the women in the group, she has been facing vitriol on her Facebook pages and "work connections." 
"If you know me you know that I work tirelessly for kids, for education, for ethical and transparent communication," she wrote towards the end of her post. "If you don't know me, please understand that I hear your concerns about the group and the new team of mods and I are doing everything in our power to resolve the situation."
She did not respond to the Daily Dot's request for comments.
The group in question was not available when the Daily Dot ran a search on Friday. But numerous other support groups exist for nursing mothers, with membership ranging from 8,000 to up to 69,000.
According to some of the posts shared by women in other mommy groups, many are now feeling concerned about their privacy levels.
"If you are in ANY BREASTFEEDING GROUPS… DO NOT EVER POST PICTURES OF YOU NURSING YOUR BABY!!!! There are too many sick people in this world," wrote one woman.
"Please be aware who you expose yourself and children to," Patterson wrote in her post. She told the Daily Dot that even though she was not a part of this group, she saw this alarming post in another group she's part of. The post in that group had it comments switched off; Patterson did not respond to further follow-ups from the Daily Dot.
---
Today's top stories