Last week KFC announced that they would be releasing a free visual novel dating sim titled I Love You, Colonel Sanders! A Finger Lickin' Good Dating Simulator. It was covered by a large variety of outlets within and outside of games journalism, but when the Daily Dot contributor Ana Valens wrote an article highlighting the discrepancy in coverage between this and other dating simulator games, the reactions were split between defensive and vindicated.
"A lot of established, high profile games journalists took the piece very personally because they built their careers on major AAA coverage and legitimizing gaming through, say, powerful entities supporting gaming," said Valens of the responses. "Meanwhile many freelance games journalists, games critics, indie developers enjoyed the piece because it validated their growing disillusionment with mainstream games media's hyperfixation on AAA coverage."
From Hatoful Boyfriend, to Dream Daddy, to Doki Doki Literature Club, the 2010s has seen a rapid rise in popularity in dating simulator games in the west. But the coverage has been limited, and too often tone-deaf. Folks who love and make dating sims are tired of their favorite genre being mostly ignored, or worse, mocked. It's time we give visual novels and dating sims the space they deserve in games criticism.
With all that said, we present 10 indie dating simulator games that you may not have heard of because of the stigma against a genre full of cuteness, queerness, and love.
10 best indie dating simulator games online
1) Mermaid Splash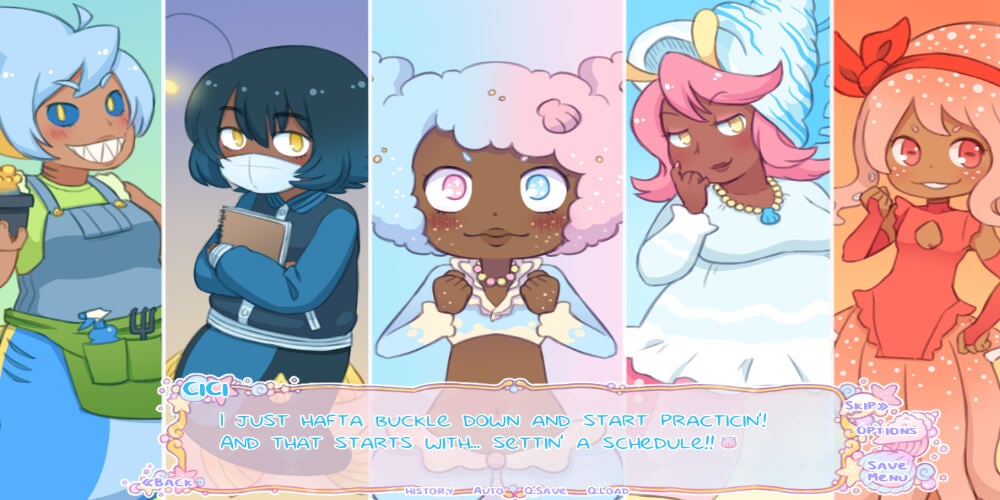 In this adorable, slice-of-life aquatic dating simulator game by indie studio Sofdelux, you play as CiCi, a mermaid who, like many people in their mid-twenties, is struggling to find her path in life. The Passion Festival, an annual event where all the merfolk have the opportunity to show off their talents, is only a month away. CiCi's never entered the Passion Festival before, but she's determined for this year to be different, with a little help from her friends. Featuring four beautifully unique marine love interests and 23 endings, Mermaid Splash is a heart-warming PG queer romance.
Available on itch.io and Android
2) Purrfect Date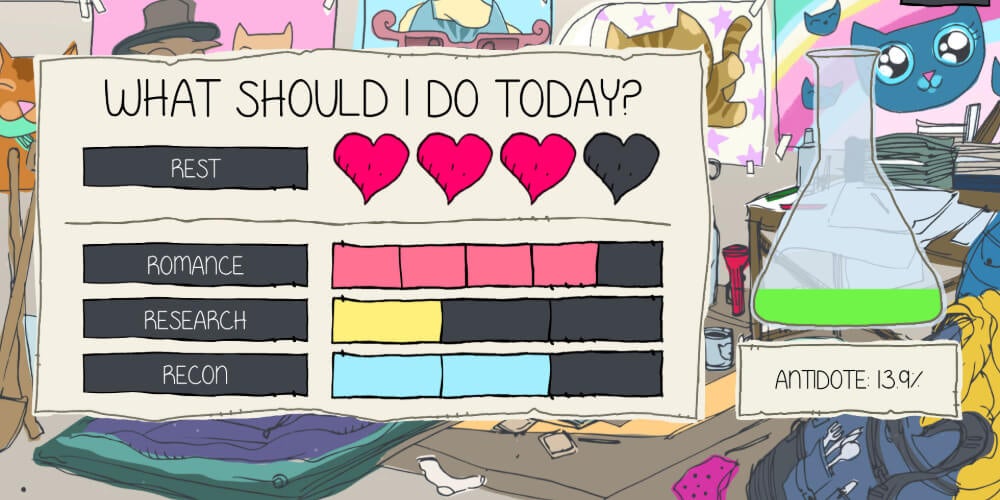 From the minds of indie dev duo Bae Team comes a cross between a dating simulator game, a dark comedy, and a mystery. The game starts with the player character on their way to Cat Island, where they will be working as a research assistant for the renowned Professor Pawpur. It's an exciting opportunity for them, but things quickly go awry. Within the first day on the island the player can hear the cats talking–and the cats say it's just the start of the transformation into a full-fledged feline. As you get to know the cats of Cat Island and the mysteries they are hiding, you must also try to find a cure—before it's too late.
3) Meeting in the Flesh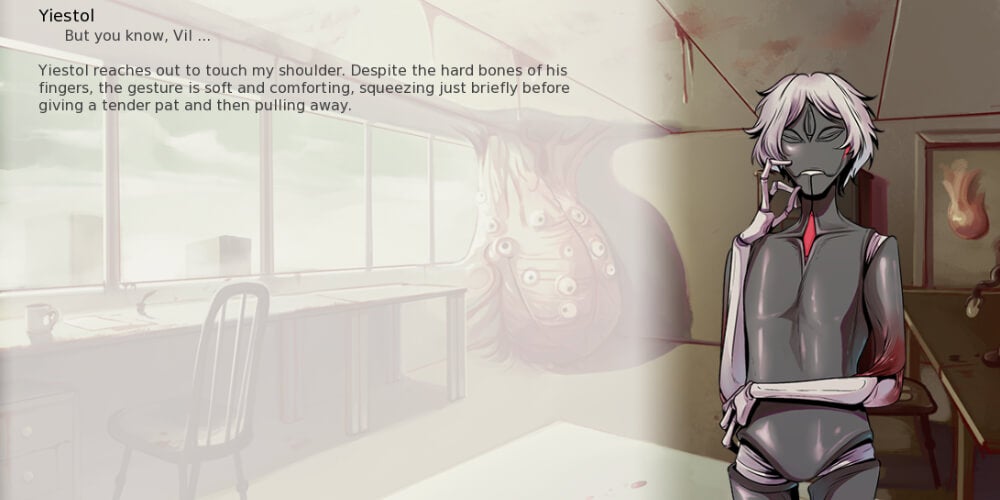 Immerse yourself in the strange but friendly city populated by monsters, mysteries, blood, and salt. You play as Vil, a diligent salt delivery person who is a friend to everyone on their route. The eclipse is approaching, an auspicious and rare occasion.
They say your endeavors will be successful during the eclipse, and three of your friends have something they want to share with you as it approaches. You only have so much time, who will you give it to?
Yiestol, the all-seeing overlook for the community, Brattan, the excitable werewolf salt scout, or Nyargh, the mysterious beekeep? The art is beautiful, making the monstrous gorgeous, and leaving just enough to the imagination to build the horror. It can be toggled between PG-13 and 18+, but believe the content warnings–this dating simulator game does get gory.
Available on itch.io
4) Tomai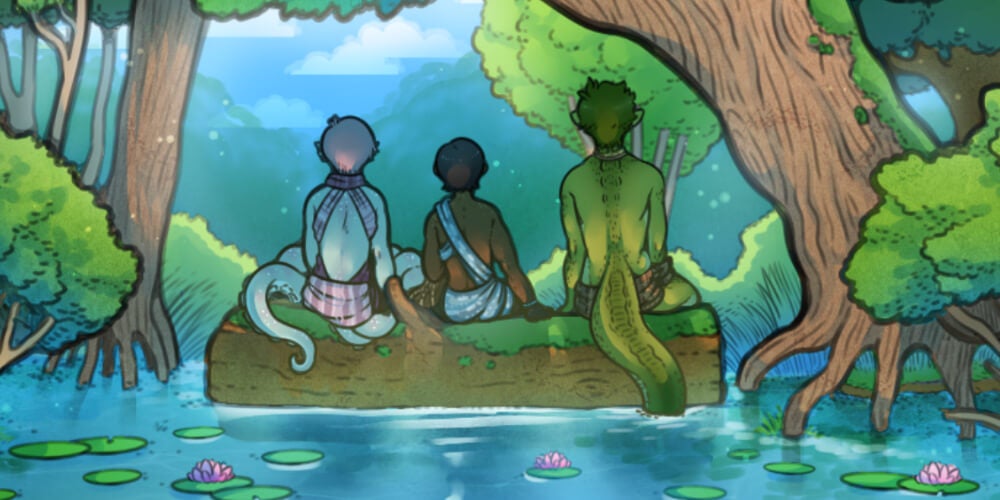 Play as the titular Tomai, a 23-year-old on the cusp of inheriting his father's role as town leader. He's nearing the end of his last vacation as a free man, and how he spends the next 15 days will determine much about his future.
By one half of Sofdelux Studio, DarkChibiShadow, a concept of the game was originally created for Yaoi Game Jam 2017, and the full dating simulator game was released later that year. It can be played PG-13 or 18+, and although it's free, it's so good that it was one of the top tipped games of 2017 on itch.
Help Tomai navigate his relationships with his father, the mystical Lady, and his two best friends, Malik and Burdoc. Can you learn how to be a good leader from your father and the Lady of the Temple? Can you stay close with your friends? If polyamorous gay fish-boy sex sound like a good time, this game is for you.
Available on itch.io
5) Monster Prom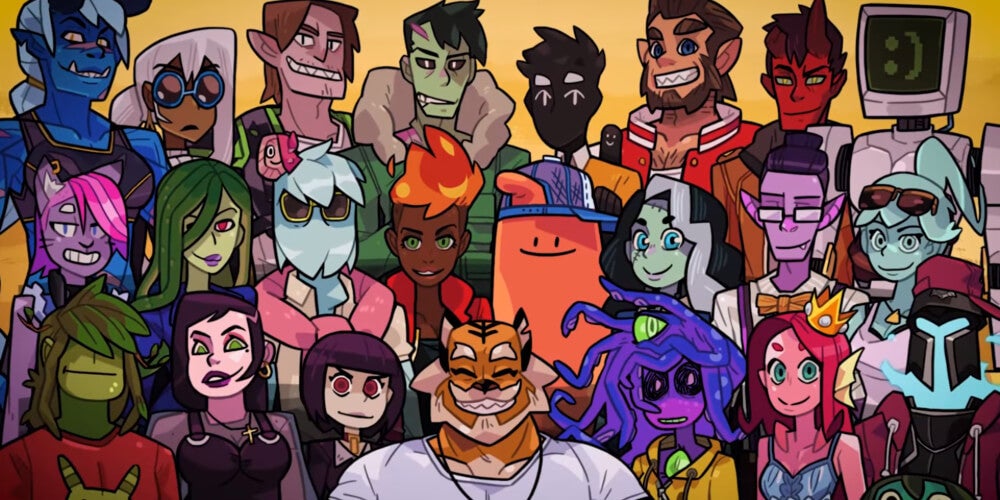 If you look out for LGBTQ video games, there's a decent chance you've heard of this one. Monster Prom can be played with up to four people, making it a great game for couples, friends, double dates, and polycules.
Play as a student at Spooky High, where everyone is at least 21 years old and there are no rules. The DLC released February of this year brought the number of romanceable characters from six to eight, introducing an eldritch god-turned prolific fanfic writer, and a school library computer who gained sentience and is now a student. This game is intentionally weird and over the top, with frequent fourth-wall breaking, and extremely inconsistent in-universe logic. Alone or with others, this game is a hilarious and wacky ride.
Available on Steam
6) A Witch's Word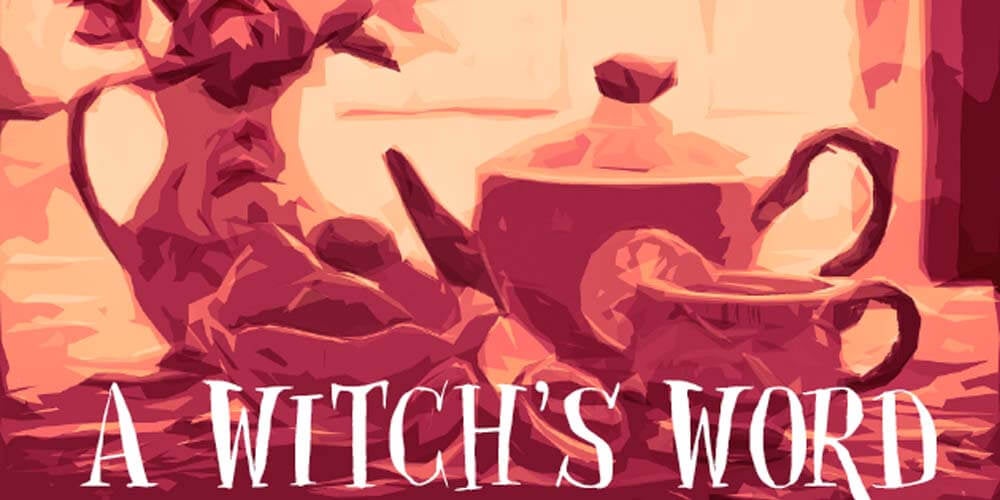 In this short but enthralling text-adventure dating simulator game, play as a woman who promised her first-born child to a witch. Unfortunately for the witch, your biological clock is ticking, and you haven't been lucky in love. Of course, the witch isn't going to let you off the hook just because you're a loser who can't get a date. She offers to help you find love… and deliver what she is owed. It's not easy, but if you're careful you can find a happy ending.
Playable in-browser on itch.io
7) Syrup and the Ultimate Sweet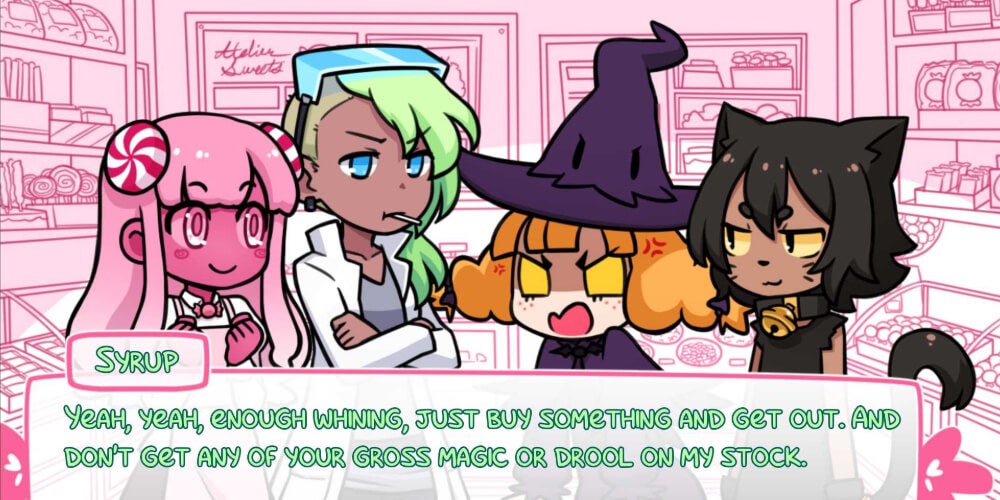 In a city populated by adorable confectioners and magic users, you play as Syrup, a candy alchemist who stubbornly holds out against the use of magic in her craft. She says with science she can create better candy than magic ever could. And even her rival, Butterscotch the witch, seems to agree.
One day a sweet, pink golem made of candy appears in Syrup's lab, flipping her life upside down. Syrup wants to prove the candy girl came from Butterscotch, but more than that, she wants to create the Ultimate Sweet as a gift to her shopkeep, Pastille.
Can she achieve this lofty goal alone, or will she finally turn to magic in her hour of greatest need? And more importantly, can she let down her guard and let love into her heart? By the other half of Sofdelux Studio, NomnomNami (yes, they keep appearing on this list–they're really good!), this PG romance dating simulator game is so sweet, it might give you a toothache.
Available on itch.io and Android
8) Last Minute Love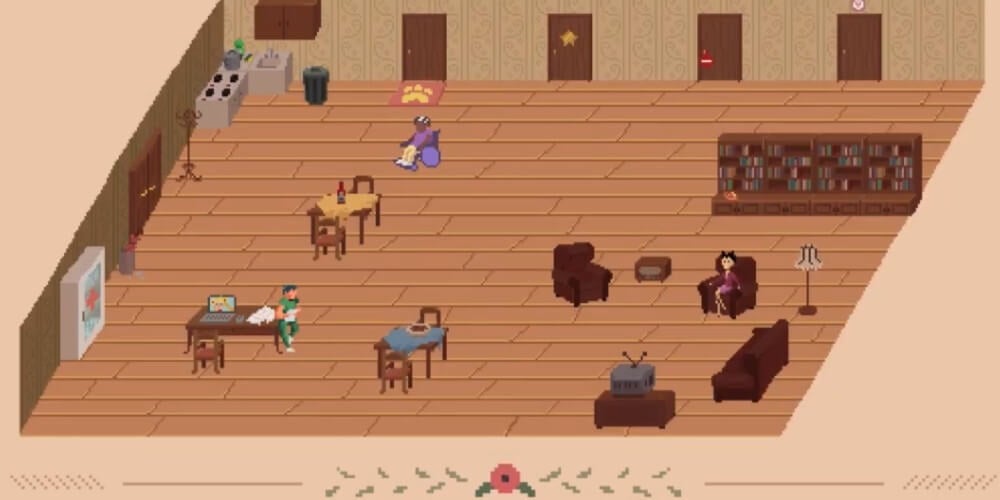 This point-and-click puzzle dating simulator game explores love for an age group often ignored by romantic stories: the elderly. You play as a person looking for love near the end of their life in a nursing home. While many dating sims mostly depend on the player's time and dialogue choices, in Last Minute Love, you have to solve the puzzles of making the people around you happy. Featuring cute pixel art, several cats, a cast of LGBTQ elders, and a very nice garden–this one may bring a tear to your eye.
Available on itch.io
9) Hardcoded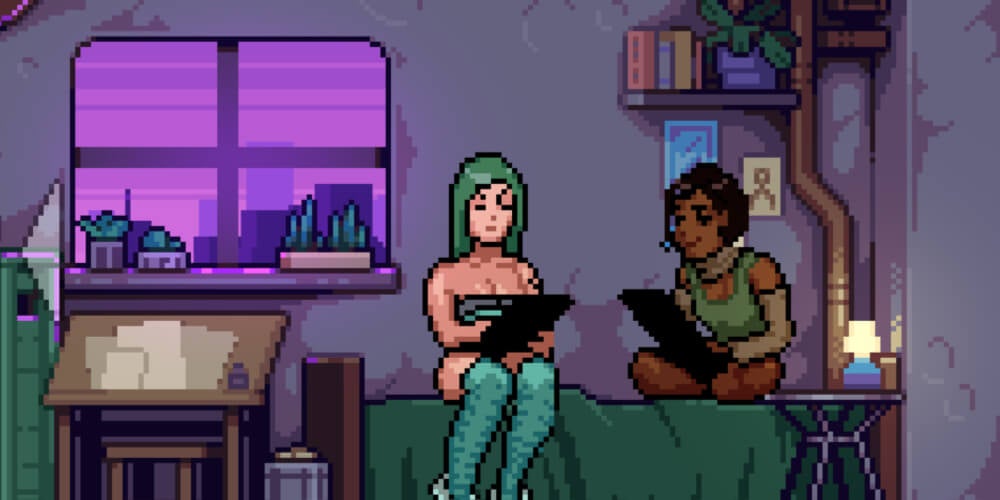 Hardcoded is one of those games that is so good while also being so niche that it can be hard to get people to take it seriously. It's an explicit, open-world, cyberpunk mystery RPG dating simulator game. Yes, that's a lot of descriptors, but it's hard to describe it concisely.
Players assume the role of HC, a droid who recently escaped her owners, and finds a home and friends in the trans community of Pira City. Also, there's a weird disease going around that is making everyone super horny, and it maybe is related to that ominous factory. People deal with this by fucking everywhere constantly, in all sorts of fun, fetishy, sci-fi ways.
Constant horniness aside, HC inhabits a lot of the anxieties of people trying to find their place. She worries that she'll never fit in, that she'll always be an accessory to others' relationships, and that her lived experience is just a series of processes without a soul.
Try the demo on itch.io
10) The robo-tea dating simulator games series

These short games by indie developer jo-robo (Josie Noronha) are a sweet and gentle walk through a genderqueer robot future. Play as a well-meaning guardbot in the first game and risk it all for love, if you dare.
There's a mini-sequel where players can go on a second date with the cute robot of your choosing, and a demo for a second game set in the same universe. In the follow-up you play as Cors, a non-binary robot preparing to meet (and date??) xir favorite musicians.
Available on itch.io
READ MORE: