As of Monday evening, more than 35,000 people have signed a petition to change the name of Columbus, Ohio to Flavortown. 
The change.org petition—addressed to Columbus Mayor Andrew Ginther and the city council—was created by Tyler Woodbridge. He who wrote in the petition's description that the violent and racist actions of Christopher Columbus make him unfit to be the Ohio state capital's namesake. 
"Columbus is an amazing city, but one whose name is tarnished by the very name itself," Woodbridge wrote. "Its namesake, Christopher Columbus, is in The Bad Place because of all his raping, slave trading, and genocide. That's not exactly a proud legacy."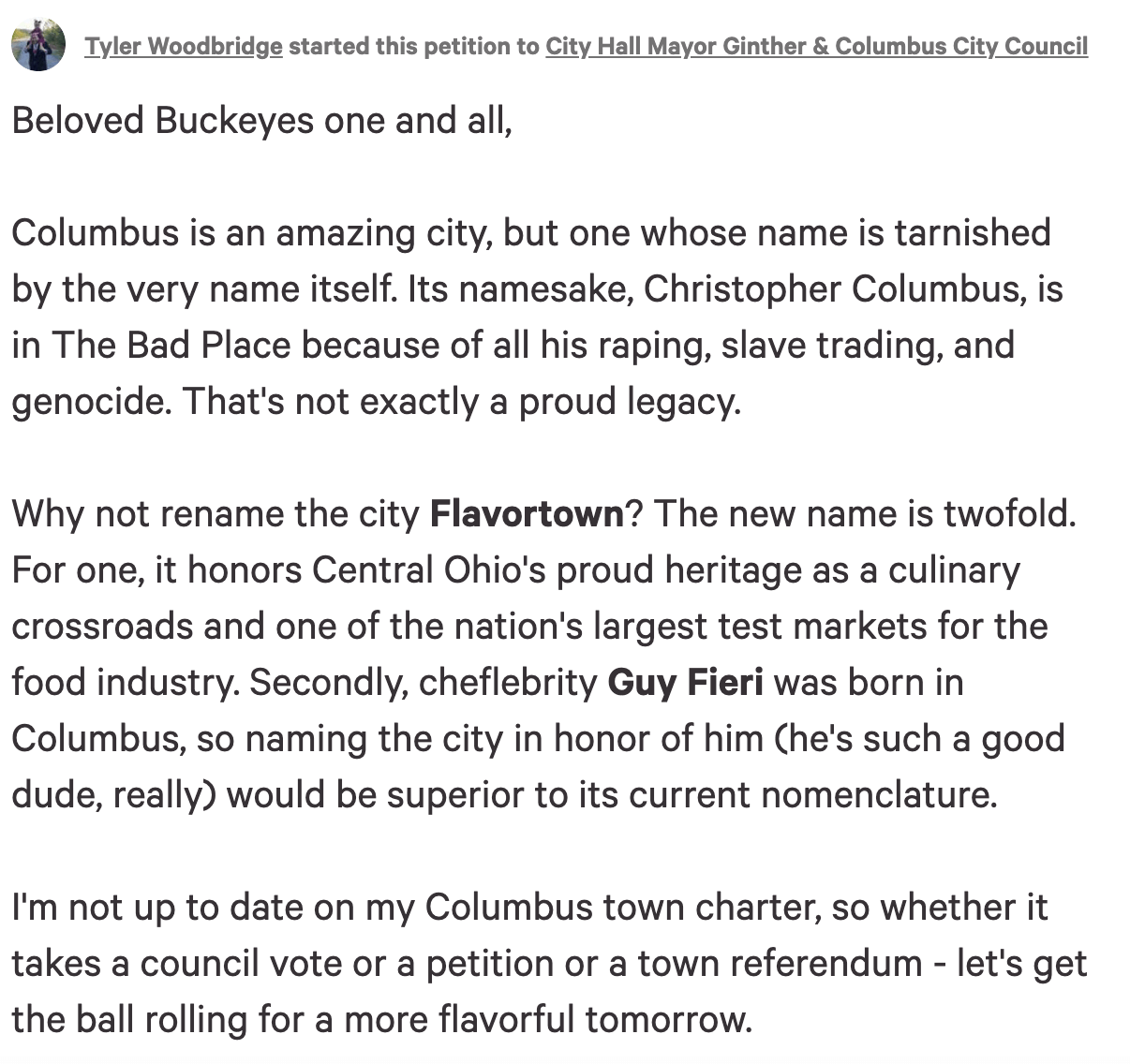 After the city's old name is scrapped, Woodbridge and the thousands of others who signed his petition would like to rename it to Flavortown as an homage to Guy Fieri, the celebrity chef best known for hosting several shows on the Food Network.
"The new name is twofold," Woodbridge continued in the description. "For one, it honors Central Ohio's proud heritage as a culinary crossroads and one of the nation's largest test markets for the food industry. Secondly, cheflebrity Guy Fieri was born in Columbus, so naming the city in honor of him (he's such a good dude, really) would be superior to its current nomenclature."
Woodbridge's change.org account identifies him as a "Flavortown Ambassador" who currently lives in Tennessee.
Beneath the petition, change.org users contributed their reasons for signing.
"As someone with native blood it is painful to live in a city named for the man who killed and enslaved my ancestors," Brandy Betleski, a user from Columbus, commented. "I'm not particular about what the name be replaced with, but "Flavortown" is just so funny and joyful, it would be a pleasure for that to be the name of our city."
Kendra Matthews, a user from Oregon, said replacing Christopher Columbus with Fieri as the city's namesake would honor a "good" white dude.
"Columbus is named for a genocidal maniac," Matthews said. "Changing the name would honor fantastic, diverse food instead of douchebag. It would also honor someone who does a lot of good, and the worst thing about him is his Drag Track Bro persona. If we have to honor a white dude with the town's name, let's at least honor a good one."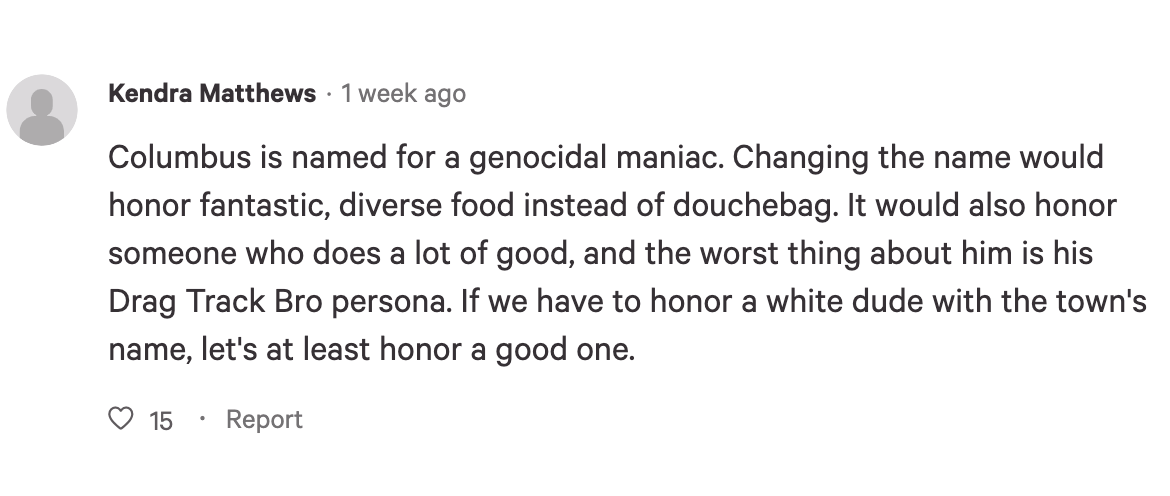 Woodbridge's petition to rename Columbus coincides with Mayor Ginther's announcement that a statue of Christopher Columbus that resides outside the city hall will be removed. In his announcement, Ginther said the statue "represents patriarchy, oppression, and divisiveness" for a lot of Columbus residents.
READ MORE: