A 14-year-old TikToker with a large following allegedly fatally stabbed her disabled sister in the neck while their parents slept. She posted a video to the platform just a day before the killing.
Claire Miller called 911 early Monday morning after she allegedly stabbed her 19-year-old sister to death in Manheim, Pennsylvania, according to Lancaster Online. Her sister, Helen, reportedly had cerebral palsy and was wheelchair-bound.
When officers arrived, Miller repeatedly said, "I killed my sister," even pointing them to the room Helen was in.
The girls' parents were asleep when the killing took place, and officers reportedly found Miller "hysterical" and trying to wash the blood off her hands with the snow.
Miller is being charged as an adult, and as soon as her photo was attached to the news, TikTokers took notice.
"So did anybody come across the same girl on their fyp or just me?" wrote one user against a screenshotted backdrop featuring the news. "Teen Accused of Killing Disabled Sister as Parents Slept" the article's headline reads next to a picture of Miller's photo.
The user then posted a screenshot featuring Miller's account, which only had 4,322 followers at the time the screenshot was taken. According to a screenshot of her profile shared by Dexerto on Thursday, she had almost 22,000 followers.
Another user posted a video of Miller's last video on her TikTok account before the killing. The video was posted just a day before the killing, on Feb. 21.
"This mf rlly just killed her sister after this," user @ssnikka wrote. In the video, Miller is seen dismissively looking to her side and rolling her eyes, with the caption: "My dad has to stop opening the conversation with 'this is just like the gay bar in Japan.'"
Miller's TikTok account, @spiritssuchconsultin, was not available on Thursday evening. However, a few accounts by that username have cropped up.
"IM NOT THE REAL PAGE," the description of one page reads, "JUST REPOSTING."
It posted 27 videos featuring Miller. "POV: you're death the kid scrolling through your fyp," the caption of one video reads.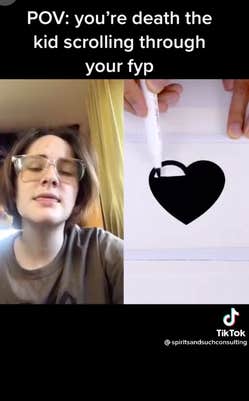 In another video, Helen can be seen in the background.
Another page by the name @spiritandsuchconsulting2 also had the same videos. "Spare in case spiritsandsuchconsulting gets taken down. Captions are replicas," the bio reads.
It's not clear if TikTok is taking any action against these accounts. The Daily Dot has reached out to TikTok and will update this report if it responds.
---
Today's top stories