As coronavirus-related shutdowns lead to housing struggles, including scams and unforgiving landlords, a gig workers' app claims people can sign up to be part of an eviction crew.
The app, Civvl, posted employment ads on Craigslist and advertised rates up to $125 per hour for workers, Vice News first reported on Monday. Following the report, ads for the app disappeared from Craigslist, and reviews for the app called into question its legitimacy.
Ads for Civvl listed under "labor gig" were posted to Craigslist within the last month as the country anticipated a second wave of the coronavirus pandemic and scores of people on the West Coast were left with burnt homes following unprecedented wildfires.
"Unemployment is at a record high and many cannot or simply are not paying rent and mortgages," the ads said. "We are being contracted by frustrated property owners and banks to secure foreclosed residential properties."
Civvl's ads listed openings for positions including "clean out crews" and "eviction crews." The ads were listed in at least 16 cities including Los Angeles; Dallas; Memphis and Nashville, Tennessee; St. Louis and Kansas City, Missouri; Raleigh, North Carolina; Miami; New York City; and Chicago.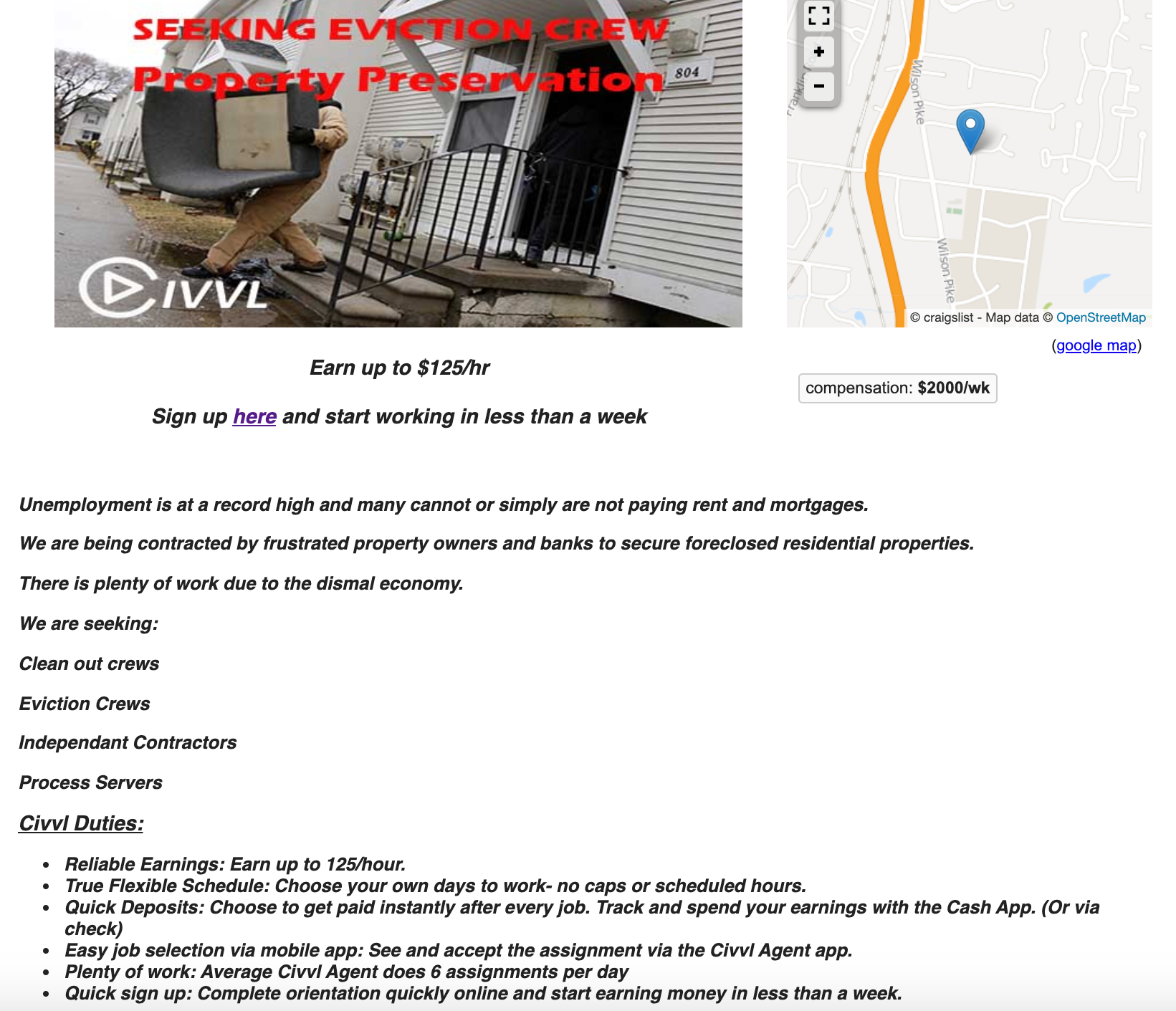 But between Monday evening and Tuesday morning, all but one of 16 ads had disappeared from Craigslist.
Only the New York ad remained as of publishing time. It's not clear if the ads were removed by Craigslist or the organization posting them. The Daily Dot reached out to Craigslist and app developer OnQall Inc. and will update this report if they respond.
It still seems possible, however, to sign up for Civvl. On the company's website, people can opt to sign up to "serve papers" or "post notices."
The website requires that potential workers have a phone, a valid license, transportation, and be 18 or older. Users choose whether to apply for "eviction crew" or "process server," which is really just a fancy way of saying "eviction junk haulers" or "foreclosure movers."
"Have you ever done property preservation before?" the app asks during the sign-up process. For the "no" option, there's an added clause: "but I'm a fast learner."
Once the user has filled out the information, they are required to submit a photo identification card. At this point, a statement reads that ticking a "consent" box constitutes a legal agreement.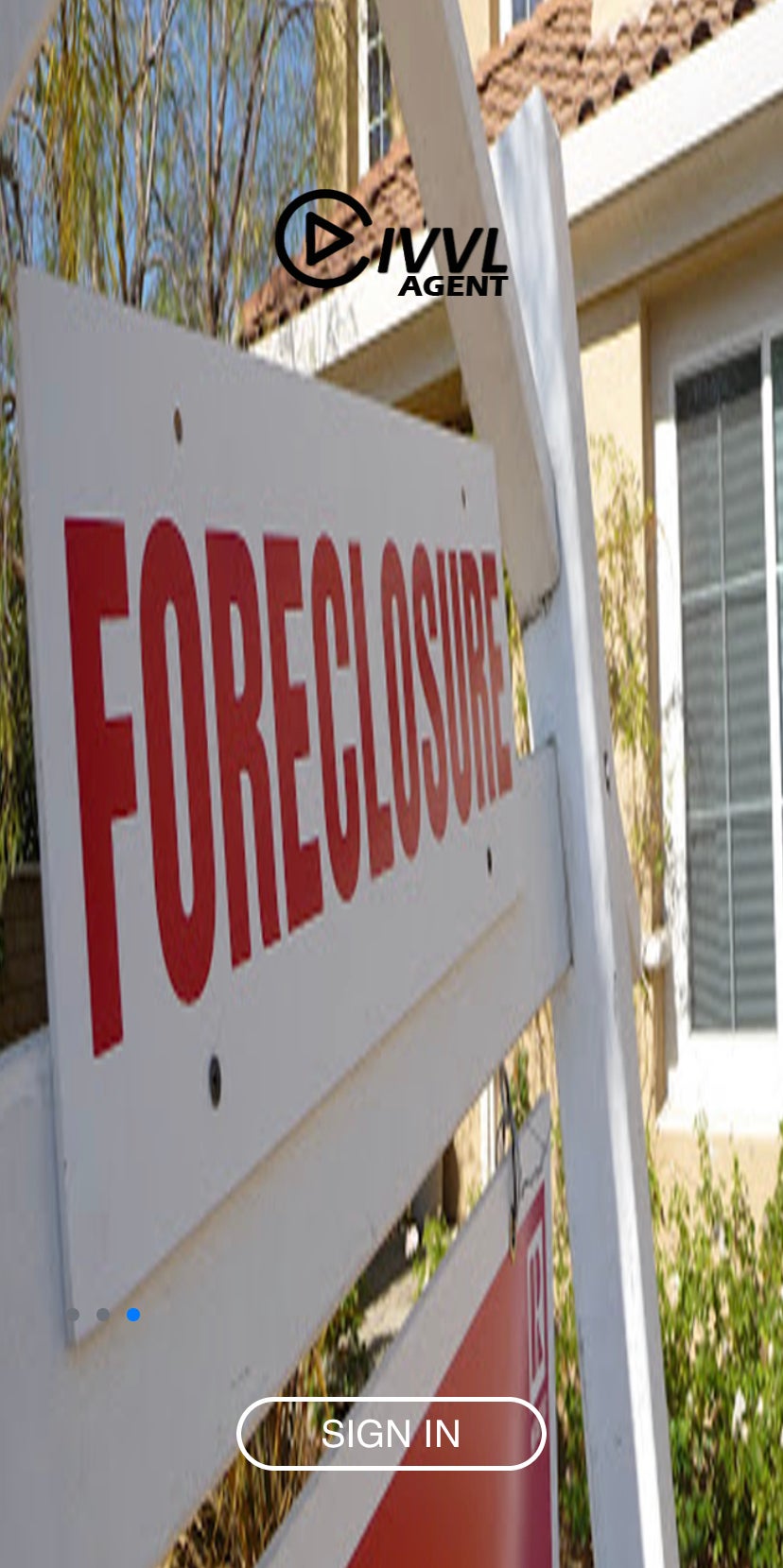 Gig workers themselves also apparently have to pay to get the gig. A review on the Civvl Agent app, which is different from the Civvl app on the App Store, says users are required to pay a $35 fee. CBS News reports the fee is monthly and that the app takes 30% of workers' earnings.
The sign-up fee is neither advertised in the Craigslist ads nor mentioned on the website during the sign-up process.
"You fill out all this information and the very last step they tell you there is a fee to join!" reads one iTunes App Store review from a frustrated potential Civvl user. "I waisted my time filling out all the info just to be told they want to charge me."
The same user also posed skepticism about Civvl's intentions. "Come on guys now you have my personal information and I ave no idea what you're doing with it!!" the review said.
Per Vice News, reviewers complained that after signing up, there was "a lack of work" available on the app. Following Vice's report, reviewers left one-star reviews and accused the app of violating human rights. Ultimately, it's still unclear how much of a role Civvl has in the very real eviction crisis.
A spokesperson for Civvl told CBS News that the company doesn't carry out evictions but supplies "help" clearing out properties via independent contractors.
"It's basically like a job center," the spokesman told CBS News.
This article has been edited for clarity.
---
Must-reads on the Daily Dot