Channing Smith died by suicide after explicit Facebook messages between himself and another boy were posted on Snapchat and Instagram, according to BuzzFeed News. His father found the Smith around 4am after he noticed his bedroom light was still on and decided to go check on him.
Smith–a self-described "musician math and tech geek, car nerd, and gun nut"– was a junior at Coffee County Central High School in Manchester, Tennessee, and the messages were exchanged with a fellow classmate.
"They were graphic texts and there was no room for Channing to be able to claim it was a misunderstanding," Smith older brother Joshua Smith told BuzzFeed News. "When he saw the screenshots on social media he called some people around 10pm Sunday night, freaking out. His last posting on Instagram was about people he couldn't trust."
A screenshot obtained by BuzzFeed News shows the last post Smith published on Instagram.
"I'm gonna get off social media for a while. I really hate how I can't trust anyone because those I did were so fake. Bye," Smith wrote. Smith's profile is set to private.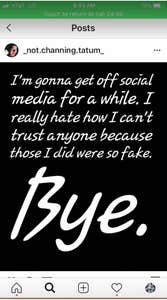 According to close friends of Smith, the teen had been bullied even before the messages were publicly shared. He was allegedly told "no one liked him" because he sometimes "talked in a girly voice and walked with sass."
Smith's brother referred to the town in which he was raised as a "stereotypical small, southern town," but felt confident his "ultra-conservative" father would have never disowned Smith because of his sexuality. Nonetheless, he told Buzzfeed "him being gay or anything like that would have been a hard conversation."
Smith also said that not enough has been done to investigate the circumstances surrounding his brother's death. He said the case was only investigated by Coffee County District Attorney Craig Northcott for a day and none of the teens who were involved in the bullying had their phones confiscated. Supposedly, investigators did not have the technology necessary to access the phones without a passcode, so they decided against taking further action.
Northcott has been on the receiving end of plenty of backlash after saying LGBTQ people shouldn't be afforded protection in domestic violence cases and also calling Islam an "evil belief system."
In a statement, Northcott expressed condolences to Smith's family and explained the investigation is still ongoing. It read:
"I, like the rest of the community, am deeply saddened by the tragic loss of the young life of Channing Smith. I express my heartfelt condolences to his family. My office has encouraged, cooperated in and supported the investigation into the events leading to this death. Ethically, I am prohibited from commenting on an open investigation or prosecution. However, procedurally, no charging decisions have been made by my office nor has the Coffee County Sheriff's Department asked for a decision since the investigation has not been completed. When all relevant facts are available, my office will advise the Coffee County Sheriff's Department on what charges, if any, we believe are appropriate to help guide it in that decision. Any report that my office has failed or refused to act is inaccurate and I wanted to clarify this for the sake of the Smith family as they do not need the added burden to the already incomprehensible pain that they are experiencing. I would ask for the everyone to extend their prayers for the family and to respect their privacy as this process moves forward."
Many have taken to social media to express outrage over Northcott's handling of the case.
"Channing Smith was one of my sons closest friends," Gerald Howland tweeted. "I hope the 2 kids that did this get the punishment they deserve. And as for that piece of hum garbage. DA Northcutt, you have to live here and run for office. We wont forget!!!!"
Channing Smith was one of my sons closest friends.I hope the 2 kids that did this (btw i know who they are) get the punishment they deserve. And as for that piece of hum garbage. DA Northcutt, you have to live here and run for office. We wont forget!!!!

— Gerald Howland (@GeraldHowland2) September 26, 2019
Craig Northcott is synonymous to piece of shit. I don't care what you believe, CHANNING SMITH DESERVES PEACE. He obviously didn't have that at the school. Saying you don't believe in gay marriage is a piss poor excuse for not serving justice.

— harls barkley (@harner_harley) September 27, 2019
My heart goes out to his family. D Attorney Craig Northcott in Channing Smith's county should be ashamed of himself. I would feel greatly embarrassed if THIS guy was my counties DA. What did you think would happen with your hateful rhetoric & speeches?https://t.co/pWOMSRsUpQ

— James (@Caligamy) September 27, 2019
Smith's school is also under fire for not doing enough to address the tragedy. Allegedly, the school offered no grief counseling to students and also failed to condemn bullying. To protest the school's lack of action, dozens of students, including Smith's friends, held a strike during the school's Friday homecoming rally to pay tribute to the teen. They wore shirts and created posters with the messages "Justice for Channing!" It was reported that the school's principal told the teens to put their posters away and take off the shirts.
The National Suicide Prevention Lifeline is 1-800-273-8255. Other international suicide helplines can be found at befrienders.org. You can also text TALK to 741741 for free, anonymous, 24/7 crisis support in the US from the Crisis Text Line.
READ MORE: 
H/T BuzzFeed News