Students from Centennial High School and community members planned a walkout Monday to speak up against racism after one student posted screenshots of racist text messages on social media.
The messages reportedly included racial slurs and derogatory comments, highlighting a larger issue of racism and harassment at the Minnesota high school, especially in light of the rise in anti-Asian hate incidents.
Elaina Yang, a junior at Centennial High School, posted the screenshots from a group chat on March 24 in hopes of bringing more awareness to the racism she and other students at the school experience. According to the screenshots, Yang received comments from classmates disparaging her father's English and saying he should go back to Hong Kong.
"It would mean a lot if people could use their voice and repost this so … the school understands that this is a real issue that needs to be seriously dealt with," Yang posted on Instagram.
In response to the incident, the school district issued a statement March 26 condemning hatred and racism and said disciplinary action was taken against the students involved after an investigation was conducted. The district also outlined steps for a future equity plan, which includes facilitating listening sessions with students and families, hiring an equity coordinator, and developing a program that gives students the opportunity to reflect and grow from their actions.
Desi Hennagir, who graduated in 2019, told the Daily Dot that she began organizing the walkout as soon as she heard about the text messages. Hennagir spent a busy four days calling her friends and getting the word out to current students and the surrounding community.
"I'm just throwing myself into the middle of something and not really knowing how it's going to turn out but it ended up being one of the greatest experiences of my life," Hennagir told the Daily Dot.
Hennagir said she experienced racial injustice starting in elementary school. She always had a plan to become a marine biologist one day. But she said the color of her skin labeled her as a troublemaker to the administration, and she never had the confidence to pursue it.
"I got beaten down so much that I no longer had a passion for it," Hennagir said. "I no longer felt excited to learn and it tore down my self image."
After news of the walkout spread online, the district said it would provide a safe space for students and enforce COVID-19 safety protocols.
"To keep our students, staff, and families safe throughout the pandemic, visitors, including the media, are not allowed inside our schools," the district said.
Natalie Ennett, a senior at Centennial High School, found out about the walkout on Snapchat and signed up as a speaker. She told the Daily Dot that she wanted to share the incidents she had experienced and brought up to the administration that had gone unaddressed.
Ennett said as a sophomore, other students asked if she had a dad, told to go pick cotton, and said that even if she straightened her hair, she would still look like an "N-word." She said she reported the incidents to administration, but there was never follow-up.
"I want them to take us seriously when we come and talk to them," Ennett told the Daily Dot. "At first, I didn't know where to go and how to report this."
Students gathered Monday morning, armed with megaphones and posters, saying, "Silence is violence" and "We demand change." Although the walkout was in response to anti-Asian hate, it opened a space to address other issues such as homophobia and sexual assault.
"A lot of administrators that were out there were very emotional when they heard these things," Hennagir said. "The biggest thing was just being heard."
Ennett said she felt so proud to speak with others who had the courage to come out.
"I literally wanted to cry because I was seeing all these kids out here showing their support," Ennett said.
Photos from the walkout were shared across social media by students.
"Hear us. See us," Ennett posted on Instagram.
For current students and alumni alike, the walkout was a space for student voices, especially those belonging to marginalized communities, to be heard.
"The time is now!!" Desi Hennagir posted. "WE WILL BE HEARD."
However, the walkout was not the first call for equity in the school district. Centennial Community Advocates for Racial Equity, a private Facebook group not officially affiliated with the school district dedicated to promoting anti-racist efforts for students, faculty, and staff, was created in June of 2020. The group has pushed the school district to create a more diverse curriculum and to provide better resources and support for marginalized students.
Centennial Students for Change, a group formed after the death of George Floyd, peacefully marched in the summer of 2020 in support of the Black Lives Matter movement. Organizers demanded that all faculty and staff be required to undergo anti-racism training, the instatement of structured protocols to handle racist incidents at the school, and for the alleged unequal treatment and punishment of students of color to be addressed.
"A student at Centennial harassed my friend for wearing her hijab and asked if she had a bomb in her backpack. And when she reported it, guess what happened? Nothing," Joy Ohana said at the march.
Despite the school district's equity plan created in 2016, students at the march shared that many incidents such as harassment or the use of racial slurs go unreported or dismissed at the predominantly white school district. Other students and speakers demanded change in the surrounding community as well.
Hennagir said creating avenues for student input is what she hopes to see moving forward, including creating an anonymous suggestion form and allowing students to speak at meetings for issues that directly impact them. In order to make reporting incidents easier and more accessible to students, Ennett said she wants a clear sign or process laid out for students.
"Ultimately the students are the ones that are going through these issues, not the administrators," Hennagir said. "I want to see students coming to me and saying today was a really great day at school."
Using social media as a tool for mobilization and dissemination, students are becoming more vocal on the changes they want to see in and beyond their community.
"Hopefully this is not a one time thing and we can continue to give a platform to student and alumni voices who represent marginalized communities," one user commented.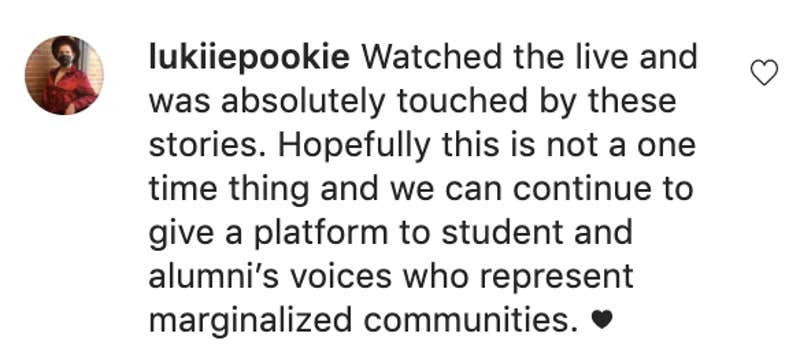 Elaina Yang did not immediately respond to the Daily Dot's request for comment.
Update 2:05pm CT, April 1: This story has been updated with quotes from Desi Hennagir and Natalie Ennett.
---
Today's Top Stories