Panic! At the Disco frontman Brendon Urie has been accused of sexual harassment and pedophilia. Multiple anonymous Twitter users came forward on Thursday with their stories of how Urie allegedly inappropriately touched them.
Prior to Thursday, fans were calling on Urie to fire the band's security manager, Zack Hall, who was recently accused of sexual harassment. 
The accusations against both Hall and Urie have led #BrendonUrieSpeakUp, #BrendonUrieisOverParty, #DismissZackHall, and #FireZackHall to all trend on Twitter. The #BrendonUrieSpeakUp hashtag alone has nearly 10,000 tweets under it.
Two anonymous accounts created Twitter threads to share their stories.
One account, @kam02709814, said the hashtags #BrendonUrieisOverParty and #DismissZackHal inspired him to come forward and share his story on Twitter, but he later deleted the tweets. He said that he went to a music festival in South Africa where Panic! At the Disco was performing back in 2009. He said that when he was attempting to take the train home from the concert, he ran into Urie and approached him to say hi.
"Brendon thanked me for coming to the festival, etc… I remember him looking at my body in a way which made me feel very uncomfortable and he asked me if I was into dudes," he wrote. "I was extremely taken aback by this and I told him I was a minor."
The Twitter user said that while he doesn't remember the full conversation, he "just know(s) it was inappropriate," and it made him want to get away from Urie.
He said that Urie then asked him if he'd ever made out with a guy before. "I was kind of startled and I just said I hadn't." Urie also allegedly told him that he tried making out with one of his Panic! At the Disco bandmates but that they wouldn't let him. "I was really confused as to why he was … even having this sort of conversation with me when I explicitly told him I was underage," @kam02709814 wrote.
"He tried touching my thigh and at that moment I was so fucking creeped out," he continued. He said that made him feel "physically sick" and prompted him to run out of the area. The next couple of days, he said, he was disgusted with himself. And while he's not "majorly traumatized," he does "tense up" whenever he hears of Urie or Panic! At the Disco.
"I knew what Brendon did made me feel unsafe but i didn't come to the conclusion that he sexually harassed me until much later on," he wrote.
He said that he has wanted to come forward with his story for years and finally mustered up the "courage to do so."
"I fear he's harassed others the same way he harassed me," he wrote. "I hope that anyone else who has been a victim of sexual harassment or abuse by the hands of someone like Brendon finds solace within my story and the strength to someday share their own experiences."
The Daily Dot has reached out to @kam02709814.
Another Twitter user, @leah62053062, whose account has since been deleted, said that when she was 15 in 2011, she was asked to go backstage at a Panic! At the Disco concert in Cleveland. She says she was alone at the time because her friends had already left, and she was under the impression that the person who approached her to go backstage was either an employee or friend of Urie's.
She said that Urie was "sitting on a couch," smiling at her backstage. She said that Urie explained to her that he had noticed her in the front row of the crowd during the concert and thought she "looked beautiful."
She then allegedly told him that she was only 15.
"I didn't mean it like that. Can I not compliment a beautiful girl?" she recalls him saying.
"I remember after I little while of me and him sitting on the couch and talking , he started to feel on my inner thighs," she recounts. "He then started to kiss on my neck and trying to move his hand to my ass. At this point, I was stunned and I couldn't move. After he tried touching on my vagina, I snapped back and ran out of there."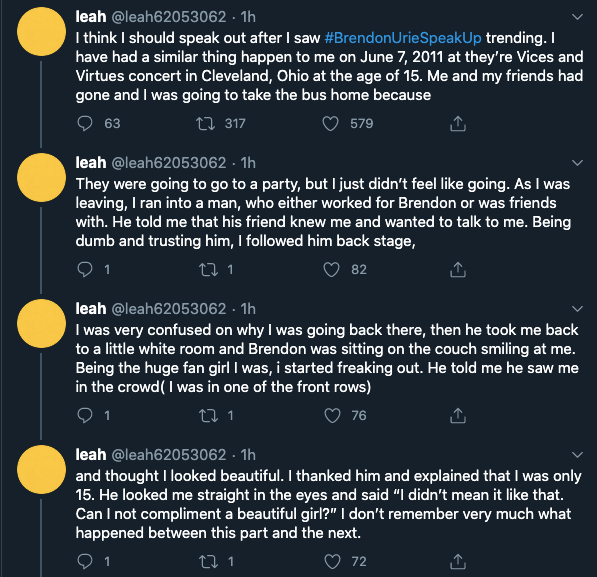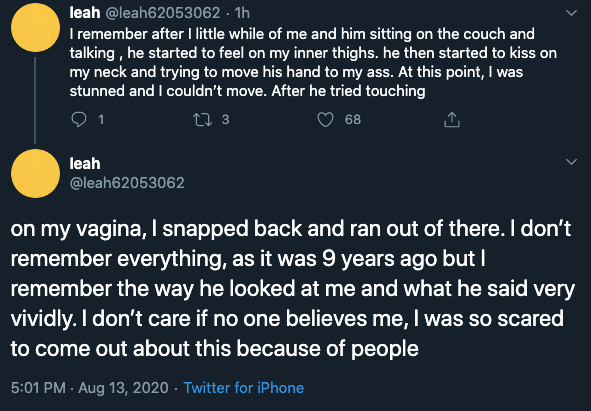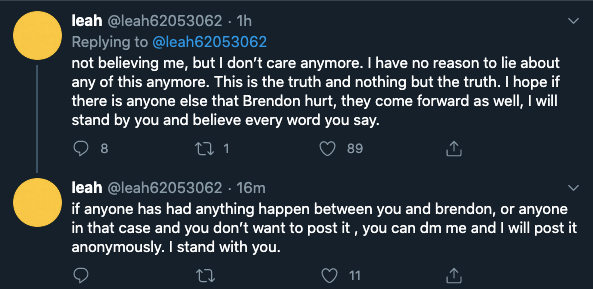 She said that while she was at first hesitant to come forward with her story out of fear that no one would believe her, she "(doesn't) care anymore."
She then urged others who "Brendon hurt" to come forward with their own stories. "I stand with you," she wrote, adding that she will post their accounts anonymously if they prefer.
Despite receiving pressure from fans to make a statement regarding the allegations against himself and his security manager, Urie has yet to publicly comment on the matter.
---
Today's top stories