Rapper Blueface, whose real name is Johnathan Porter, is being likened to R. Kelly and his "sex cult" after a video surfaced on social media showing him asking young women to get tattoos, seemingly of his logo.
The video has been shared by numerous account holders on Twitter, some calling the behavior "cult"-like and some saying he is grooming the women.
Twitter user @Hollywood2Time shared a video on Sunday showing Blueface walking about a living quarter with numerous bunk beds and clothes strewn on the floor. But according to Brobible, the scene from his home is for a reality show where the women have to live together, fight each other, and all while their phones are taken away from them. Given that the clip appeared candid, the internet began worrying about the situation
In the video, Blueface walks in, saying, "We're getting tattoos today."
He asks one young woman where he is getting her tattoo and she points to her neck and he cheers her on. He then redirects the camera toward another woman who is in bed and trying to hide her face.
The video then cuts to another part where he says, "or go home," which many have understood to be an ultimatum.
Another woman shows her hand showing where she would get hers. He then zooms in on another young woman asleep in the lower bunk of a bed.
Another video shows one young woman under the needle, getting a tattoo around her neck.
The video has been viewed more than 4 million times and raised questions about his relationship with these women.
"We're watching another r kelly situation. And years from now everyone will act surprised," wrote one user on Twitter, whose account is private.
The user shared a link to another tweet which shared a screenshot by one of the women affiliated with Blueface.
The screenshot is of the woman's Instagram story, which was no longer available on Tuesday.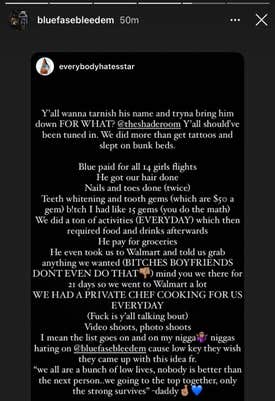 In the story, Instagram user @everybodyhatesstar accused people of "tarnishing" Blueface's name and "tryna bring him down."
She went on to say how he paid for flights of 14 girls; paid to get their hair, nails, and toes done; paid for teeth whitening and tooth gems on top of paying for food, drinks, and groceries.
"He even took us to Walmart and told us grab anything we wanted," she wrote.
Twitter user Dylan Ali shared the screenshot on Sunday, calling it a "grooming testimonial."
"….don't all pimps do this?" Ali wrote in a follow-up tweet.
"This is a very clear example of grooming. Also, I'm going to assume most if not all of these women do not have stable living of financial situations …. so this is going down the path of financial abuse," tweeted the user with the private profile.
"The branding, the bunk beds, the nonconsensual filming while they sleep. It's all one big red flag and nobody will do shit until it's too late," wrote one user.
Many couldn't help raise a comparison with R. Kelly, especially given the fact that he had abused and groomed young women for years with people knowing, and yet nobody took any sufficient action against him. However, it remains unclear what romantic relationship Blueface actually has with these women.
The Daily Dot has reached out to Blueface and will update the report if he responds.
---
Today's Top Stories
H/T BroBible