Billie Eilish despises it when YouTubers impersonate her, especially when they're showing her in a bad light and potentially creating dangerous situations for themselves.
But despite Eilish's pleas to "please stop doing this shit," YouTube star Brent Rivera tried to trick his friends with a lookalike and then uploaded the results to the platform.
In a video posted on Saturday, Rivera—who has 11.6 million YouTube subscribers—convinced TikTok star Nadine Yani (308,000 followers) to dress up like Eilish to try to fool his friends. It didn't work because Yani doesn't look much like Eilish, even as she wore a lime green hoodie and matching hat and glasses.  
As one of Rivera's friends said, "One of these days you're going to actually get a real celebrity and I'm going to write them off automatically." Rivera and Yani then went to some drive-throughs to see if they could fool fast-food workers. (That didn't really work either, and it seems Rivera knew all along his attempts to trick anybody were doomed to fail.)
Rivera isn't the first to use the pop star as content for their vlogs. It's become so prevalent that Eilish said about a month ago, "It is not safe for you and it is mean to the people who don't know any better. You make me look bad."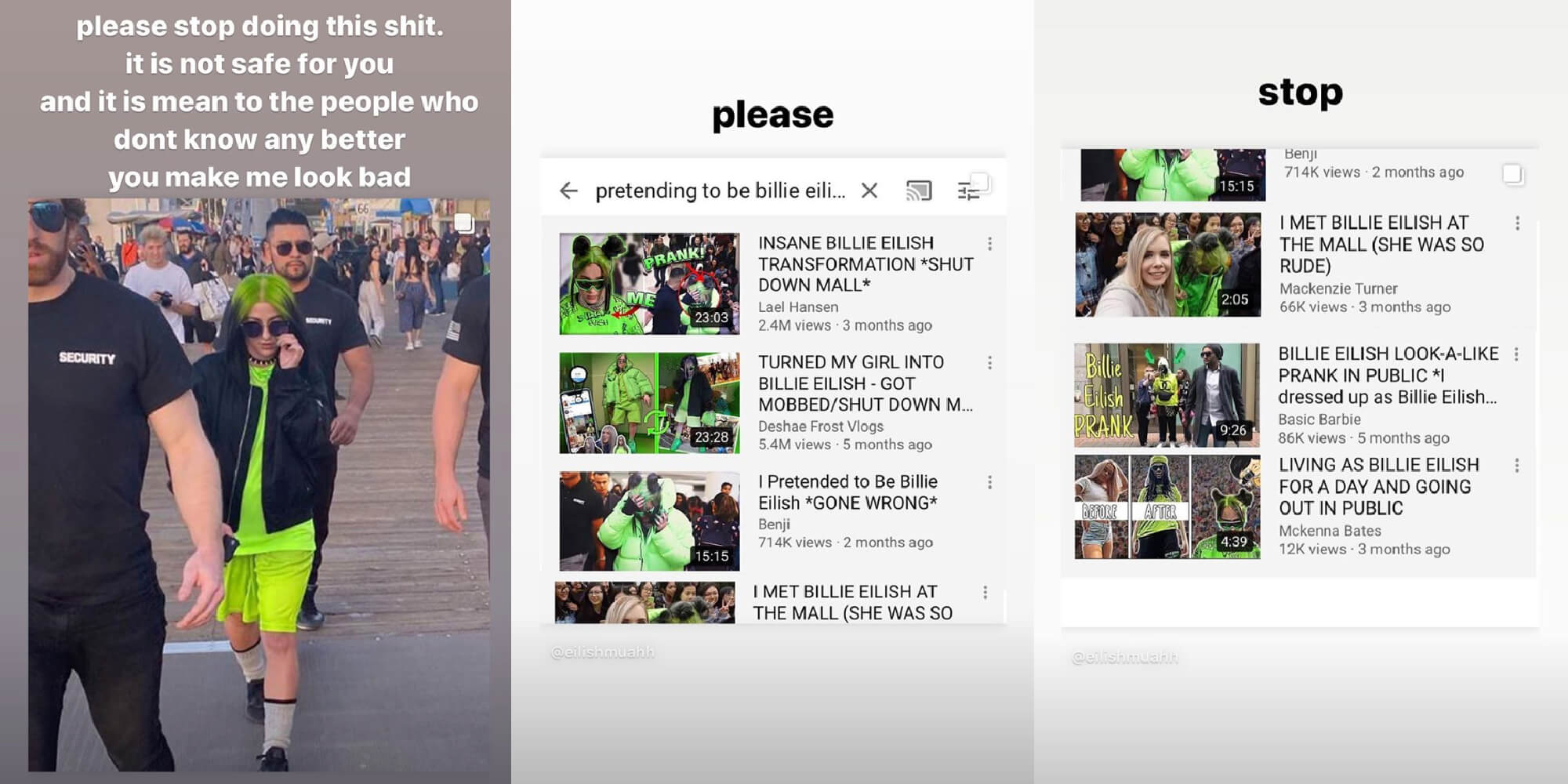 But she also made fun of one of her impersonators for wearing shin-high grey socks, so it's unclear how upset Eilish really is at the imitation.
Rivera knew about her previous comments because he wrote on his video's description, "Billie asked fans not to impersonate her in public, due to safety reasons and bad publicity. I respected those wishes and did not do anything in public with this prank. I surprised my closest friends in my house with someone dressed like her."
Despite Eilish's comments and Rivera's failure to fool anybody, as of Monday morning, his video had accumulated nearly 2 million views and lived on YouTube's trending page.
READ MORE:
H/T Insider