A BBC reporter in England is facing backlash for using the N-word during a news broadcast to describe a racist attack against a Black man. 
"Just to warn you, you're about to hear highly abusive language," social affairs reporter Fiona Lamdin says in a disclaimer, according to a clip of the broadcast, shared by the Metro. 
"As the men ran away, they hurled racial abuse, calling the man [N-word]," she says. In the Metro clip, the N-word was censored with a beep.
Lamdin was reporting on a racist attack against a Black healthcare worker that took place last week in Bristol.
Two men left the 21-year-old employee of the UK National Health Service (NHS) severely bruised in his face, according to pictures published by local media. 
Witnesses claimed that they heard the suspects hurl racial slurs at the man as they ditched the vehicle they were in and fled the scene on foot, the Daily Star reported.  
The victim has not shared his name with the press but has detailed his injuries, saying he is expected to take at least six months to recover. His injuries include a broken leg, nose, and cheekbone. He said his face and leg will need plastic surgery, and he's currently walking on crutches. 
Many online shared their frustration with the use of the N-word by Lamdin, a white person.
"Some people at the BBC clearly do not know how awful and actually triggering it can be to hear the n-word in full on top of a harrowing report about a racist attack," wrote one user.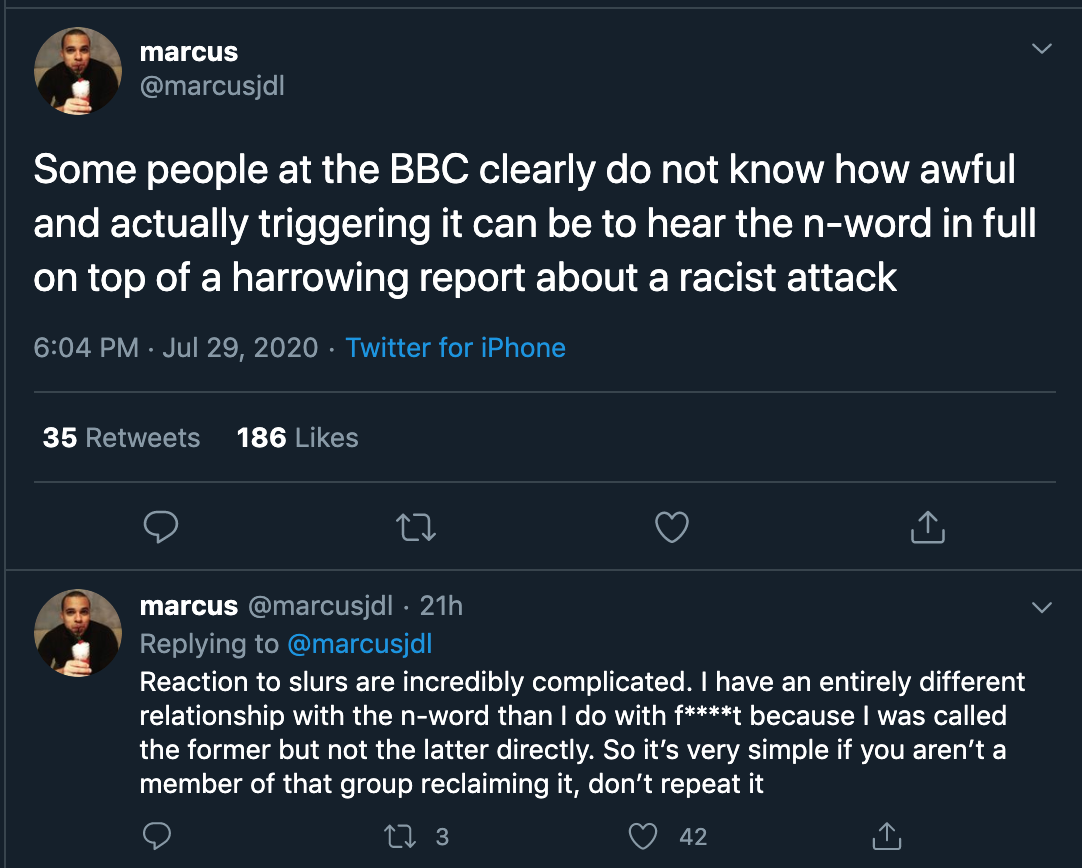 Others tried to defend Lamdin's use of the word, saying she used it for "context" and claimed the controversy was taking away from where the outrage should be directed: the racist attack.
However, there are numerous explainers for why it's not OK for non-Black people to use the N-word. Take, for example, Ta-Nehisi Coates' five-minute explanation on the matter.
Lamdin's Twitter post regarding the racist attack, which was posted on Tuesday, was ratioed with people sharing their grievances about her use of the word. 
"Your use of that word, as a white woman was disgraceful, this is not an "editorial decision it was not needed for context and you absolutely would have been right to refuse to use it," wrote one person. 
"This story needs to be told. But it does not give Fiona Lamdin or any reporter the excuse to use the n word," wrote another. "Racial abuse/slur would have sufficed."  
Lamdin has not responded to the backlash, but BBC News told the Daily Star the victim's "family told the BBC about the racist language used by the attackers and wanted to see the full facts made public."
BBC added that it removed the particular segment of the report and will continue to follow the story.
---
Today's top stories
H/T Metro