Fans of The Bachelor were furious this week after Chris Harrison, the show's longtime host, defended front-runner Rachael Kirkconnell's racism in an interview with Rachel Lindsay, the first Black Bachelorette, on Tuesday.
Kirkconnell first came into the spotlight as a contest on Matt James' season, which began in January. Fans of the show first condemned Kirkconnell after a TikTok user claimed Kirkconnell was racist in high school.
Photos emerged this month that allegedly show Kirkconnell at an "antebellum" or plantation-themed fraternity party at the University of Georgia. Kirkconnell has also been accused of liking racist posts on Instagram, including one of two women standing in front of a confederate flag. 
In an interview with Lindsay on Extra on Tuesday, Harrison said he did not know the full extent of the behavior and hadn't had a chance to talk to Kirkconnell about it yet—but still defended her actions.
"This judge, jury, executioner thing where people are just tearing this girl's life apart," Harrison said. "Until I actually hear this woman have a chance to speak, who am I to say any of this … I saw a picture of her at a sorority party five years ago; that's it."
Harrison also said that while contestants normally talk about the drama and rumors of each season in the "Women Tell All" episode, Kirkconnell didn't address accusations of racism against her.
"Hopefully, I will be there to have that debate with her, and I will push her," Harrison said. "I don't think the show needs to speak before Rachael does."
Following the backlash over Harrison's interview with Lindsay, The Bachelor host apologized for taking an uneducated "stance" on racism.
"While I do not speak for Rachael Kirkconnell, my intentions were simply to ask for grace in offering her an opportunity to speak on her own behalf," Harrison wrote on Instagram. "What I now realize I have done is cause harm by wrongly speaking in a manner that perpetuates racism, and for that I am so deeply sorry."
Bachelor alum Onyeka Ehie from season 23 said on Twitter on Thursday that she and oher cast members received "numerous racist messages" but were never acknowledged by the production crew. "I guess our grace and compassion got lost in the mail???" Ehie wrote. "The double standard makes me sick.
Users on Reddit, meanwhile, dug up more problematic pictures from Kcikconnell's past. In a post from June 2020 that Kirkconnell "liked," she and her friends are wearing stereotypical Native American costumes.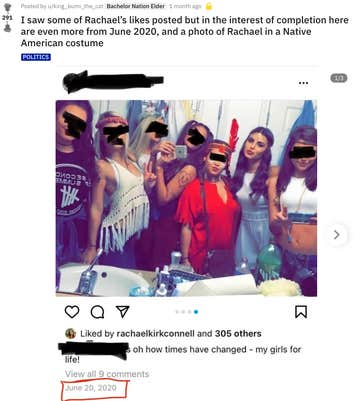 On The Bachelor subreddit, fans of the show discussed Kirkconnell's behavior and Harrison's cavalier approach to combating racism.
"George Floyd was murdered in May 2020 so for context this was during the peak of the BLM protests," one user wrote. "Like that's what's happening in the world and you're liking THIS."
"She's choosing to be an ignorant racist or she isn't ignorant and doesn't care about being racist," another redditor said.
Fans also discussed what they perceive as insufficient vetting of contestants for the show. Commenters said that with so few bachelors and bachelorettes of color, it's crucial for the producers to look into contestants' pasts.
"It doesn't even scrape the surface of their priorities," one user wrote. "They are catering to an audience with views just like hers anyway!"
For some fans, Harrison's reaction to Kirkconnell's racism was the most upsetting aspect of the situation.
"When POC call contestants out for being racist, perhaps people should listen instead of talking about grace, growth, how a lot of white people go through a racist phase and/or giving someone the benefit of the doubt," one user wrote. "Because so far, we haven't been wrong."
---
Must-reads on the Daily Dot