Members of the Atlanta Police Department staged a walkout Wednesday night following the murder charges filed against an officer for the shooting of Rayshard Brooks.
The walkout prompted an online debate that was split between those in support of the officer and those who thought that the walkout was an example of why the U.S. should defund police. Far-right commentator Tomi Lahren wrote on Twitter she sympathized with the police and supported the walkout.
"Officers have every right to walk off," Lahren started. "They aren't able to do their jobs, are demonized on a continual basis and know if they are in position that may result in use of force they have 2 choices: end up dead or be crucified by the public with their lives as good as over anyway."
The police were called to a Wendy's in Atlanta, Georgia last week after Brooks fell asleep in the drive-thru. Police noted that the 27-year-old father of three was intoxicated but calm. Brooks began to resist arrest and ultimately got his hands on a police taser. As Brooks fled from officers, he was shot twice in the back. One officer then kicked a bleeding Brooks following the shooting. He died a few hours later at a local hospital.
Waves of protests erupted in the wake of Brooks' death, resulting in the destruction of the Wendy's where Brooks died. In response to protests, Police Chief Erika Shields stepped down and several officers now face charges. Ultimately, it was the charges against Garrett Rolfe—the officer directly responsible for Brooks' death and who kicked him—that spurred the walkout. Rolfe faces a felony murder charge.
Many officers refused to show up for work when their shifts began on Wednesday night. It is unclear how many officers declined to arrive at their shifts. The officers' decision quickly made news and sparked a debate online, prompting two hashtags to begin trending.
Opinions appear to be split, with one part of the internet supporting #BlueFlu, also known as a police strike, and the other condemning it.
Supporters of the Black Lives Matter and of defunding police used the Atlanta walkout as an example of what a nation without cops might look like. People used videos of calm city streets to illustrate the idea that police are no longer necessary, at least in their current capacity. There is no indication that Atlanta suffered from increased crime in their absence.
Others began sharing their dark expectations for a world without police. In most cases, their imagined futures were riddled with crime. They defended police, claiming that officers are "concerned about being jailed" due to excessive force and therefore cannot do their jobs.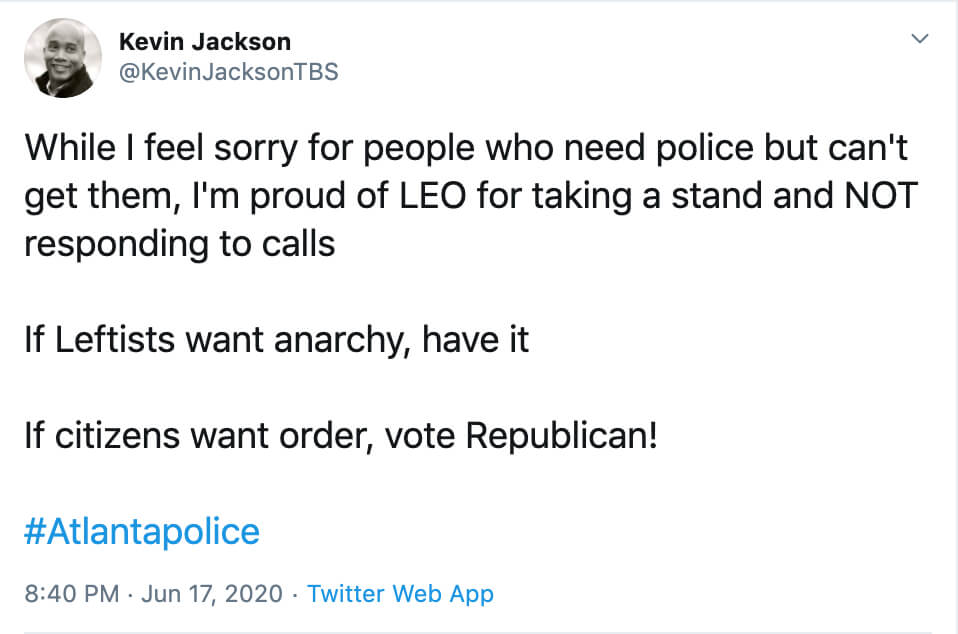 Some criticized police for refusing to do their jobs, emphasizing the point that police exist to protect citizens, not kill them. Many called for the officers that took part in the Atlanta walkout to be fired.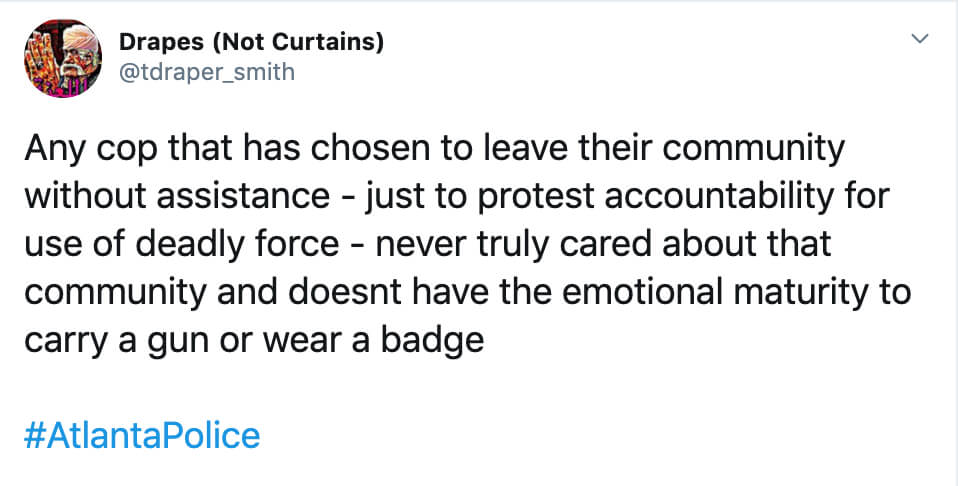 If convicted of the murder charge, Garrett Rolfe could face the death penalty or life in prison.
READ MORE: