A Georgia politician used her platform on Instagram to harass a pregnant and Black trans man, saying his pregnancy made her feel "disrespected and cheated."
Angela Stanton King, a Republican running for Congress, targeted Kayden Coleman in an Instagram post on Saturday. She shared a photo featuring his pregnancy that he posted on Instagram a few days prior. Coleman recently gave birth, and her post came shortly afterward.
"If black people can get offended by white ppl wearing black face, Why can't women get offended by men impersonating women and vice versa?" Stanton King wrote.
"Why is this necessary? What message does this send to our youth?" she added.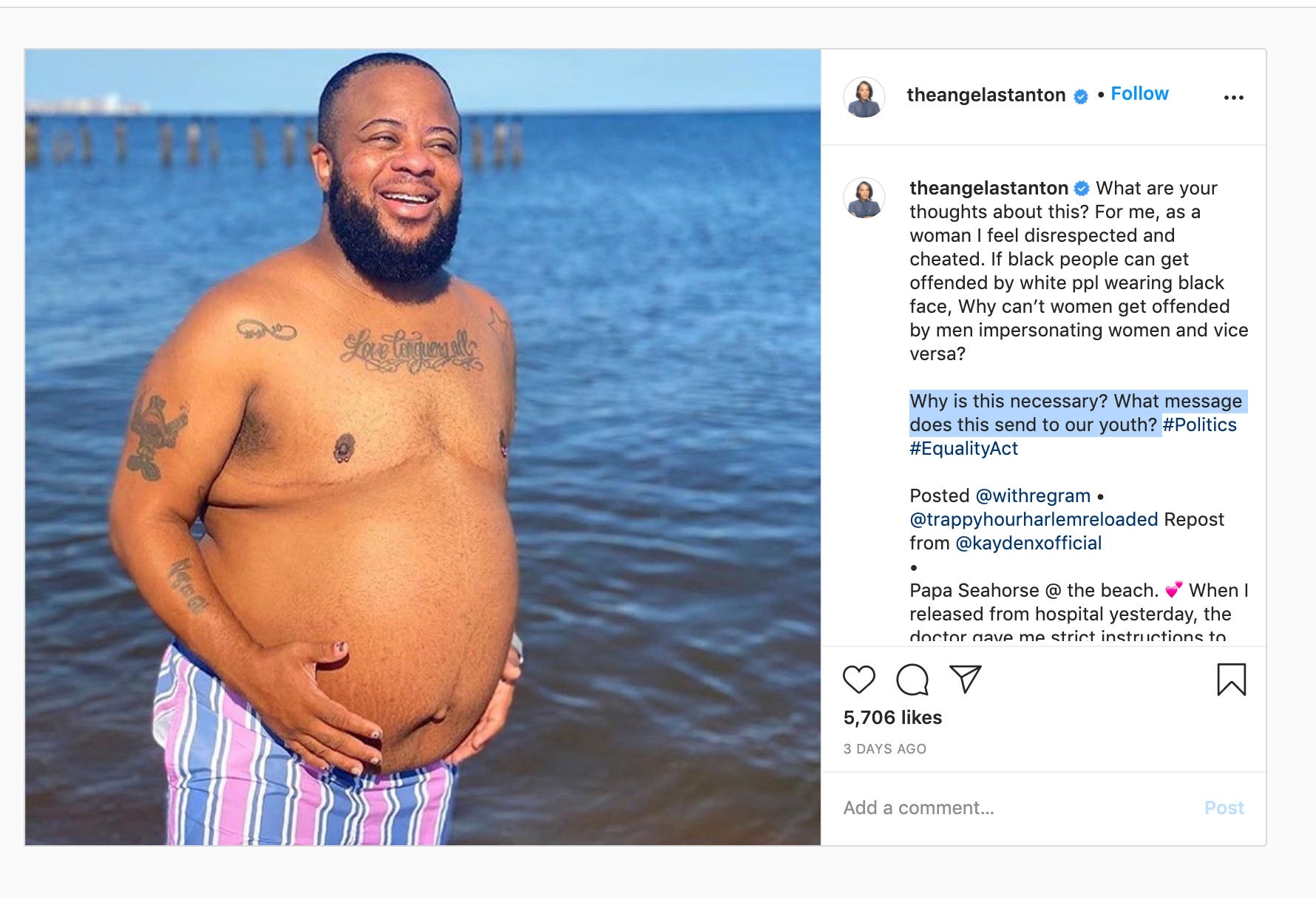 She tagged Coleman in the post, however, he only learned about it after one of her followers tagged him in the comments section, Coleman told the Daily Dot.
"That's what caught my attention because my name was tagged along with 'this is her page,'" he said. 
Coleman himself later shared a screenshot of her post, writing, "Apparently my existence as a transman who chooses to have my own children is an attack on @theangelastanton 's womanhood!"
Coleman said he believes Stanton King targeted him because he's Black, adding, "There isn't a lot of Black representation of pregnant transgender men so it's a rarity."
"I'm unsure as to why this woman decided that I should be her way of fueling hatred towards the lgbt community," Coleman wrote in his Instagram post. "I've seen a PLETHORA of white transmen have their own child but they're not being featured on this black cisgender woman's page."
When Coleman tried to report Stanton King's post, he got a notification saying Instagram would remove it. That never happened. 
"Then the message changed and said it didn't violate any policies," he said of Instagram's response.
Instagram showed a similar message when the Daily Dot tried to report the post on Monday evening.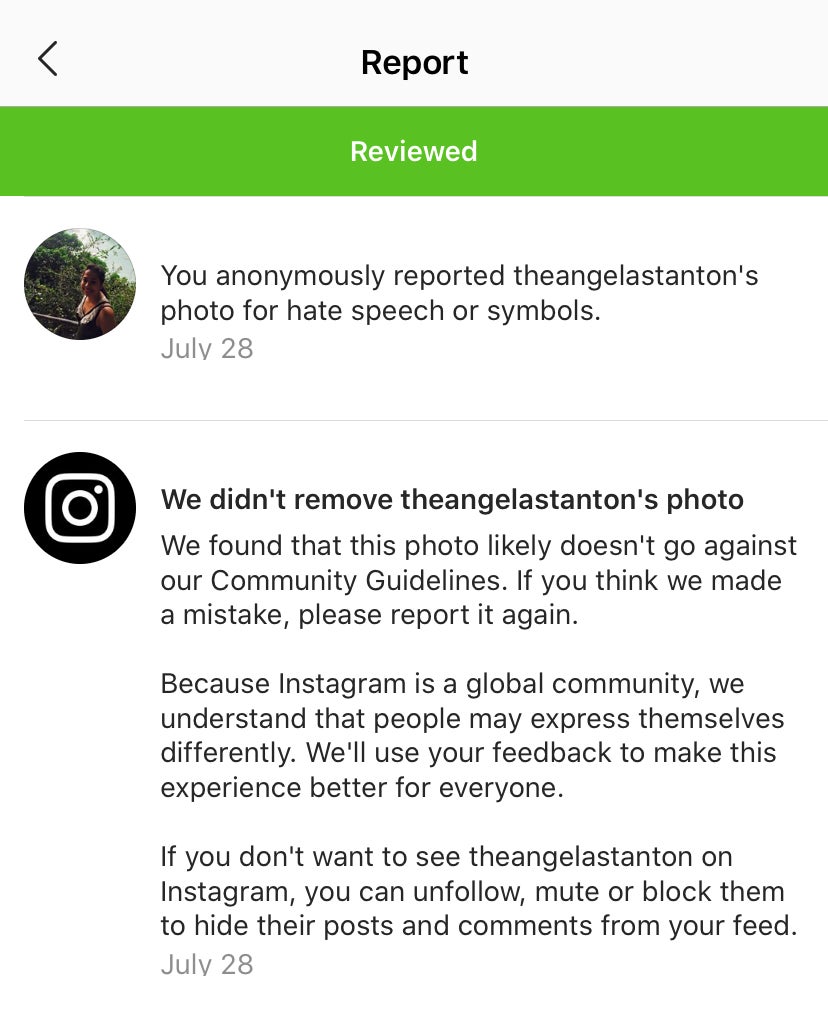 Instagram said it is looking into the post, and the Daily Dot will update this report if it responds.
Since sharing Stanton King's harassment, Coleman said he has received messages of support from around the world.
"Men can have babies!" one message reads, according to a post he shared featuring all the supportive messages. "I grew up in a country where being from the lgbtq community is illegal, and I have never seen a pregnant man before I saw your page."
"Thank you for being such a light to myself and my brother, i hope to one day have my own kids just like you and the way youre [sic] coping with all this mess with miss stanton is truly an inspiration," one person from England wrote.
"When I first learned about [Stanton King's] posts I was so sad and heart broken and had no idea what I did for there to be so much hate directed towards me," Coleman told the Daily Dot. "But when the community and allies started to step up and go to war for me, it lit a fire inside of me."
But Stanton King's post also fueled the haters. A day after her post, Coleman shared a screenshot of a direct message he received from another user who said they were praying his kids get taken away from him. 
"Imagine waking up exhausted from a night of taking care of a newborn and THIS is what you see in your inbox," he wrote in the description of the screenshot, highlighting the layers of challenges he faces both as a new father as well as a Black trans man. 
Coleman is currently pursuing legal action against Stanton King, who he says has him blocked on Instagram. He has set up a GoFundMe to "obtain legal aid." It has already garnered nearly $18,000.
"The support I have been receiving has honestly been my saving grace," he said. "To know that there are so many people around the world that support me makes this so much easier to deal with."
The Daily Dot has reached out to Stanton King.
---
Must-reads on the Daily Dot