Anastasia Beverly Hills, a cosmetics company, is being called out for stealing artwork from a Latinx trans queer photographer.
In a tweet thread, Jackye Gutierrez (@_chump), blasted Anastasia Beverly Hills and its president, Norvina (real name Claudia Soare), on Twitter for copying their work and not paying or crediting them.
"Hi all, I'm coming to you for help, I'm a brown, trans, queer photographer who has found out that @norvina1 and @ABHcosmetics have stolen/copied my art and have not given me credit or paid me for my work. They have taken something sacred from me," Gutierrez wrote.
https://twitter.com/__chump/status/1179211959100567552
The photoshoot in question, which was posted to Anastasia Beverly Hills' Instagram account, features Soare and is promoting one of the brand's Norvina–of the same namesake–eyeshadow palettes.
Gutierrez pointed out numerous similarities between their work and the Anastasia Beverly Hills photoshoot, including the similar color scheme, Soare being surrounded by butterflies, and the fishbowl over her head.
"YOU LACK CREATIVITY THATS Y U TOOK MINE," they wrote of their concept. "HOW DARE YOU TAKE MY ART AND USE IT AS YOUR NEW MAKE UP LINE. PAY ME!!!!!!"
https://twitter.com/__chump/status/1179217230342610945
https://twitter.com/__chump/status/1179214246476996610
Soare responded to Gutierrez's accusation in a lengthy Instagram comment, where she claimed she didn't know who they were and certainly didn't copy their artwork. She also wrote that she was not the first person to think about putting a fishbowl on her head adding, "SpongeBob did it too."
"Hello this is my first time finding out about you through all the comments," Soare wrote. "I'm sorry you feel that you were copied when you were not. I have never seen your art before."
Soare called Gutierrez's work "absolutely gorgeous" but continued to defend herself.
"I have to be incredibly open and just say this is not what you're assuming that it is," Soare said. "I don't copy people's artwork, although I don't think I am the first person to think about putting a fishbowl on my head, clearly as that idea is out there."
"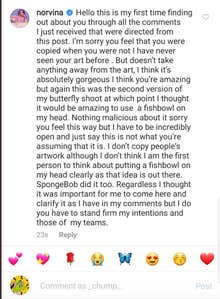 People following the thread quickly became divided over Gutierrez's allegation. Some were convinced Soare's work was a knock off, but others were more skeptical.
NAME AND NONE, the magazine for trans and nonbinary creators that Gutierrez did the photoshoot for, tweeted in support of the artist, even calling the brand's alleged theft "disgusting."
"We're beyond angry. The visionary behind our very first cover, Chump, a non-binary Latinx photographer, has had the image we used blatantly ripped off by @ABHcosmetics. 
A brand with this reach leeching off of small creators for profit is disgusting," the magazine tweeted.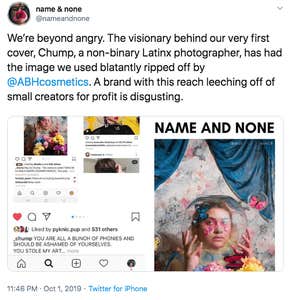 Other commenters defended Soare, with some arguing that neither butterflies nor fishbowls are unique photoshoot concepts. "I don't care about makeup drama but I keep seeing this on my feed today and want to say that I KIND OF see where chump thinks norvina 'stole' her idea but I mainly think this is reaching. Fish bowls and butterflies are so common, even a local I know did something similar recently," Twitter user @crucifiedscum
wrote
.
Others pointed to mood boards Soare allegedly posted to serve as inspiration for the Anastasia Beverly Hills shoot. "Norvina literally has a mood board this idea was inspired by. I'm sure if she knew of this artist she'd give full credit," Twitter user @MakeupTierra 
commented
.
Soare reposted the mood board on Twitter to prove she didn't steal.
"I'm a little late to the controversy in my comments so let me just add my mood board here that was used to create the current campaign look which I absolutely love," she
wrote
. "As you can see the bowl over the head concepts comes from retro animations."
She also doubled down on her claim that she does not know Gutierrez and asked for people to stop harassing her.
"I have nothing to brush under the rug but this needs to stop. I don't know the artist, and I won't take my work away to credit them," she
wrote
. "Enough of this harassment please."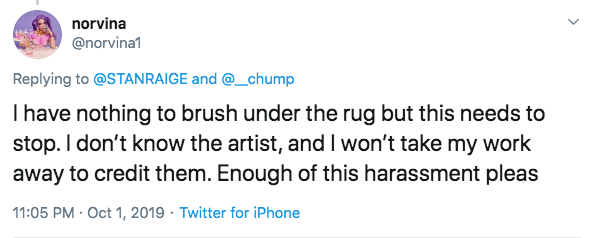 In response to Soare's response, Gutierrez shared an update on Instagram.
"What a great day to be alive and see all this support and love being sent my way," Gutierrez wrote. "Loads of black and brown artists get their art/work stolen/copied every single day by these big brands/companies only for them to get no credit/compensation and overall exploited."
They also explained that lesser-known artists, like themself, often lack the resources and leverage to have their work recognized.
"Imagine all your hard work and soul put into this piece of art and someone decides to take it from you and use it to their advantage and they get all the credit because they are big, famous, and known," Gutierrez wrote. "Yes, my art was copied/stolen and yes, you hurt my feelings and yes, I'm still very alive and well."
The Daily Dot has reached out to Jackye Gutierrez, Claudia "Norvina" Soare, and Anastasia Beverly Hills for this story. Responses were not received by time of publication.
READ MORE: