An OnlyFans content creator said on TikTok that her "abusive ex" subscribed to her page, so she ratted him out to his wife.
TikToker @thenameisrad, who goes by RAD and is also a Twitch streamer, posted several videos featuring screenshots of her ex's subscription to her OnlyFans, her messages with his wife, and the abuse she endured after.
In the first video, which has been viewed nearly 3 million times and liked over 600,000 times since being posted on Friday, RAD shows a screenshot featuring the subscription notification she got. The person who subscribed apparently shares the same first and last name of her ex, leading RAD to believe that's who it is.
"So my ab*sive ex just subbed to my OF…" text on the video reads. "I'm debating if I should tell his wife.. cause she follows me on social media."
RAD, who is 19 years old, told the Daily Dot she and her ex were together on-and-off for a few months when they were in high school, four years ago. Throughout their relationship, she said he was emotionally manipulative. "I didn't realize at the time, but looking back, he was pretty scary," she said.
RAD said she was 15, and he was 18 when they were in a relationship. "I was a target. He saw me in a class, and he chose me as a target," she said.
While many viewers urged RAD to "let him spend all his money first," she opted to tell his wife. Rad told the Daily Dot she decided to tell his wife because she "would want to know" if the roles were reversed. "I think it's important," she said. "I would want to know. … I wanted to be kind."
RAD said it "was never a question" on whether she was going to tell the wife and that she wouldn't do anything differently.
In a follow-up video, RAD shares the conversation between her and his wife, who RAD claims has been hateful toward her in the past. The TikToker sent her the subscription notification and said, "Just thought I'd let you know. … Tbh I found it hilarious. But ya know."
"Thank u for telling me," the wife responded.
Rad says the wife asked her to "see if it was him," so the TikToker messaged the subscriber. The subscriber changed their full name and told RAD they are not him but "someone who doesn't like him."
The TikToker walked away from the conversation believing she was either pranked or the ex was "covering his ass."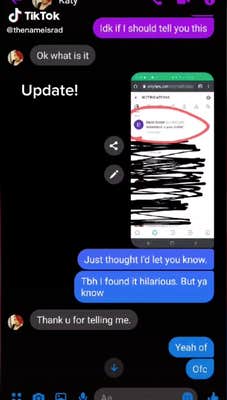 In the third video, RAD posted a screenshot of a DM she received from someone claiming to be a "friend" of the ex or his wife. "You're just another sad little girl," the person wrote. "Stay out of my friends (sic) life and quit messing with people."
The person added that they found RAD's father online and sent him a link to her OnlyFans. RAD told the Daily Dot she panicked after hearing that the DMer sent her dad a link to her page. RAD said that while her parents are supportive of her, she doesn't want them seeing her unlocked page, which is what the DMer claimed they sent him.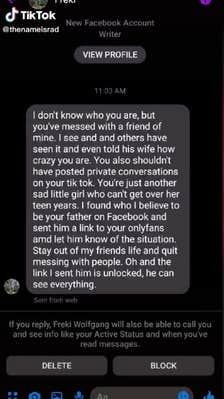 RAD said she has proof that the DMer is her ex, who knows her dad. In a fourth video posted on Tuesday night, RAD shared a conversation between the same account the DM was sent from and another person. The DMer, however, introduces themself using the name of RAD's ex. "It's a fake account," RAD says, using the text-to-speech effect. "People who know my ex sent this to me as proof."
RAD then thanks viewers for all their support and urges them to not harass the couple.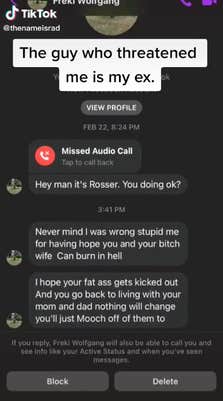 At the end of the day, RAD said she's finding humor in the whole thing.
"For me, I can find humor in it," she said. "At the end of the day, it's pathetic."
Update 2:40pm CT, March 3: RAD told the Daily Dot she's now receiving online abuse from people who claim they are trying to get her OnlyFans taken down. Her ex, she said, is also threatening to sue her for "invasion of privacy" and is claiming RAD is harassing him via her TikTok videos.
Update 3:11pm CT, March 4: RAD told the Daily Dot she deleted all her TikTok videos due to the online harassment she was receiving as well as out of fear of being hit with a lawsuit by her ex.
If you are a victim of domestic abuse or want more information on domestic violence and resources for victims, contact the National Domestic Violence Hotlineonline or at 1-800-799-SAFE (7233).
---
Today's top stories