In a deleted Instagram post late Tuesday, rapper 50 Cent made fun of Terry Crews for being a victim of sexual assault. He used the eye emoji to caption a meme that linked sexual assault to a lack of masculinity, and even dropped his signature IG catchphrase, "get the strap."
After more than 126,000 likes but scores of negative comments, the "In da Club" rapper deleted it.
"What the fuck is going on out here man?" 50 Cent wrote. "Terry: I froze in fear, they would have had to take me to jail."
Yet despite the mean and Stone Age thinking from 50 Cent, Crews is taking the high road.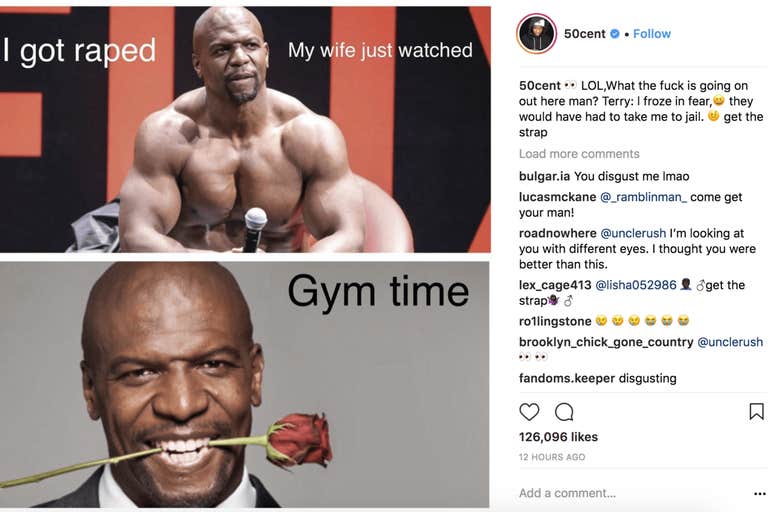 "I prove that size doesn't matter when it comes to sexual assault," Crews told TMZ in response, adding that he's a fan of 50 Cent, real name Curtis Jackson.
Crews on Tuesday testified on behalf of the Sexual Assault Survivors' Bill of Rights: "I heard time and time again about the rights that my predator had, but I was never told about the rights I had as a survivor. That was the wake-up call. I knew I had to be part of what was happening here today," he told the Senate Judiciary Committee.
Last year, Crews came forward with a story about being groped by a male executive in Hollywood in the wake of the Me Too movement.
It hasn't been a graceful few months for 50 Cent online. He was recently sued for distributing revenge porn and was busted in a lie about his Bitcoin fortune. But hey, his viral moment onstage with John Travolta's dad-centric dance moves is still fun, recent content.
H/T Vulture