Yelp is going after the cryptocurrency-users-who-lunch demographic.
The online reviewing service works as a guide for users looking for local restaurants, bars, services, and attractions. Users submit reviews and information and read what other people post, and businesses supply information to help people find them more easily. People use Yelp as a shortcut to find out a restaurant's hours, or how expensive a nail salon is, as well as whether the establishment takes cards or works on a cash-only basis.
And now Yelp users will know which businesses accept Bitcoin, the company announced Monday. The new info appears in the same section that tells users whether a company accepts other payments, such as credit cards. 
Over the past year, the value of Bitcoin has ricocheted dramatically, and the cryptocurrency community has dealt with a number of roadblocks, including the disintegration of Bitcoin trading hub Mt. Gox and
Most businesses have yet to accept the currency, but the number is growing, from universities to NBA teams to blogging platforms. And next time you're wondering if that coffee shop you want to check out is owned by a Nakamoto devotee, you'll be able to consult Yelp.
Business owners can update their Yelp profiles to note if they accept Bitcoin, but it will likely take a while to accurately reflect the variety of businesses that do take the cryptocurrency.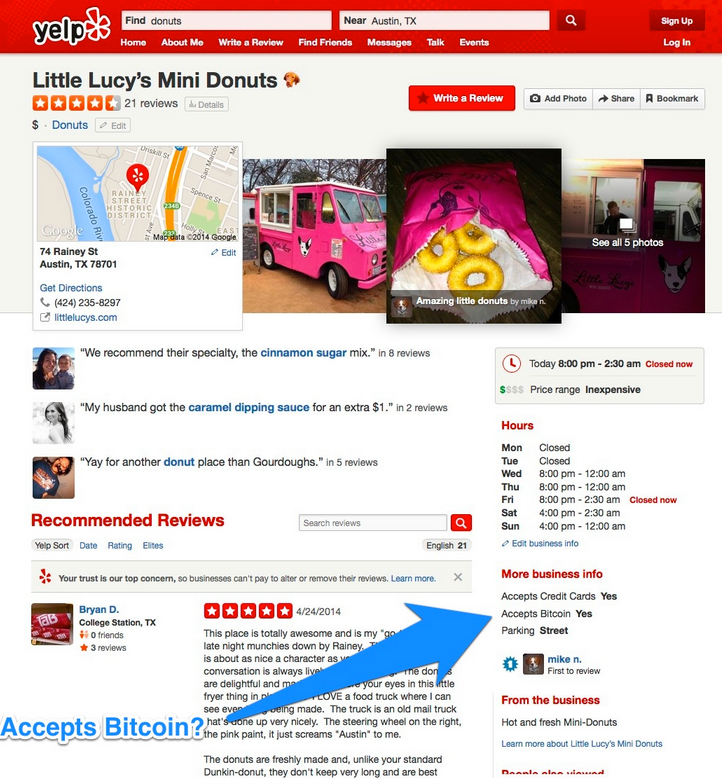 H/T Yelp | Photo via Flickr/Zach Copley (CC BY-SA 2.0)