Wyze Cam V2 and Wyze Cam Pan

PROS:
Affordable

Easy-to-use app

Easy setup

Compatible with Google Assistant, Alexa, and IFTTT
CONS:
Sound quality isn't perfect
Full specs: 
Wyze Cam V2
F2.0 aperture, 2.8mm focal length lens

110-degree wide-angle lens

1 / 2.9-inch CMOS sensor 

1920x1080p full HD resolution

8x digital zoom in the app 

15 fps video (10 fps video in Night Vision mode)
Wyze Cam Pan 
1.0 GHz CPU

F2.3 aperture, 3.5mm focus length lens

128 MB memory 

1920x1080p full HD resolution

120-degree lens

110-degrees per second rotation speed

8x digital zoom in the app
Let's start right off by acknowledging that the Wyze Cam and the Wyze Cam Pan are two separate products. The big difference between the two security cameras is that the Pan costs another $10 and allows users to pan around and tilt the device's lens to offer 360 degrees of horizontal viewpoints. It also has two more infrared LED lights for better night vision. The cameras also look different: The Cam Pan is sleeker and slimmer; it looks like a minimalist video hand-cam. The Cam sits on a pedestal base and is a smaller, square unit.
That said, they work nicely together, as I've been using them in my own home. The Wyze Cam Pan sits in my living room with a view of my front door and the door to the backyard. The Wyze Cam is propped facing out the window of my kitchen, looking at my driveway (pan wouldn't be super necessary here). Now, depending on the size of your home or what you want to use your security cameras for, you might not need two devices—or you might only want to use one version of the camera. This review can function as a way to compare the two different products or see if the Wyze family of devices is right for you altogether. (Or, if you're like me, try them both.)
Look and feel: 4/5 (Wyze Cam); 5/5 (Wyze Cam Pan)
Both the Wyze Cam and the Wyze Cam Pan are little more than white, plastic, square or rectangular boxes with camera lenses slapped on them. The only aesthetic improvement the Cam Pan has over the Cam is the slim, no-pedestal packaging. It's slightly more modern-looking. There's nothing to complain about in this department—though, there's not much to write home about either. Indoor security cameras should blend into the home, and these do a fairly decent job. That said, anyone who's seriously dedicated to this idea might not love the fact that neither the Cam nor Cam Pan is wireless, and you'll have to deal with a thin, white wire leading to an outlet.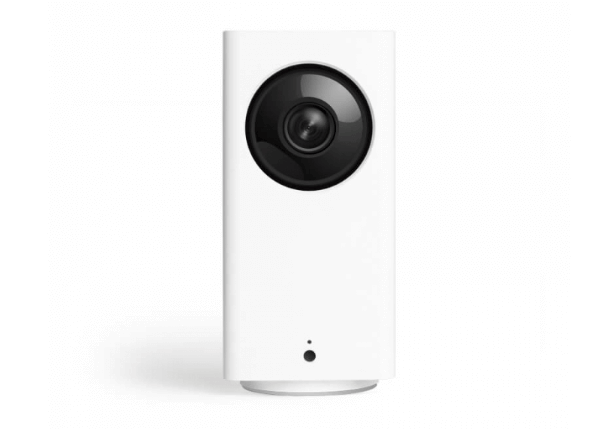 Usability: 5/5
The Wyze Cam and Cam Pan are incredibly easy to set up. The Wyze app immediately connected to the cameras, and it was easy to start monitoring video from them each, as well as use the two-way audio function. My dogs were incredibly confused to hear from my husband, who used the app to check in on them during the day when they were home with only me. The sound was loud enough to stir them from one end of the house to go running into the living room—it's plenty loud is what I'm saying. To use it, you simply click the corresponding speaker icon and hold to speak.
The app also makes it incredibly obvious to see which device you're accessing with little widgets of each—no long, confusing spec names. One camera looks like this, another like that: Boom, you know what you're looking at.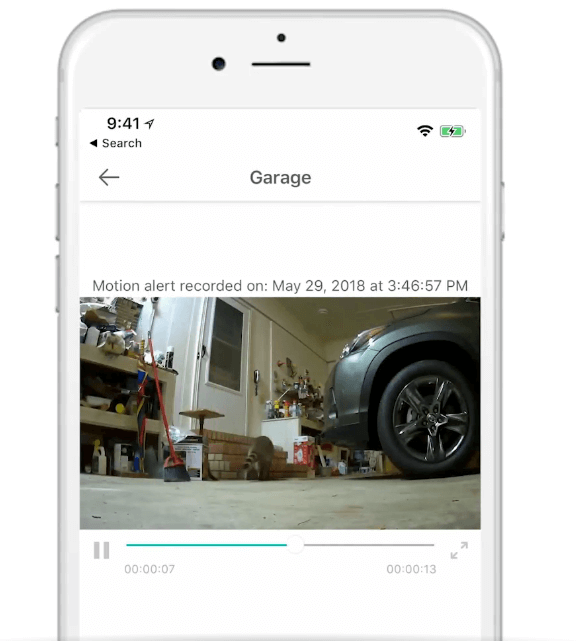 Functions like pinch-to-zoom, record, speak, and photo capture are available for the Cam Pan. That same list is available for the Cam with the exception of pinch-to-zoom. Everything worked perfectly in my time testing the units. 
Performance and power: 4 /5 (Cam); 5/5 (Cam Pan) 
Now it's important to understand that Wyze's cameras are budget cams. Sound quality, though loud, still isn't great. If you're using the app to try and hear what's going on in a room, it might not be terribly clear (which, as someone who works from home and doesn't want to be so easily monitored by my husband who's obsessed with the Wyze cams, isn't so bad). You can also hear the Pan when it's panning around: The motor is fairly noisy. However, these are incredibly minor complaints, and overall there were no problems like app crashes or malfunctions.
Overall rating:  5/5
The Wyze security cameras are incredible bang for your buck. Big-name security camera systems (like Ring) can cost up to $200 and, honestly, do little more, though they might have more polished apps and aesthetics. But for the price, you really can't do much better than the Wyze Cam or Wyze Cam Pan—and I'm not sure the upgrades you get by spending more are all that worth it for the average consumer. If I had to recommend one version of the Wyze cams over the other, I'd say that for the small price increase, the Pan's better imaging and rotating ability are more than worthwhile. 
The Daily Dot may receive a payment in connection with purchases of products or services featured in this article. Click here to learn more.