A Donald Trump presidency is now a reality—and some Americans are scrambling to get to higher ground: Canada.
You could do a heck of a lot worse than move to our affable, English-speaking neighbor to the north. Celebrated Americans from Hustler's Larry Flynt to Ne-Yo to Stephen King are weighing a move to Canada in the light of a Trump presidency. Americans in Canada won't be unwelcome guests, either. Population-starved areas such as Cape Breton Islands will welcome  you with open arms. Beats headphones, ice skates, and even Epi-pens are cheaper in Canada. Cultural greats like Drake, Celine Dion, Shania Twain, and the Weeknd all hail from Canada.
Americans have a long history of threatening to move to Canada. Whether it's to escape an unpopular president, unfavorable economic conditions, or to avoid paying taxes, many Americans unhappy with the status quo have pondered whether Canada could be a good Plan B. The promise of free healthcare, zero gun violence, and generous parental leave in an English-speaking country is often enough to seal the deal. But how easy is life for Americans who actually move to Canada?
"Broadly, Canada is a completely different country and everything is different here. Americans often expect that Canada will be just like the States, which makes for a bit of a Twilight Zone experience when they arrive here," said Lindsay, a 30-something advertising executive who declined to give her last name for the story. The California transplant heads a Meetup group for American expats in Toronto.
READ MORE:
The Daily Dot spoke to a few Americans who permanently moved to Canada. As it turns out, life in Canada for American expats poses many unique challenges. Depending on your life situation, age group, finances, and occupation, your new life as a Canadian could end up being as difficult—if not more so—than life was as an American.
Here are six common issues you can expect to face if you do decide to move Canada.
1) You could run into a higher cost of living
Does it cost more to live in Canada or the United States? There's cheaper rent, tuition, and healthcare in Canada. But prepare for a possible pay cut, along with higher sales taxes—which results in higher costs for everything from cell service and groceries to movie tickets and clothing.
The four costliest cities in Canada are Vancouver, Montreal, and Toronto, according to the Economist's 2016 Worldwide Cost of Living Survey. Average rent for a one-bedroom in Toronto, according to Rentseeker.ca, is $1,255, which is roughly comparable to cities like Dallas, Texas, and Charlotte, North Carolina. Venture into Quebec and you'll encounter slightly cheaper rent; the average one-bedroom in Montreal will cost you back $1,043.
The U.S. dollar is currently stronger than the Canadian dollar, and income taxes in Canada versus the U.S. are roughly the same, which may cause Americans to believe they'll get more bang for their buck. But depending on your occupation, your income could go down. The U.S. dollar is currently equal to $1.34 Canadian dollars.
"Just because the Canadian dollar is worth less doesn't mean that wages are higher in Canada. With most of my friends, their incomes are actually lower in Canada," said Lindsay.
You can view a full list of average salaries by region of any occupation on the Canadian government website Job Bank.
Even if people are still fleeing up north to avoid U.S. taxes, they might not be able to escape them. According to the IRS, U.S. citizens who move to Canada as a Canadian permanent resident still have to file annual U.S. income tax returns along with their Canadian tax returns.
Also, prepare for higher federal and provincial sales taxes, which will make your day-to-day expenses skyrocket. A movie ticket in Toronto will set you back $18. And groceries in Canada are becoming pricier to boot. Much of the produce in Canada is imported from the United States. Ensuing drought conditions in California will result in Canadians adding $345 to their grocery bill in 2016, according to the Food Institute at the University of Guelph.
"What shocks many new expats is the cost of things like car insurance and cell service. They assume that costs will be the same when in many cases they are double or triple the cost. Ditto for groceries," said Lindsay.
Wine lovers and cheese snobs should expect to be up-charged in Canada. The Ontario government will put into effect a $7.95 price floor for a 750 mL bottle of table wine by 2019, according to the Huffington Post. In other words, there's no three-buck chuck in Canada.
Ozzie Rohm, a 50-something technology worker in Montreal, relocated from the Bay Area with her husband in 2011. After living in San Francisco for roughly three decades, she said the costly tariffs on French and California wines was a hard adjustment.
"An $8.99 bottle of wine becomes $20," Rohm said.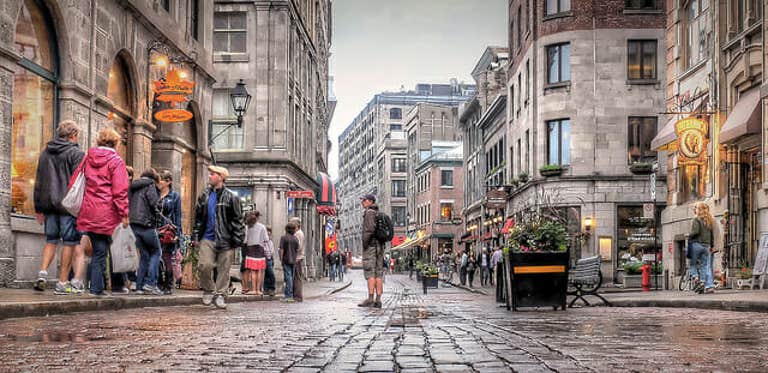 2) The Canadian immigration process is complicated and time-consuming
Canada's point-based immigration process puts an emphasis on skills for employment and education, not family ties (unless you're marrying a Canadian). Temporary work and study permit processing times in Canada average upwards of 100 days. Meanwhile, the vetting process for Canada's skilled workers' program is comprehensive, to say the least.
"The government of Canada expects you to document every job you had," Rohm said.
The Canadian government launched a new system in 2015 to expedite the permanent residency process for highly skilled immigrants called Express Entry. While Express Entry has processing times of six months or less, a job offer up front from a Canadian employer is a "significant asset," according to Canada's immigration website. Candidates earn more points if they have a job offer in hand, skills that are in-demand in Canada's job market, or are nominated by a province or territory. CBC noted that virtually all candidates who were invited to become permanent residents had job offers or were nominated by a province.
Having children in Canada won't speed up the immigration process, though having a Canadian mother might. Children of Canadian parents born after 2009 are only Canadian if their parents were born Canadian or were naturalized before they were born, according to Canada's immigration website.
Marrying a Canadian poses its own set of problems. There's no special process for the foreign spouses of Canadians to become citizens. While your Canadian husband or wife can sponsor you to become a permanent resident, processing times for that route average 26 months.
Melissa Doty, a 30-something who moved to Montreal from Phoenix with her three kids, was first invited to visit by her Canadian boyfriend, whom she met through playing Continent of the Ninth, a Korean strategic combat web game. But that relationship didn't work out, and neither did the relationship that followed, which lead to visa complications for Doty.
"Our whole relationship was stressed out by the whole immigration thing, so I think it really got to him," said Doty, who was forced to return to Phoenix after her Canadian boyfriend got cold feet before the wedding.
3) You may have a hard time finding a job
Canada's unemployment rate of 6.6 percent is higher than that of the United States, which is at roughly 5 percent. Last year's wildfire in Alberta led to the region losing 20,800 jobs in April 2016, according to the Toronto Sun. Language requirements and licensing exams, which vary by province and occupation, may bar Americans from easily finding employment.
Doty, who was a registered nurse in Phoenix, struggled to find employment and ultimately took a position as an at-home caregiver, due to her lack of proficiency in French. A nursing permit through the Quebec Order of Nurses requires at least three years of French.
Both Doty and Rohm, who opted for Montreal rather than the English-speaking Toronto or Vancouver due to the lower cost of living, said finding a job without being fluent in French was very difficult.
"It's very hard getting a job without knowing French unless you want to work in a call center," Rohm said.
The major exception is in the technology sector, where Rohm and her husband are currently employed. Rohm said that many technology divisions in Montreal, such as in IT, conduct their activities in English and consist almost entirely of English-speaking employees. But if your coding skills are as lacking as your French or Mandarin skills, you could be in for a double-whammy of a challenge in the Canadian job market.
If your employer sponsors your visa, you could end up stuck in a job with unfavorable working conditions. As Lindsey explained:
 "I have personally seen many friends deal with incredibly unfair and unethical working conditions while working in Canada on a work permit—you have to comply with whatever they ask—working late, working weekends, pay cuts, general grunt work and getting treated like crap—because if you get fired, you lose your immigration status and have to go back to the States. Unless you are directly familiar with the company, people, and working conditions, I do not encourage Americans to blindly apply for Canadian jobs. Do your research."
4) Canada might get lonely
Making friends in a new city is always difficult, but Americans seeking buddies in Canada may find it especially hard.
"I went through a depression stage for a while because I was so far away from anyone I knew," said Doty. "Americans are very expressive verbally and usually physically. In Canada it was often hard for me to tell whether a person liked me or not, people are less expressive, so I just thought for a while that no one actually liked me."
American expats noted that Canadians seem to be culturally more solitary than their counterparts down South. It's not uncommon to find Canadians dining alone in restaurants, for example. Hosting dinner parties or potlucks is less common in Canada.
"Whether it's going to get a cup of coffee or sitting at a movie, Canadians are fine being alone," Doty said. "In the States, it's not like that. If you don't have anyone to go out with you don't go out. People have more self-independence (…in Canada), so it's no big deal."
If you don't speak French in Quebec, your Francophone counterparts will likely be nice enough, but expect close friendships to become harder to form due to the language barrier. Quebec takes its Francophone identity seriously; the region recently introduced laws requiring companies with non-French trademarks to add French words to their logos and slogans. Rohm noted that in the three years she's lived in Montreal, she hasn't made a single close Canadian friend.
"I've made friends and tried to keep up with them, but after a while, I realized that it's only me that keeps calling them," Rohm said.
5) Expect long wait times for doctor's appointments and other public services
A free healthcare system has its drawbacks. Rohm said finding a primary care doctor in Montreal took her an entire year. Many doctors were over-booked and simply not taking new patients. When Rohm finally found a doctor willing to take her on, the next available appointment was six months down the line. Rohm nabbed the opening but was disappointed when the clinic called—on multiple occasions, she claims—to cancel and reschedule to a later date.
From hip replacement surgery to a pap smear, Canada's long healthcare wait times exist at every leg of the system.
"We have now situations where patients flow from primary care to hospital to home care to long-term care. And every time there's a wait for one of these components in the system, the rest of the system backs up," Dr. Chris Simpson of The Wait Time Alliance told the Huffington Post.
Rohm noted that after waiting four months for a pap smear, she had the option of waiting another four months for the results or paying to send the pap smear to a private lab.
Canadians on public drug plans can wait up to a year to access new medicines and treatments after they are approved by the Canadian government, according to a study released this month by pharmaceutical group Innovation Medicines Canada. With an average of 449 days to access new medical treatments, Canada ranks among the bottom of other OECD nations. The costs of prescriptions drugs often won't be covered under Canada's public healthcare system. The study also found that only 37 percent of Canadians on public drug plans were qualified to be reimbursed.
Rohm noted that many American expats still appreciate the healthcare they are receiving in Canada. "I know other American ladies who have husbands with grave heart illnesses, and who are very happy with the care they're getting," Rohm said. "You have to be prepared for the wait and some of the inconveniences."
Need someone to fix a backed up toilet or repair your sink? Home services are hard to come by. So are repairs in general.
"My neighbor was born and raised here and asked me if I know of a good plumber," Rohm said.
Montreal is notorious for its numerous potholes and water main breaks. Montreal even has its own pothole emoji. The city invested $531 million in 2016 to upgrade aging infrastructure, a move many residents say was long overdue.
6) There's a serious lack of affordable housing in Canada
If you're looking to buy a house in Canada, prepare for your finances to take a massive hit. Canada's housing market is in deep trouble. The average price of a home in Canada increased to $474,590 dollars in 2016, a 9.5 percent increase from the previous year. Houses in Vancouver and Toronto—the two most expensive Canadian cities to live in—are driving up the national average significantly.
The Canada Housing and Mortgage Corporation is due to issue a red letter warning for the nation's housing market at the end of October.
If all that hasn't convinced you to pack away your passport, check out our detailed guide on how to move to Canada.
Additional reporting by Kristen Hubby
Editor's note: This article is updated regularly for relevance.