Among the uncomfortably familiar faces on the crowded stage for tonight's Democratic presidential debate, you'll find one less familiar. No, not Rep. Eric Swalwell (D-Calif.), he dropped out of the race in July.
It's Tom Steyer.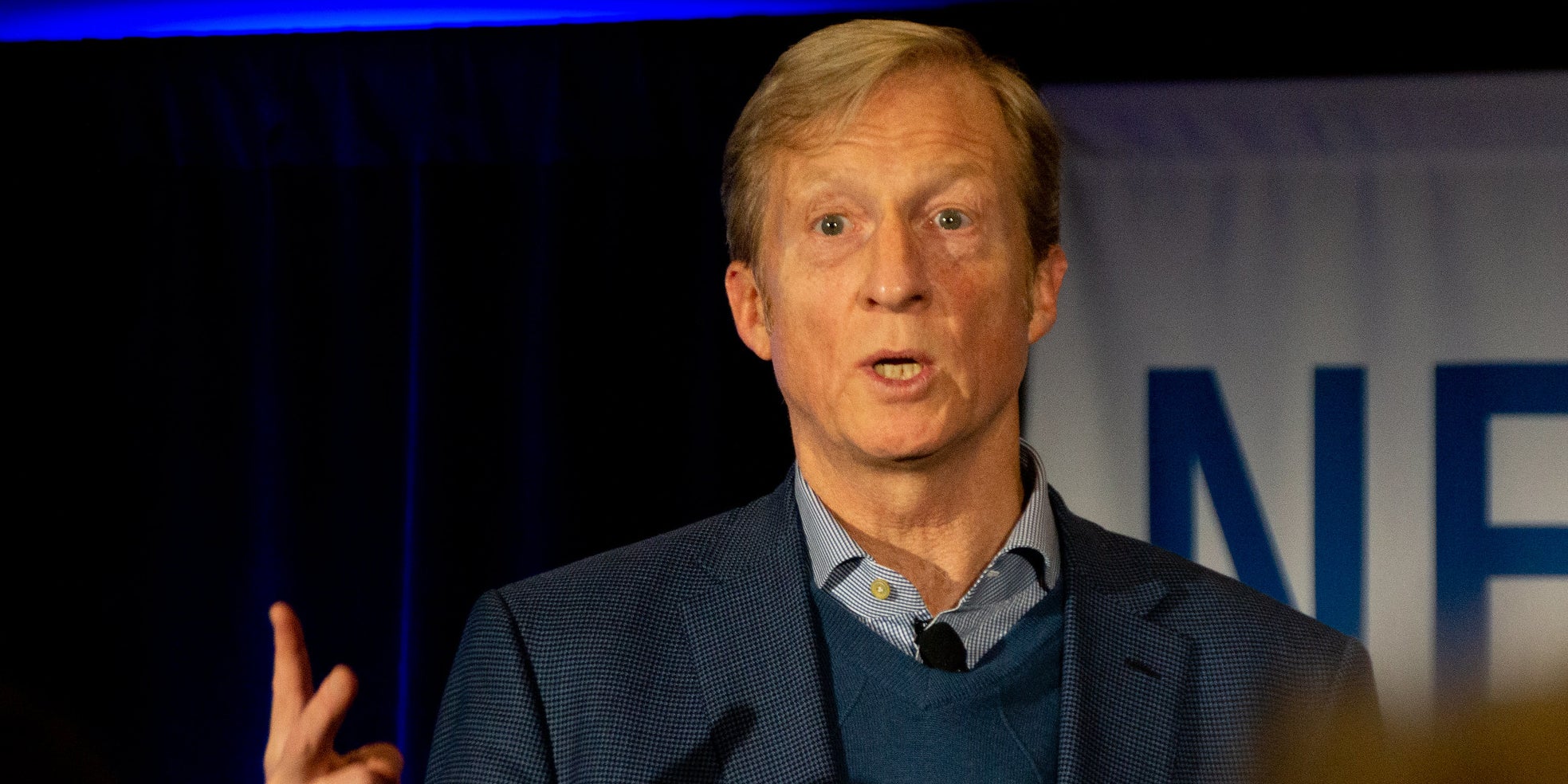 Tonight, America gets its first whiff of that eau de Steyer cologne.
So who is Tom Steyer?
Steyer is the self-made billionaire founder of NextGen America, a nonprofit and PAC launched in 2013. NextGen focuses on turning out the youth vote in several key battleground states—like Florida, Virginia, Arizona, and Pennsylvania—and works on issues that appeal to progressives, like climate change, environmental protection, and immigrant rights. You've probably bumped into NextGen staffers registering voters outside a hipster coffee shop or on a college campus near you.
Before founding NextGen, 62-year-old Steyer made his fortune as a hedge fund manager.
Farrallon Capital, which he founded in 1986, now has offices in eight countries; its website states that it manages $27 billion in capital. (Steyer stepped down in 2012.)
Steyer and his wife are dedicated philanthropists. The pair were some of the first to sign the Giving Pledge, a commitment to divest themselves of the bulk of their fortunes during their lifetimes.
Steyer is a rare billionaire with a demonstrable commitment to doing good with his piles of cash. Together with his wife, Kat Taylor, he put up $22.5 million to found a community development bank catering to under-served communities that is owned entirely by a foundation that invests profits in local communities, and started the TomKat Ranch, which looks to find ways to farm more sustainably. They've also given lots of money to various philanthropic causes.
But then again, he's also spending a fortune running a race he won't ever win.
Steyer recently announced he was seeking the Democratic nomination for president in 2020, after months of hinting about running.
But why politics? Clearly Steyer is living the good life, and giving back most admirably. And politics is … politics. There's a reason why "drain the swamp" was an effective slogan.
Steyer's interest in politics began years before he became an early voice calling to impeach Trump. He's worked on loads of political issues for years, from ballot initiatives to fundraising for Obama's 2008 campaign. He even gave a speech at the 2012 Democratic National Convention.
As Steyer puts it, he's following in the example of his parents.
I learned how to show up for my country and my community from my parents.

From my father, who quit his job as a lawyer to join the Navy after Pearl Harbor and then prosecuted Nazis at Nuremburg.

From my mother, who taught at the Brooklyn House of Detention.

How do you show up? pic.twitter.com/1q7zJhfI0H

— Tom Steyer (@TomSteyer) September 22, 2019
Steyer's checklist of priorities include: breaking corporate control, climate change, a wealth tax, criminal justice reform, gun control, health care, and… impeaching Trump.
Tonight we find out if all that business savvy and issue acumen adds up to a winning performance in a national debate.
It probably won't.
READ MORE: