Monero's reputation precedes itself—and so far, it's not so good. You may remember it as the cryptocurrency that hackers demanded payments in during the 2017 global ransomware incident WannaCry. Perhaps you read that Android phones and TVs, as well as Starbucks' Wi-Fi, were hacked to facilitate Monero (XMR) mining in two separate episodes earlier this year. Monero also kicked off the second week of 2018 with revelations that North Korean actors are illicitly mining the coin and sending it back to Kim Il Sung University in Pyongyang.
Monero's recent affiliations with unsavory characters fall in line with the coin's entire theme: secrecy. From its anonymous creator to its transactions that shield information from outsiders, Monero caters to clandestine affairs. So, is Monero worth investing in? Here's everything you need to know about the coin that prides itself in secrecy.
What is Monero?
Unlike other Bitcoin rivals, Monero wasn't built using code established by Bitcoin's blockchain. It's instead based on a protocol called CryptoNote that was written in 2013 by pseudonymous author "Nicolas van Saberhagen." Nothing is known about Saberhagen, or if they are one person or a group of people, much like Bitcoin's founder Satoshi Nakamoto. Adding to the enigma, "Monero," means "coin" in Esperanto, a language from the 1800s designed to facilitate international communication by speakers who lack a common tongue.
In 2016, Monero experienced rapid growth due to its adoption in the dark web in the market AlphaBay. Drugs, black market goods, and fraud tools were bought by the thousands using Monero until AlphaBay was shut down by law enforcement in 2017.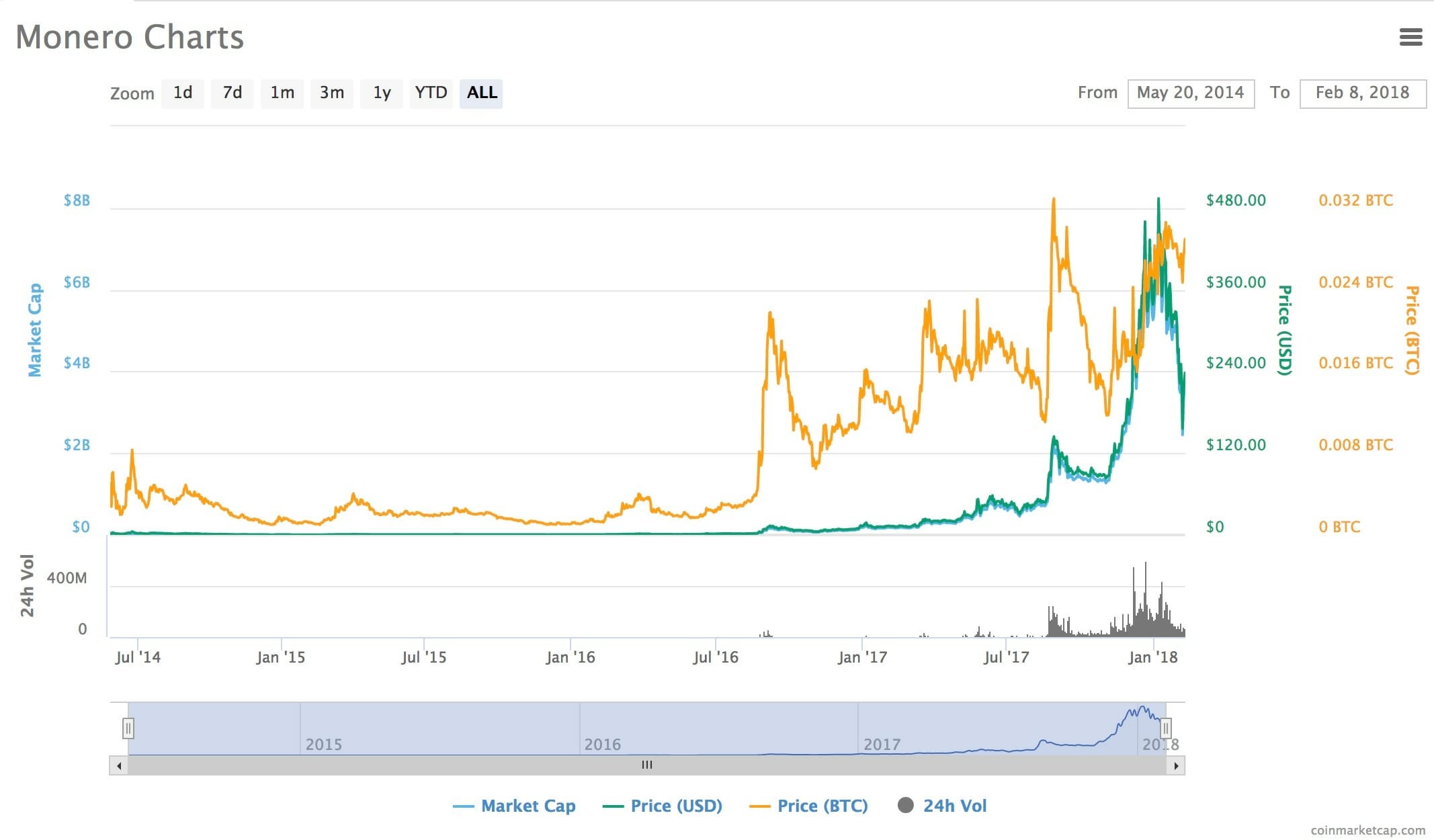 The pros and cons of Monero
It makes sense that ruffians of the dark web latched onto Monero (XMR). Its blockchain was structured to obfuscate and remove traceability from every aspect of a digital transaction. A technology called "ring signatures" mixes a buyer's information with others so that it is exponentially difficult to establish links between subsequent transactions. Each transaction also generates a "stealth address" that scrambles the destination address of a transaction to everyone but the sender and the receiver. Additionally, mining of XMR is popular because there's no fixed supply of the coin. Basically, Monero's protocol is a digital Eyes Wide Shut party: fun, anonymous, and appealing to criminals.
Proponents of Monero have pointed out that there are many more recorded cases of hackers utilizing Bitcoin's technology for illegal activities. And, many interesting uses of XMR's blockchain have come about in the last year. A researcher at the Institute of Network Cultures developed a Monero mining rig that harvests human breathing power, called Breath. In December, Monero announced that 45 musicians, including Sia, Dolly Parton, Mariah Carey and Lana Del Rey would be accepting XMR for holiday shopping at a discounted rate.
As the 13th largest coin (at the moment at least), and with a market cap of $70 million, there's certainly a demand for Monero. And with recent revelations that many blockchains are not as private as people previously thought, total privacy is desirable. For example, the IRS recently won a lawsuit against Coinbase to turn over user information for over 14,000 users to catch capital gain tax evaders, surprising crypto communities. On Reddit, a popular cryptocurrency saying is "there's no decentralization without anonymity." Monero certainly fulfills this promise for purists who believe that protecting identities is paramount to institutional upheaval.

How to buy Monero
Monero recommends downloading a Monero wallet before purchasing XMR, and we agree. The platform operates its own desktop wallet, compatible with a variety of operating systems. You'll then need to select an exchange where you can purchase coins, using fiat money or other cryptocurrencies. Monero provides a list of recommended exchanges, and we would not recommend deviating too far from its advice. Kraken and Bitfinex allow users to buy Monero directly with USD after creating an account and verifying banking details while others allow XMR to be purchased with Bitcoin.
Any official website that supports buying Monero will provide buyers with a payment ID (sometimes written as "Payment_id"). This feature is specific to XMR and allows you to remain anonymous while still making a record of your transaction.
As an investment, the future of Monero is hard to decipher. As bad PR looms around the coin's usage, it may not be adopted by global exchanges that deal in fiat currencies like Bitcoin has. But if you're looking to get some XMR to buy…well…whatever it is you'd like to buy, don't let us stand in your way. We don't judge.