When Yik Yak shut down in April, it left its nearly 2 million users without a home to anonymously communicate with others. Many flooded to Sarahah, a similar anonymous messaging app that gained more than 5 million new members in a few months after it went live.
Now a long-running European entry, one more similar to Yik Yak, is finding its footing in the extremely competitive U.S. social media market. The newest craze, named Jodel—pronounced "yodel," a play on the German word for the traditional style of "jodeling" singing (because when someone yodels in the Alps, you can't tell where it comes from)—is almost an exact clone of Yik Yak, letting users post anonymous blurbs that can be seen by nearby users.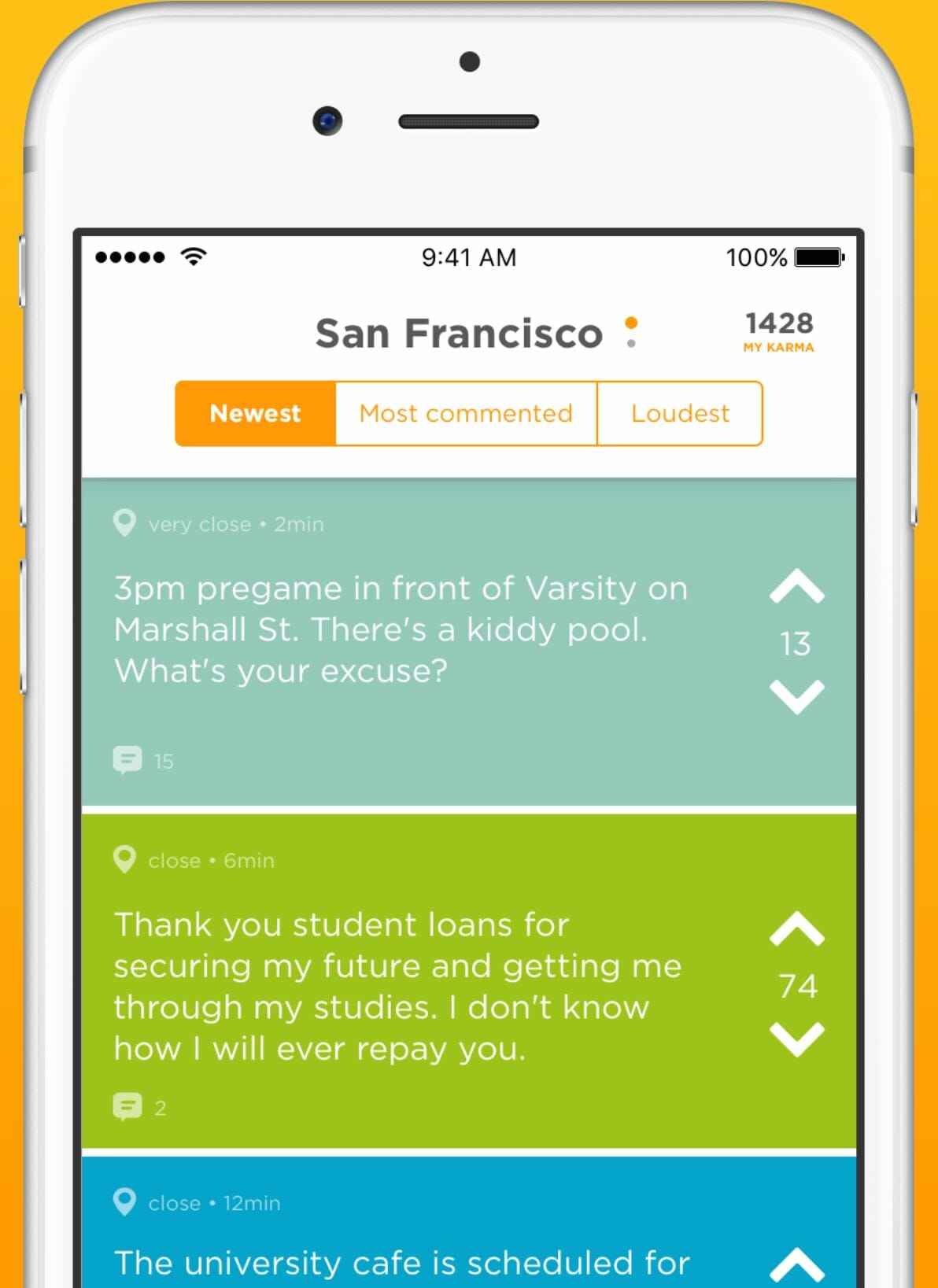 When you log in, the Berlin-based app will ask you what group you identify most with: student, apprentice, employee, high school, or high school graduate. Clearly, Jodel is going after the same college demographic that flocked to Yik Yak during its prime and made it the center for university gossip. If Jodel's intentions of copying Yik Yak weren't clear enough, a note posted to the front page not-so-obviously addresses the death of Yik Yak.
"Hey Jodlers, we heard a few of you have lost your local community on other platforms and need a safe haven again," the post says.
The note goes on to explain how "Jodlers" can transfer their karma from other anonymous messaging sites.
Yes, just like Yik Yak (and Reddit), Jodel users can give others karma by up or downvoting their posts. Additionally, posts by users who are located less than one kilometer away are marked with "Here." Those that say "Very close" are below two kilometers, and any posts that say "Close" are within 10 kilometers. If someone comments on a "jodel" from more than 10 kilometers away, the comment will say "Far."
Posting from far away is possible because of the "Hometown" feature, which lets users save favorite locations and see posts from there, even when they're not nearby. For example, if I want to see what people are saying about Oktoberfest, but I'm not in Germany, I can add Munich to my "Hometown" tab and keep up from the U.S. You can only have one hometown, and it can only be changed once.
It's no surprise that this Yik Yak clone inherits some of the controversies that plagued its spiritual predecessor. My own experience using Jodel was largely unfavorable. Seventeen of the 20 most recent posts in Austin, most of which were written by students at a nearby university, asked for dangerous drugs, from heroin to fentanyl.
At first glance, it appeared most were written by the same person, flooding the page of a seemingly small community base (there are only about five or six posts a day). But a closer look shows several users commented on these posts, adding their Snapchat ID or other means of contacting them. Other users asked for sexual favors and fake IDs.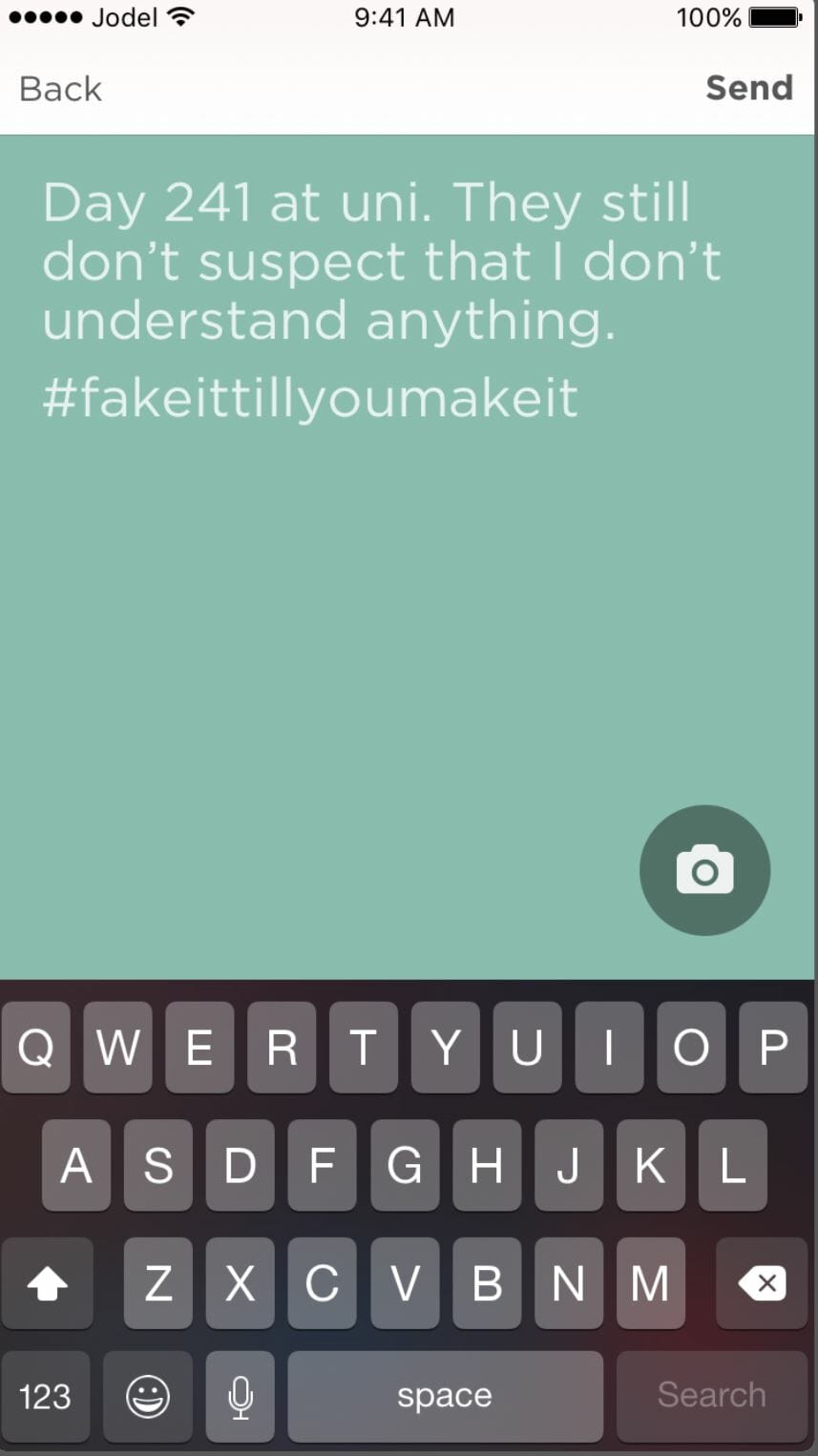 It wasn't all bad. In fact, the most upvoted comment I saw was from someone looking to adopt a kitten. The first to comment wrote, "This is great! …Not that I can help you with that or anything, but your post was about something other than drugs!!!"
Before you post on Jodel, you have to agree to their posting rules, which include no sharing of personal data, no bullying or harassment, no hate speech, and no reposting. We've reached out to Jodel to learn more about its security policies and will update this piece if we hear back.
Jodel was created in October 2014, one year after Yik Yak, and is one of Germany's most popular apps, with more than one million users, according to Zeit. It is currently available on Android in the Google Play Store and on iOS from the Apple App Store. Hopefully, as it grows its user base in the U.S., a more diverse group of people will start filling the app with the same variety of posts that made Yik Yak a hit.