A new messaging app first launched in the Middle East is on pace to disrupt social media by giving users anonymity to confess their true feelings to others.
Sarahah, Arabic for "candor," topped the iOS App Store charts last month, gaining 2.5 million users in Egypt, 1.7 million in Tunisia, and 1.2 million in Saudi Arabia, since launching in February, according to the BBC. The app's premise is simple: Give your username to friends, and they will send you anonymous messages. There is no way to reply to messages, and you can't find out who sent them unless the sender includes their name.
https://twitter.com/ritzz_cracker16/status/895030057781133312
The app's iTunes description says the point of the app is to help people discover, "strengths and areas for improvement by receiving honest feedback from employees and friends in a private manner."
But as we've learned, there exists a fine line between honesty and bullying on social networks. Soon after the app went live, several users left negative comments, claiming they or someone they knew had been bullied.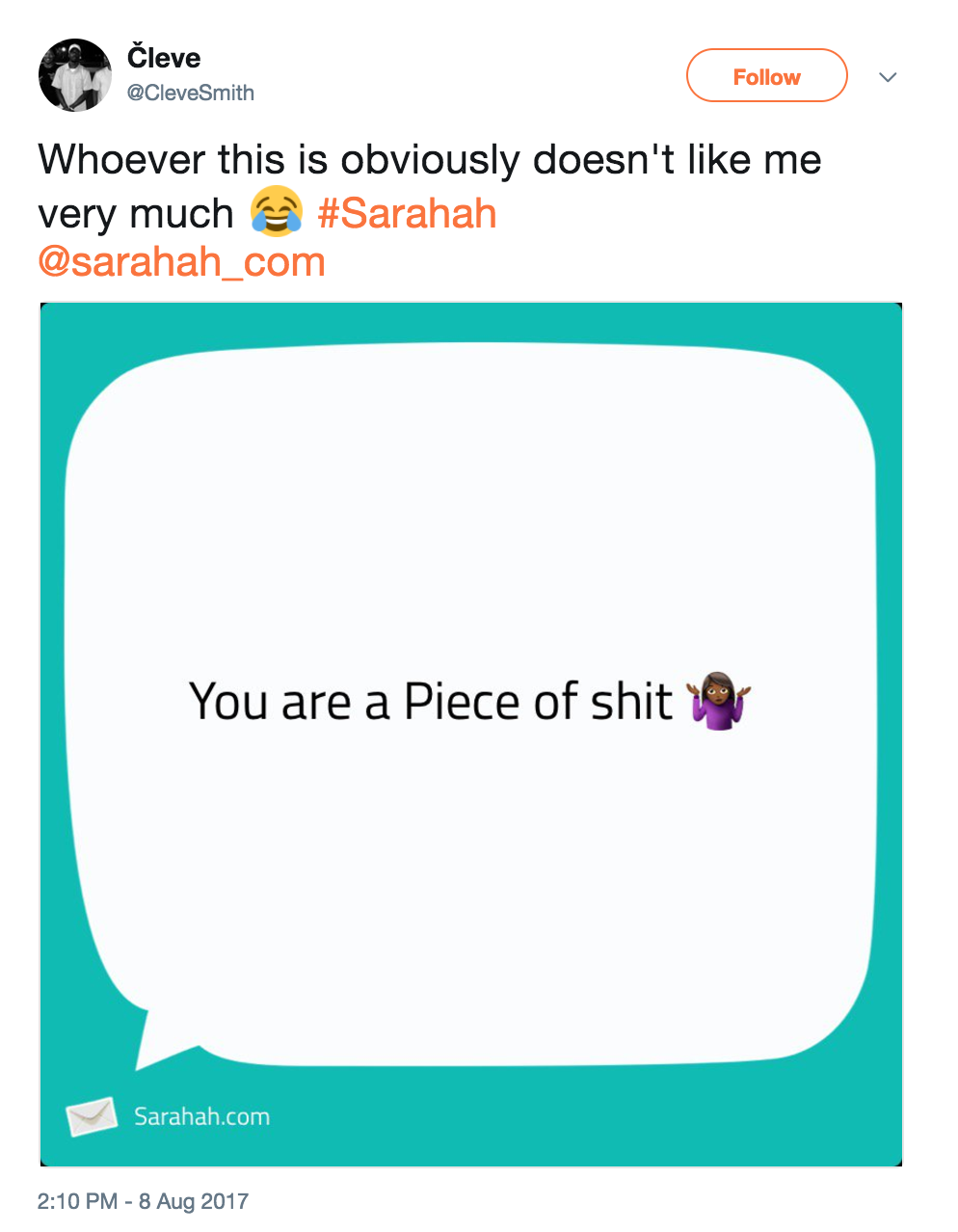 "My son signed up for an account and within 24 hrs someone posted a horrible racist comment on his page including saying that he should be lynched," one post stated. "The site is a breeding ground for hate."
"It was really cool at first bc it was jokes with friends and stuff. Then someone sent me my address and I got really freaked out," another wrote. "Then people were sending me a bunch of perverted stuff. I would delete my account but it won't let me."
"Parents, don't allow your kids to get this app," a third user posted. "This is an app breeding suicides."
Other users have had a more positive experience with the app.
https://twitter.com/CleveSmith/status/895029406720286721
"This app is so fun! I've gotten the most honest–and craziest–opinions about me and I've gotta say, people have had a lot of nice and humorous things to say," one user review said.
#Sarahah@Sarahah_com This make me this day :3 pic.twitter.com/YBX1hL6fSP

— DGS | FuerzaDON (@TheFuerzaDON) August 8, 2017
"I think its the best way to make a connection between the people," another wrote.
READ MORE:
Much of Sarahah's resounding success thus far can be attributed to its link with Snapchat. Several users take the app's recommendation of including a link of their Sarahah profile on their Snapchat username. The often short, digestible anonymous comments also make for easy-to-share content on other social media apps. Tweets with #Sarahah are flooding in to Twitter at a surprising rate, with new comments being posted every few seconds.
Sarahah privacy concerns
The Sarahah app may not be as private as it sounds. In August, cybersecurity analyst Zach Julian discovered the app was uploading user's address book and email information to its servers for no apparent reason.
"The address book on my phone consists of 164 contacts," Julian wrote in a blog post. "Extrapolating this by 10 to 50 million users on Android alone means it's possible Sarahah has harvested hundreds of millions of names, phone numbers, and email addresses from their users."
There is currently no functionality in the app that would require this private data. The app's founder claims the data was being harvested for a planned "find your friends" feature that was delayed due to technical issues. He promises to remove the behavior in the next update. As of Aug. 29, the app continues to upload data.
Despite a rocky start, if the app's growth continues, we could be looking at the newest entry to the highly competitive social media space.
Editor's note: This article has been updated for relevance and context.