Porn is leading us into the future once again.
The ubiquitous GIF, a 27-year-old image format that has grown into an Internet artform, is becoming obsolete. For proof, one only has to look at the impressive new file format taking over the big pornography forums on enormously popular websites like Reddit. The new technology loads faster than GIFs and looks better. What's not to love?
Meet GFY, the "video moment" technology that bridges the gap between the old-school GIF and new-school video.  It's pronounced "jiffy," as in, "a jiffier GIF," and is short for "GIF Format Yoker."
You'll likely be seeing a lot more of it in 2014.
…
For the last three years, communities of millions on Reddit and Tumblr have perfected the porno highlight-reel. Subreddits like r/nsfw_gif (link NSFW) attract hundreds of thousands of subscribers, not to mention the silent majority who patronize the website without officially subscribing.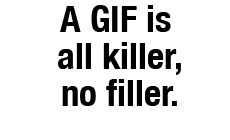 The GIF makes absolute sense for porn: The best moments are on repeat forever and ever, or at least until the browser window is closed. Consumers don't have the time nor the energy for, sigh, a five-minute porn video. A GIF is all killer, no filler, and quick enough that your pizza won't get cold.
Of course, more than just porn aficionados have loved the GIF through the years. Over the last decade, the GIF has moved beyond its humble origins of simple animations to become "an evolution of photography," as Kevin Burg, co-creator of the Cinemagraph, once put it. 
Occupying a space between video and photo, the GIF has carved itself a niche that touches television, movies, art, sports, esports, memes, and more. Journalists use GIFs to cover everything from the Olympics to natural phenomena. Fashion photographers GIF to capture beautiful moments and sports fans GIF to immortalize brilliant play.
All told, the loopy GIF has been a wonderful addition to the way the Internet works.

This GFY, viewed 20,000 times in three hours, compresses from 19mb in GIF form to 2mb in GFY.
Here's the problem: GIFs suck.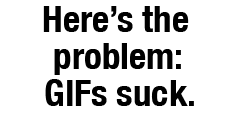 They're oversized and often load painfully slow. When you open up multiple GIFs on a single page, many will play in slow motion as your computer chugs along loading them. The GIF is generally low quality and boasts a limited color palette. And if you want to make a GIF high quality, the size skyrockets, making loads even slower. Finally, you can't do anything with a GIF. If you want to use sound, rewind, pause, control speed, or seek an exact moment, you're out of luck—go watch a video.
That's exactly what a GFY is: video using HTML5 technology. GFYs are much smaller than GIFs, run sleekly and smoothly, and they embed and autoplay just as easily as GIFs.
And they look good.
 
A small section of the Disney film Bolt. The GIF measures 229mb. The GFY is 14mb.
They're easy to make, too. You can, for instance, just head to GFYcat, a Web-based service that requires little more than a link to a video to make your GFY. The site is a 14-month-old spare-time project by Canadians Joey Conrad and Dan McEleney, two 37-year-old tech professionals living in Alberta. GFYcat's videos already have over 11 million pageviews in just the first 10 days of February, a pace that will more than double January's tally.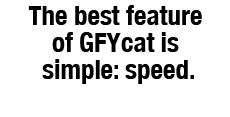 For older browsers that don't support HTML5 video yet, GFYcat automatically creates a GIF backup so no one misses out on the content. Sound and playback options are abundant too, giving GFY artists more options to work with on their medium of choice.
Like Imgur, the poster boy for community-based image startup turned profitable venture, GFYcat began on Reddit.
"We are both avid redditors and were constantly frustrated with some really terrible loads times for gifs," said McEleney. "So I immediately thought this was a fantastic idea and one that Reddit would embrace!"
The project went public in July 2013 and redditors didn't take long to find it. The site's GFY porn hub, r/NSFW_HTML5, has jumped to 10,000 subscribers in just two months. The audience of millions over at r/nsfw_gif have been actively experimenting with the new format, too.
But GFY has begun spreading beyond its porn trailblazers. It's moved to sports hubs like r/NBA, r/Soccer, and r/Hockey. Even the generalist r/gifs hub dabbles in GFY. And across the board, the reaction has been largely positive: They want more GFY, less GIF. "GFYs should become a standard on Reddit," one enthused redditor recently wrote.
The format has already won over the influential team behind the Reddit Enhancement Suite (RES), a Reddit add-on that allows images to load in-line on Reddit. With over 1.4 million users, RES makes GFYs nearly as easy to use on Reddit as GIFs. GFYcat has plans to match a few key features from heavyweights like Imgur as well, including album support and a much-requested site redesign. But all that remains secondary. The best feature of GFYcat is simple: speed. GFYs compress to a much smaller size, so they're faster and better looking to boot. Everything else is icing on the cake.
In November 2013, as GFYcat underwent its first popularity boom, the cost for Amazon cloud support grew beyond what had previously been a "hobby budget."
"What started as with a relatively cheap hobby budget for both Joey and I, has gotten really expensive," said McEleney, who heads the business-side of GFYcat.
The team is now experimenting with a few nonintrusive ads. But even that income couldn't keep up with the pace of server costs, as GFYcat hit 30 million pageviews this month.
To deal with growing costs, GFYcat will have to look to models, like Imgur's, that has turned the previously unprofitable image-hosting space into a successful company by building a community, charging for premium memberships, and running ads. Ultimately, GFYcat has to find a way to be profitable. Many are already wondering if a bigger company with an already-established infrastructure might come along and buy GFYcat up.
With Reddit not yet entirely conquered, the GFYcat team is already looking to other GIF-obsessed communities, such as Tumblr. Whether it's the GFYcat that succeeds or another service, it seems clear that HTML5 video is here to stay, and the GIF might finally give in to old age.
Illustration by Jason Reed