The Democratic Socialists of America (DSA) has been making headlines lately. Twenty-eight-year-old Democratic Socialist Alexandria Ocasio-Cortez won her primary in New York's 14th district on Tuesday. Members of the Metro DC chapter of the DSA interrupted DHS secretary Kirstjen Nielsen's dinner in protest of family separation at the border. DSA chapters are taking part in the ongoing occupation of ICE offices in Portland, San Diego, Los Angeles, and New York City. While liberals and progressives are applauding DSA's work, many others are still asking, "What is democratic socialism anyway?" Here's what you need to know.
Socialism vs Democratic Socialism
Socialism is a political ideology that advocates for an egalitarian redistribution of wealth and power in society through a democratic ownership and distribution of society's means of production (producing goods and making money).
Democratic socialism means that this political reality—the abolition of capitalism—will be achieved and administered through democratic, as opposed to authoritarian, means.
DSA's website explains: "Democratic socialists believe that both the economy and society should be run democratically—to meet public needs, not to make profits for a few. To achieve a more just society, many structures of our government and economy must be radically transformed through greater economic and social democracy so that ordinary Americans can participate in the many decisions that affect our lives."
READ MORE
Democratic Socialists of America
The Democratic Socialists of America is the largest socialist group in the United States. DSA is not a political party. Rather, DSA prides itself on being a "multi-tendency" organization. This means that there are a variety of activists doing a variety of work to fight the oppression inherent in capitalist society.
The popularity of democratic socialism has exploded due to Bernie Sanders' presidential candidacy and the aftermath of President Donald Trump's election. Since 2013, the median age of the DSA has dropped from 68 to 33. The group will soon cross 40,000 members.
The group describes itself as a "big tent" organization, and members span the left-wing spectrum from registered Democrats to communists. Socialist revolution is the goal of the DSA, but as the group points out, this could take many forms:
"Democratic socialists do not want to create an all-powerful government bureaucracy. But we do not want big corporate bureaucracies to control society either … We believe that the workers and consumers who are affected by economic institutions should own and control them … Social ownership could take many forms, such as worker-owned cooperatives or publicly owned enterprises managed by workers and consumer representatives."
Every DSA member you talk to would articulate a different vision of the ideal future for America. This is probably true of Americans of almost all political stripes. It might be more useful to look at the work that DSA is doing and the policy positions they hold than to speculate on the specifics of the future world they want to create.
The DSA outlines three tactics it uses to shift the power structure in America. Two of them are "decrease the influence of money in politics" and "empower ordinary people in workplaces and the economy." If the wealthy—or as Democratic Socialist Bernie Sanders likes to say, the 1 percent—control the economy and dictate the terms of people's livelihoods, economic equality is impossible.
The DSA supports movements like Fight for 15 and Medicare for All, and backs institutions like unions and cooperatives, as vehicles for people to gain more economic power. Some DSA chapters also support public banks, tenant's unions, and advocate for the homeless with the same aim in mind.
All of these tactics are ways to "seize the means of production," meaning that working-class people play a larger role in the labor they perform and deciding the way they are compensated for that work, while bosses profit less from the work of their employees.
The third goal that DSA lists is to "restructure gender and cultural relationships to be more equitable." Just as the rich have more power than those with less money, in the white, patriarchal society of the United States, white men have power and privilege that other groups do not enjoy.
READ MORE:

Democratic Socialists of America beliefs
The ultimate aim of equality has led DSA to get involved with fights for abortion rights, against ICE and the Muslim ban, and to work with groups like Black Lives Matter on issues like police brutality. One great example of this kind of anti-oppression work is the brake light clinics that DSA chapters around the country run to raise awareness of racially and economically motivated traffic stops.
In mainstream liberal politics, racial, gender, and economic liberation are often discussed as separate issues. Democratic socialists believe that all types of oppression have their root in the capitalist and colonial systems that dominate American life. The only politics to combat these forces, then, is "intersectional," meaning that all types of oppression are taken into account. The only way to end this oppression is by a mutual struggle in which various oppressed groups fight on each other's behalf.
Democratic socialists also see the struggle for equality as one that transcends national borders. For this reason, the group abhors ICE, stands in solidarity with Palestine, and opposes military imperialism. Among many groups on the left, you will often hear the phrase "No war but class war" used to sum up this position.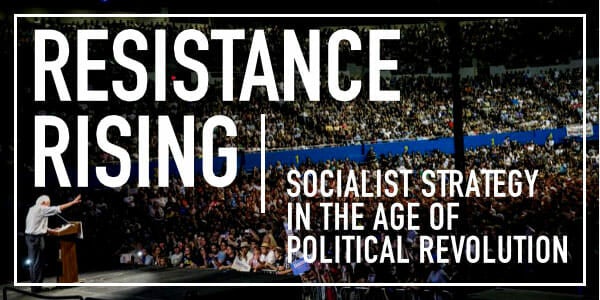 READ MORE:
Democratic Socialists of America chapters
The various chapters of the Democratic Socialists of America have a lot of autonomy to work on particular local issues. For example, homelessness is a huge issue in some cities, while in other areas, coal pollution might be the most pressing problem.
Looking at a larger chapter like Democratic Socialists of America – Los Angeles is helpful for understanding the variety of work a DSA chapter does. The LA chapter's work is done by a number of committees including Healthcare, Labor, Racial Justice, Anti-Oppression, Climate Justice, Housing and Homelessness, Prison Abolition, Agit-Prop, Mutual Aid, and Religious Socialism.
Some of the big projects in DSA-LA include the repeal of Costa-Hawkins, a measure that limits rent control; Medicare for All; protesting ICE; Nolympics LA, which aims to fight the LA 2028 Olympic bid; Street Watch, a project in solidarity with the homeless; and brake light clinics.
While a number chapters have backed candidates and some of those politicians have received national endorsements, some members don't believe in electoral politics as a vehicle for political change. DSA-LA only issued two endorsements in California's recent elections.
Counting both DSA and YDSA chapters (college chapters), DSA has over 200 chapters nationwide. While not all of the committees and priorities overlap chapter to chapter, chapters do similar work that aligns with the political vision outlined above. There are national committees for issues like labor, politics, and racial justice which facilitate coordination between chapters. Because the issues vary across cities, the only way to truly see what each DSA chapter is up to is to visit each chapter. 
While the DSA may seem like a minor force in politics right now, given its rapid growth, that may soon change.