As the Trump administration asks the Supreme Court to reinstate the travel ban that extends to six Muslim-majority countries, it's also asking for future visa applicants to submit all of their social media handles from the past five years.
As Reuters reports, the administration's new supplemental questionnaire request was approved by the Office of Management and Budget (OMB) on May 23. The new applications also ask for all email addresses used for the past five years. The applications further demand other biographical information—including work history, former addresses, and all the countries the applicant has visited—for the past 15 years, an increase over the standard five years.
In its section of supplemental questions, this is what the application looks like.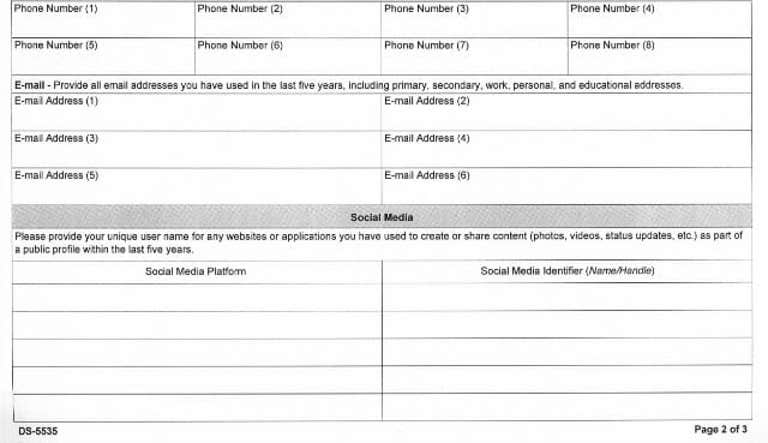 While it's not mandatory to answer the questions, the form says, "failure to provide this information may delay or prevent the processing of an individual visa application."
A State Department official told Reuters that the supplemental questions will be asked when "such information is required to confirm identity or conduct more rigorous national security vetting."
Trump ran much of his campaign on the idea of increasing border security, and after the court system began overturning his travel bans, Trump tweeted in January: "Our country needs strong borders and extreme vetting, NOW."
In its federal filing, OMB said an estimated 65,000 people per year (or about 0.5 percent of all worldwide applicants) would be affected by the supplemental question portion of the visa application and that it estimated it would take an hour for the applicant to fill out the information.
According to OMB, passwords to those social media accounts will not be requested, and consular officials "will not attempt to subvert any privacy controls the applicants may have implemented on social media platforms." OMB also states that consular officers may not directly "engage or interact with individuals on or through social media," nor may they "violate or attempt to violate individual privacy settings" or "use social media or assess an individual's social media presence beyond established Department guidance."