Former U.S. Ambassador to Ukraine Marie "Masha" Yovanovitch testified that she was told to compliment President Donald Trump on Twitter to keep her job.
Yovanovitch testified in one of the House's closed-door impeachment hearings last month. Today, the committee released a nine-page transcript from her testimony. A transcript of former ambassador Michael McKinley's testimony was also released.
Yovanovitch testified that things were going awry for her in Ukraine in the weeks leading up to her stepping down from the position in May. She described a smear campaign by Ukraine Prosecutor-General Yuriy Lutsenko that included "outrageous" lies that were published in the Hill; efforts to undermine her by Rudy Giuliani working in concert with Lev Parnas and Igor Fruman, who were recently indicted for campaign finance violations; and persistent rumors from multiple sources that her job was on the line.
One of the people she consulted for advice had an interesting suggestion: tweet praise about Trump to keep your job.
Yovanovitch said that this unconventional advice came from U.S. Ambassador to European Union Gordon Sondland.
"[H]e said, 'you know, you need to go big or go home. You need to, you know, tweet out there that you support the president, and that all these are lies and everything else.'"
"[H]e said, 'You know the President. Well, maybe you don't know him personally, but you know, you know, the sorts of things that he likes. You know, go out there battling aggressively and, you know, praise him or support him.'"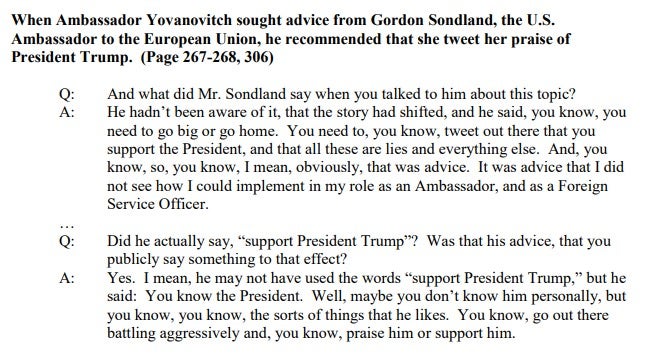 Trump's ego and susceptibility to flattery is well-documented. Sondland seemed to be urging Yovanovitch to attempt to use this to manipulate Trump into keeping her in the post.
She declined.
"It was advice that I did not see how I could implement in my role as an ambassador, and as a foreign service officer."
Subsequently, in late April, Yovanovitch received a chilling warning from Director General of the Foreign Service Carol Perez. She testified that Perez told her to be on the next plane to Washington because her security was at risk, and there was  "a lot of nervousness on the seventh floor and up the street." ("Up the street" reportedly refers to the White House.)
She says she was "shocked" and felt "threatened" when she later read in the notes from Trump's conversation with the Ukrainian president that Trump said about her: "she's going to go through some things."
"I didn't know what it meant. I was very concerned. I still am," she said.
Yovanovitch stepped down, she said, when it was clear Trump was going to fire her.
READ MORE: