If a movement can be undone by diapers, was it ever really a movement at all?
Turning Point USA is a conservative organization meant to offer opposition to the wealth of left-wing campus activism in the age of Trump. Founded and fronted by Charlie Kirk, an expert in riling up his fellow conservatives in the pseudo-intellectual style of Ben Shapiro, TPUSA has been a catastrophic failure. Instead of making universities a "safe space" for conservatives, the group has landed themselves in the news time and again with one embarrassing gaffe after another. Recent rifts in the organization have led to speculation that TPUSA may not be long for this world.
This hasn't stopped the organization from receiving funds from well-connected but out of touch conservative donors who are prepared to keep the project afloat regardless of the embarrassment it causes its member and the name of campus conservatism in general. The non-profit pulls in millions of dollars a year, though it is unclear exactly what those dollars are accomplishing.
Though TPUSA hasn't created a groundswell of conservative energy as it might have hoped, the organization has been entertaining, offering Twitter one thing to mock after another.
Rigging student elections
May 2017
Most of what Turning Point USA gets up to feels like harmless attempts to translate their terrible conservative memes to the real world. The resulting half-assed attempts at fascist performance art are generally only harmful to the reputation of their participants. But some of their terrible plans could actually have far-reaching consequences if they ever worked.
In May of last year, The Chronicle of Higher Education reported that TPUSA was funneling thousands of dollars into a scheme to functionally buy student elections. This behavior was uncovered at a number of universities, including University of Maryland and Ohio State. The rigging attempts were conducted so clumsily that a leader of OSU's TPUSA chapter was caught on tape admitting to the scheme.
This was actually a pretty devious way to astroturf conservative values onto college campuses. If only they were smarter about it.
Socialism conference
July 2017
https://www.youtube.com/watch?v=9M8rfB3IJHA
Last summer, a video team from TPUSA went to a Chicago Socialism Conference and attempted to own leftists with capitalist logic. The host used lines like "You have some nice Nikes on!" and "You like those good capitalist french fries?" Using Nike as an argument for why capitalism works is already a difficult proposition, but the host doesn't provide much in terms of an argument.
Free Speech Ball
October 2017
While this demonstration wasn't painfully embarrassing like many of TPUSA's antics, it is a head-scratcher, and lame as hell. The UC San Diego chapter of TPUSA held an event with a "free speech ball." The ball was a large novelty beach ball that students were encouraged to write (presumably politically incorrect) messages on.
Thankfully, a student, who TPUSA claims is a communist, came along and popped the ball with a pocket knife, saving the unwitting TPUSA members from their own tragic lameness.
TPUSA members responded to the incident in the way all cool college kids do: by calling campus police. But it's an idea that's spread across campuses. 
Look at us flexing our rights! #FreeSpeechBall #FSUTurningPoint pic.twitter.com/m610MTkm6C

— TPUSA at FSU (@TPUSAatFSU) November 2, 2017
Diapergate
October 2017
Turning Point's biggest misfire and greatest moment of accidental comedy happened last fall. It's hard to imagine this idea got past first draft stage, but Kent State TPUSA members decided that the best way to protest the perceived liberal need for safe spaces was to dress up like babies and wear adult diapers.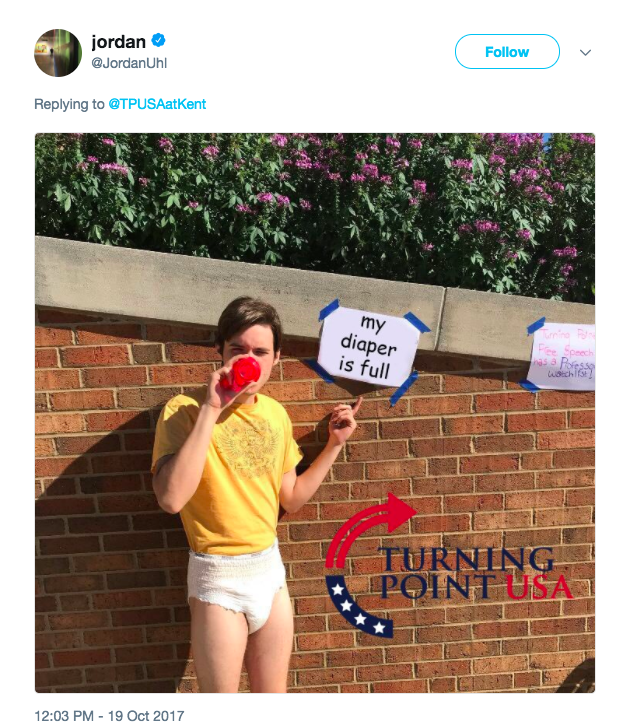 Bait my professor
November 2017
There are some very dangerous aspects to TPUSA despite their largely meme-based pursuits. Since 2016, the organization maintained a "Professor Watchlist," which is aimed at keeping tabs on instructors they deem too liberal. Often, being placed on the watch list means these teachers can be targeted for harassment.
Take the case of University of Illinois Urbana-Champaign professor Tariq Khan's encounter with TPUSA member Joel Valdez. Khan had just finished speaking at an anti-Trump rally when Valdez made threatening comments about his children. Khan knew Valdez had a history of antagonizing professors on campus, but confronted Valdez. Valdez predictably recorded the encounter, exaggerated it, which then allowed it to take on a life of its own on the conservative blogosphere. As a result, Khan has been placed on academic probation, which, of course, was goal of Valdez and his compatriots all along.
Similar tactics have been used against several professors across the country. This McCarthyite initiative, however despicable, may be the only one that TPUSA has undertaken that can be called a success. This story also proves that TPUSA being stupid doesn't mean they can't also be dangerous.
The Battle of Bronze Hammer
February 2018
Though much of TPUSA's message is about the value of free speech and the problem with safe spaces, that hasn't stopped the group from trying to tattle to people's bosses and act outrageously aggrieved when they are made fun of online. Jesse Farrar (@bronzehammer) is a writer, podcaster, and co-host of the Go Off Kings Twitch stream. Anyone who knows his work knows that when he tweets he is usually joking. When he tweeted that all conservative students should be dunked under water until they drown, anyone who gave it a second thought should have known he was joking.
Charlie Kirk, however, did not.
Following the tweet where Farrar joked about drowning conservative students, Kirk and others at TPUSA took him at face value. In what were obviously bad faith tactics, conservative trolls got Farrar temporarily banned from Twitter, and attempted, in concert with conservative outlets like Independent Journal Review, to get him fired from his job. They quickly learned that Farrar is a freelancer.
The campaign had no impact of Farrar's career; in fact, it gave him more notoriety. It did earn Charlie Kirk a spot on Fox and Friends. While on Fox and Friends, Kirk said, "I hate playing the victim, but this is beyond the pale," without a hint of irony.
Of course, the goal here was really to raise TPUSA's profile generally, and Kirk's in particular. In that sense, the choreographed outrage was successful.
The anthem essay
February 2018
One of the favorite pastimes of TPUSA is developing harebrained schemes to expose liberal bias on campus. Kent State student and (now former) Turning Point member Leandra Lynn posted an essay, penned by fellow TPUSA member Klara McKee, on what is wrong with protesting the national anthem.
Rather than demonstrate some sort of bias on the part of the professor, who offered generous constructive criticism, this demonstrated to all of Twitter that Klara is a very poor writer.
a big congrats to @leandralynnw for finally deleting the post with her friend's childlike essay well after every single living human on earth had time to read it and roast her unmercifully pic.twitter.com/SVHSelJuDg

— mr cant spell good (@KrangTNelson) February 9, 2018
Leandra and Klara have since deleted their Twitter accounts, and Leandra has stepped down from TPUSA.
I'm cryeing pic.twitter.com/QTnXTL547x

— mr cant spell good (@KrangTNelson) February 12, 2018
Diaper mastermind resigns
February 2018
TPUSA probably wishes they could put Diapergate behind them, but of course, there is no way that something that good wouldn't get at least one more day in the sun.
Just before Valentine's Day, Kaitlin Bennett—the former head of the Kent State Chapter of TPUSA—tendered her resignation in the most professional way possible: a scathing open letter diatribe. The letter, generally, was about how Bennett was left feeling embarrassed and left hanging by the national organization after the diaper fiasco. Though it's not mentioned in the letter directly, the news about the national anthem essay probably factored in as well, as both women involved were also KSU TPUSA members. The letter featured a couple other gems, including hyperbolic claims that TPUSA is one of the "leading [conservative] voices in the country" and a complaint that TPUSA wouldn't support bringing avowed white nationalist Kyle Chapman (a.k.a. The Based Stickman) to campus "despite him being a constitutionalist Ron Paul supporter."
The letter was accompanied by a tweet sent from the (now, sadly, suspended) Kent State TPUSA Twitter account which read, ".@charliekirk11 you should've been the one in the diaper."
Katilin, we may not agree on much. But, on this, we are united.
Following the release of the letter, the Kent State chapter voluntarily dissolved and their Twitter account was shut down.