Fans of Fox News host Tucker Carlson appear to have doxed a New York Times reporter over a dispute regarding coverage of the conservative pundit.
The incident began on Monday evening when Carlson claimed during a segment on his prime-time show that the Times was preparing to reveal his address in an upcoming story.
"Why is the New York Times doing a story on the location of my family's house?" Carlson asked. "Well, you know why. To hurt us, to injure my wife and kids so that I will shut up and stop disagreeing with them."
Carlson said the article was slated to run this week.
"Editors there know exactly what will happen to my family when it does run. I called them today, and I told them. But they didn't care," Carlson added. "They hate my politics. They want this show off the air. If one of my children gets hurt because of a story they wrote, they won't consider it collateral damage."
The Fox News host went on to suggest that he could easily reveal the personal information of the reporter behind the upcoming story, Murray Carpenter, during his show.
"How would Murray Carpenter and his photographer, Tristan Spinski, feel if we told you where they live, if we put pictures of their homes on the air?" Carlson asked. "What if we publicized the home address of every one of the soulless, robot editors at the New York Times, who assigned and managed this incitement of violence against my family?"
But the Times is denying Carlson's claims, telling the Washington Post that it never planned to publish the host's address at any point.
"While we do not confirm what may or may not publish in future editions, the Times has not and does not plan to expose any residence of Tucker Carlson's, which Carlson was aware of before tonight's broadcast," a spokesperson for the Times said.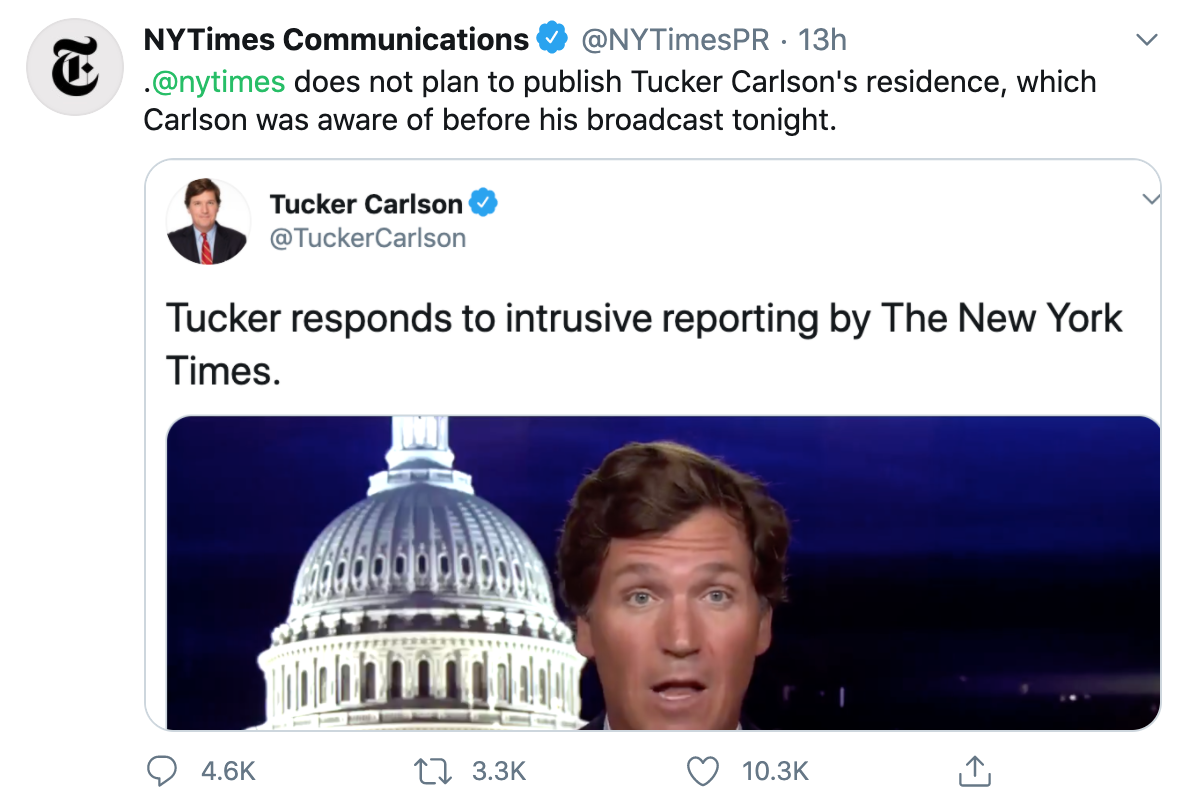 Despite the denial, fans of the conservative commentator began posting information about Carpenter online.
Numerous Twitter accounts shared addresses and phone numbers linked to Carpenter, calling for the writer to receive a "taste of his own meds."
"I think people should start showing up at Murray Carpenter's house during the day and night," one Twitter user said. "Give him a taste of his own meds. What a douche!"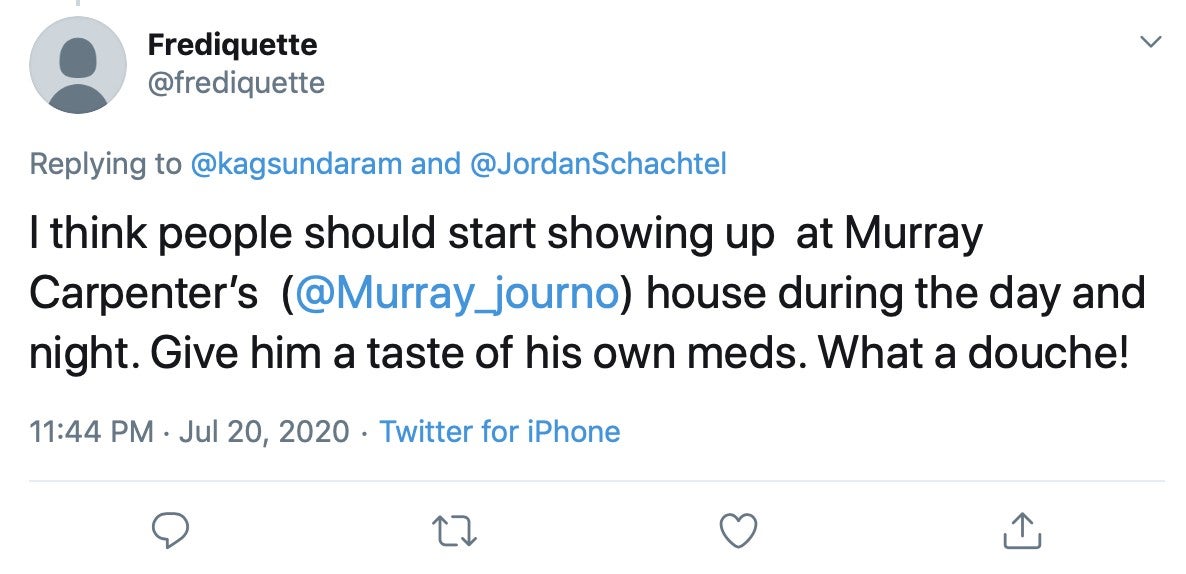 Although the Times has not published Carlson's address, the narrative online among his supporters is that the paper already has.
Prominent conservatives such as Meghan McCain and government employees including Ken Cuccinelli, the acting deputy secretary for the Department of Homeland Security (DHS), have since criticized the Times.
"This is extremely dangerous and a weird new norm. Even printing his neighborhood or building or home area is really dangerous," McCain said. "Why people feel comfortable doing this to people with whom their politics they hate is sick. It is the most violating thing in the entire world."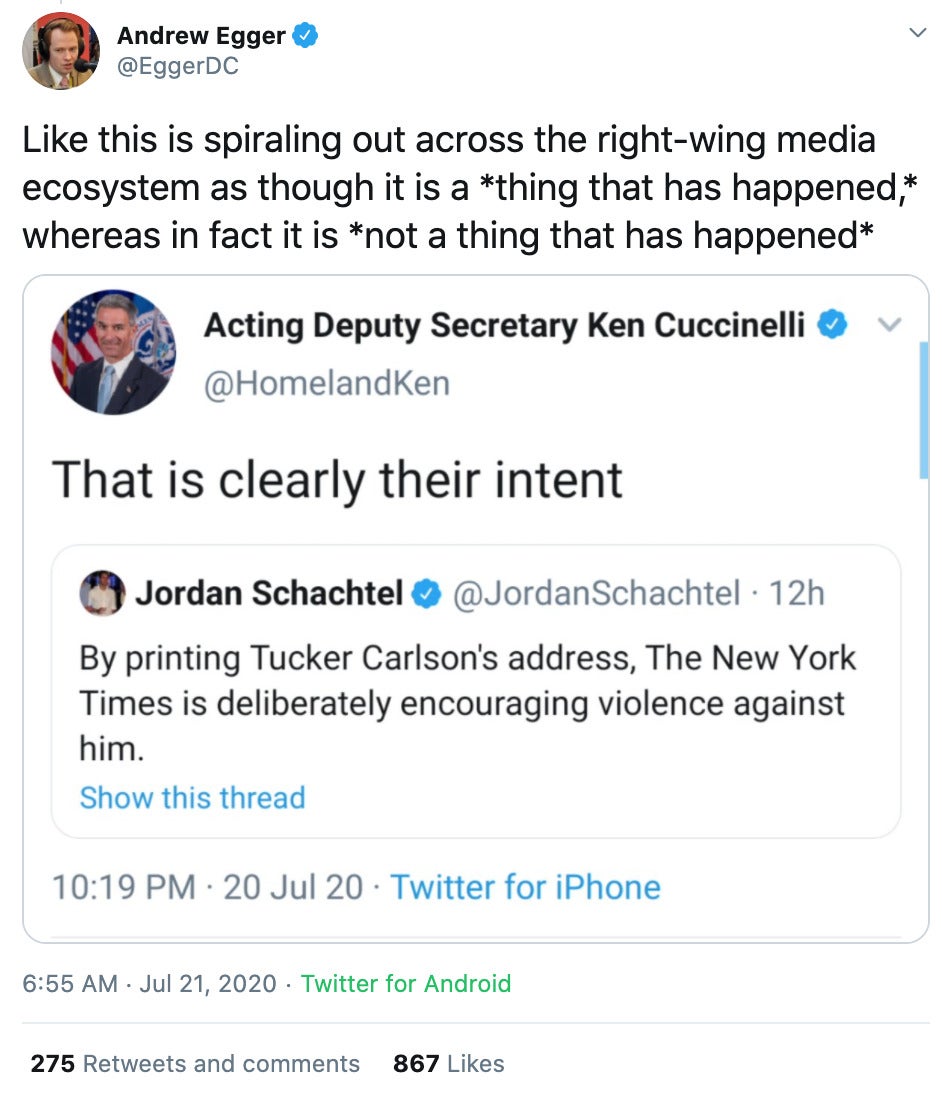 Twitter has removed at least some of the tweets that contained Carpenter's data in the aftermath of Carlson's segment.
READ MORE: