Truth Social users are scandalized by the possibility of former President Donald Trump getting back on Facebook.
Facebook suspended Trump days after the Jan. 6 Capitol riot on the grounds that he'd used his account to incite the violent mob that tried to overthrow democracy. The company subsequently decided that the suspension would continue for two years, at which time it would reevaluate whether the risk to public safety had receded enough to justify letting Trump back on.
On Wednesday, Facebook and Instagram parent company Meta announced that Trump can come back. There are some caveats, however. If Trump tries to do another Capitol riot, he's gone. And the platforms may also restrict his reach and/or ability to advertise if he invokes QAnon or posts other content that it deems dangerous to democracy.
"We just do not want—if he is to return to our services—for him to do what he did on January 6, which is to use our services to delegitimize the 2024 election, much as he sought to discredit the 2020 election," Nick Clegg, Meta's president of global affairs, said.
Truth Social user do not want Trump to leave them. The one-term president launched his Twitter alternative after all the major social media platforms banned him following the Capitol riot. Though Truth Social has been plagued by leaks, hacks, and impenetrable content moderation policies, to them, it's home.
"He should just stay on Truth. Screw Zuckerberg," wrote Truth Social user @buffalo55, referring to Meta owner Mark Zuckerberg.
@570Tiki commented, "I think Meta should stick their offer where the moon doesn't shine."
News that Trump could soon return to Facebook invoked similar reactions throughout his platform.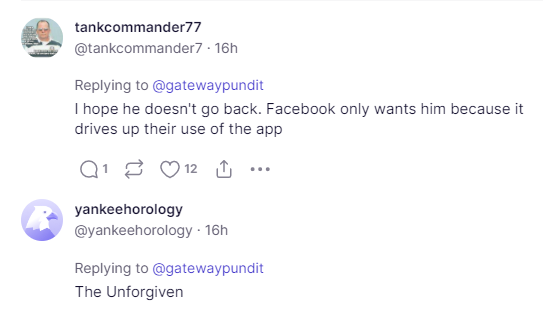 People on other platforms agree that Trump shouldn't accept the carrot Facebook is now offering him after it spent two years giving him the stick. They believe that the private company booting Trump was an unforgivable act of betrayal.
A Telegram user opined, "I hope Trump never goes back." Another wondered, "Will Zuckerberg apologize to Trump and everyone else who was banned?"
On Truth Social, the distress was palpable.
"Should have never been censored and removed in the first place! I don't trust them!! And neither should @realDonaldTrump," @JasonP said.
Their cries may be falling on deaf ears. Trump loves nothing more than an audience, and Facebook and Instagram, where he has a combined 50 million-plus followers, are likely to prove irresistible to him as he mounts a third presidential campaign.
Trump reacted to the news of his suspension being lifted without specifically saying whether he plans to accept Facebook's offer.
He did imply that Facebook lost billions money because it deplatformed him.
"FACEBOOK, which has lost Billions of Dollars in value since 'deplatforming' your favorite President, me, has just announced that they are reinstating my account," Trump wrote. "Such a thing should never again happen to a sitting President, or anybody else who is not deserving of retribution!"
He ended his statement with a comment that could imply he plans to abandon Truth Social when his exclusivity contract ends, which Rolling Stone reports is in June.
"Thank you to Truth Social for doing such an incredible job. Your growth is outstanding, and future unlimited!!!" Trump wrote.
His post inspired some to celebrate and others to implore him to stay, including one particularly inspired user who wrote a poem to mark the occasion.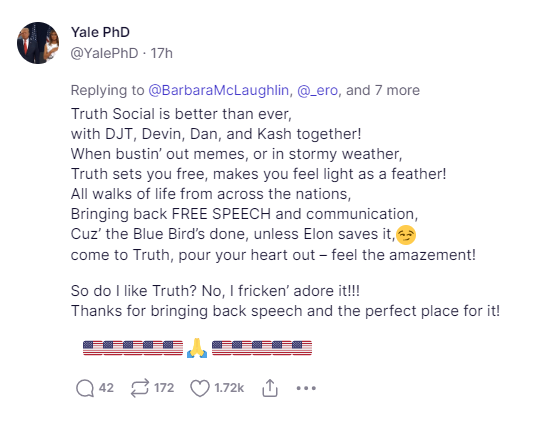 We crawl the web so you don't have to.
Sign up for the Daily Dot newsletter to get the best and worst of the internet in your inbox every day.