President Donald Trump joined in the chatter about the historic peace talks between North Korea and South Korea by asking Twitter for advice on Monday morning about where he should meet with the northern country in the coming weeks.
"Numerous countries are being considered for the MEETING, but would Peace House/Freedom House, on the Border of North & South Korea, be a more Representative, Important and Lasting site than a third party country? Just asking!" the president wrote on Twitter.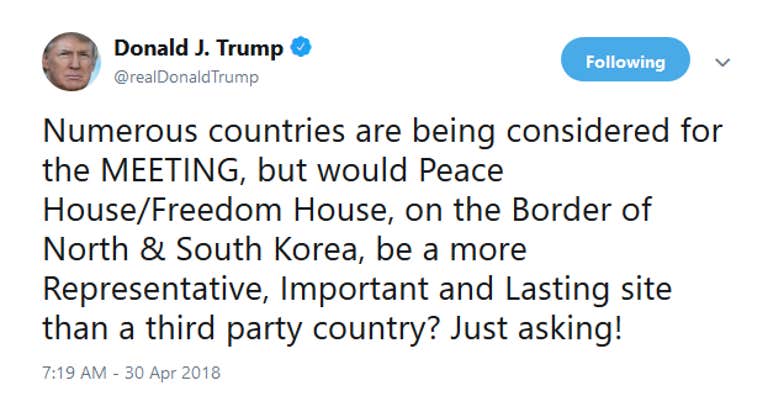 The president has weighed in on the peace talks numerous times on Twitter, but Monday's open question as to where he should meet with North Korean leader Kim Jong-un is the first time he appeared to be soliciting advice from his followers online.
Last week sources told CBS News that Mongolia and Singapore were being considered as possible meeting spots. On Saturday, the president tweeted that the "time and location of meeting with North Korea is being set."
In the past Trump said he expects the meeting to take place in May or early June, according to Reuters. The goal of the meeting, according to the president, is to agree on a way to denuclearize North Korea.
Trump's comments come as the North and South have agreed to denuclearize the entire Korean peninsula and negotiate with the United States on an official end of the Korean War, which has been technically ongoing since the 1950s.
Of course, Trump's decision to ask his Twitter followers for advice on the meeting location was mocked online.
Asking for a friend…just a little morning crowdsourcing https://t.co/EAAct6seEg

— Jessica Simeone (@JessicaSimeone) April 30, 2018
One step away from a twitter poll to decide policy. #Dumbassery https://t.co/h58DlRsptM

— James (@james1976mc) April 30, 2018
This seems a really significant decision to ask Twitter's opinion on. https://t.co/EuxFE693GV

— Clay Travis (@ClayTravis) April 30, 2018
Workshopping global diplomacy https://t.co/rRpt8bVxO3

— Michael M. Grynbaum (@grynbaum) April 30, 2018
Hahaha. Taking to Twitter for crucial diplomatic advice. #MEETING https://t.co/ENQhfiy6KY

— Ebouefan (@Ebouefan) April 30, 2018
https://twitter.com/esaagar/status/990929644990935042
Given the typically hostile responses to Trump's tweets, did he really expect to get an insightful response to his open question?
READ MORE: